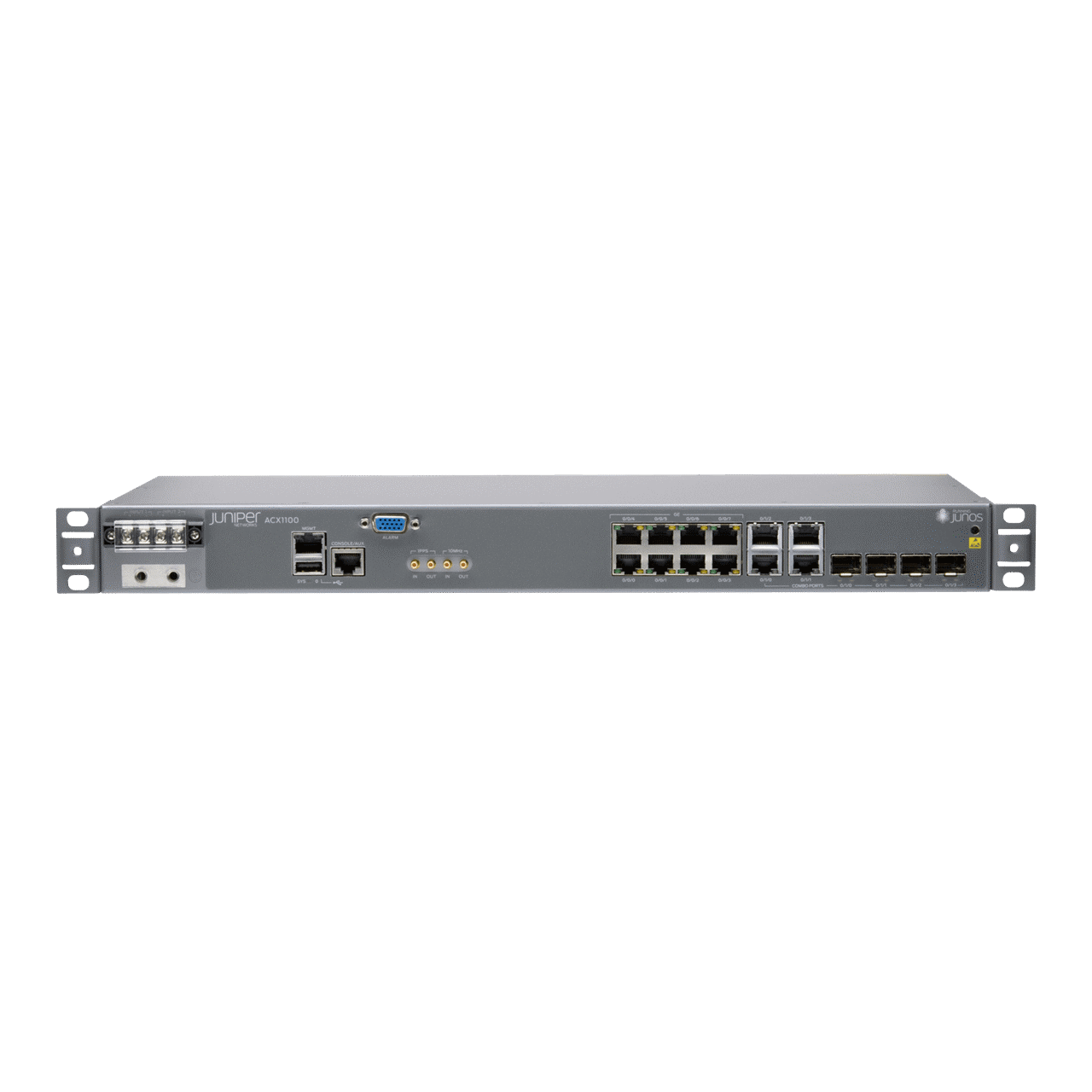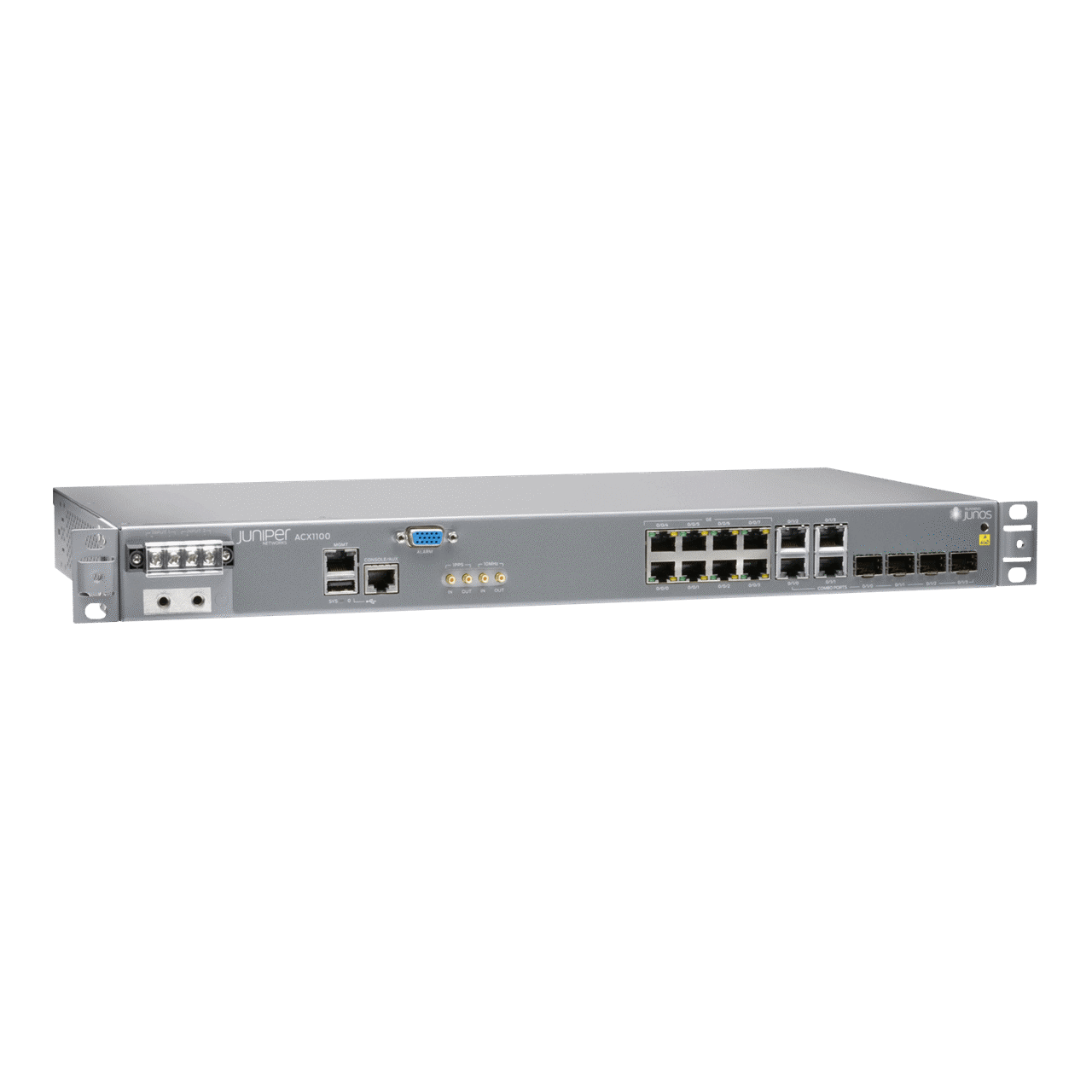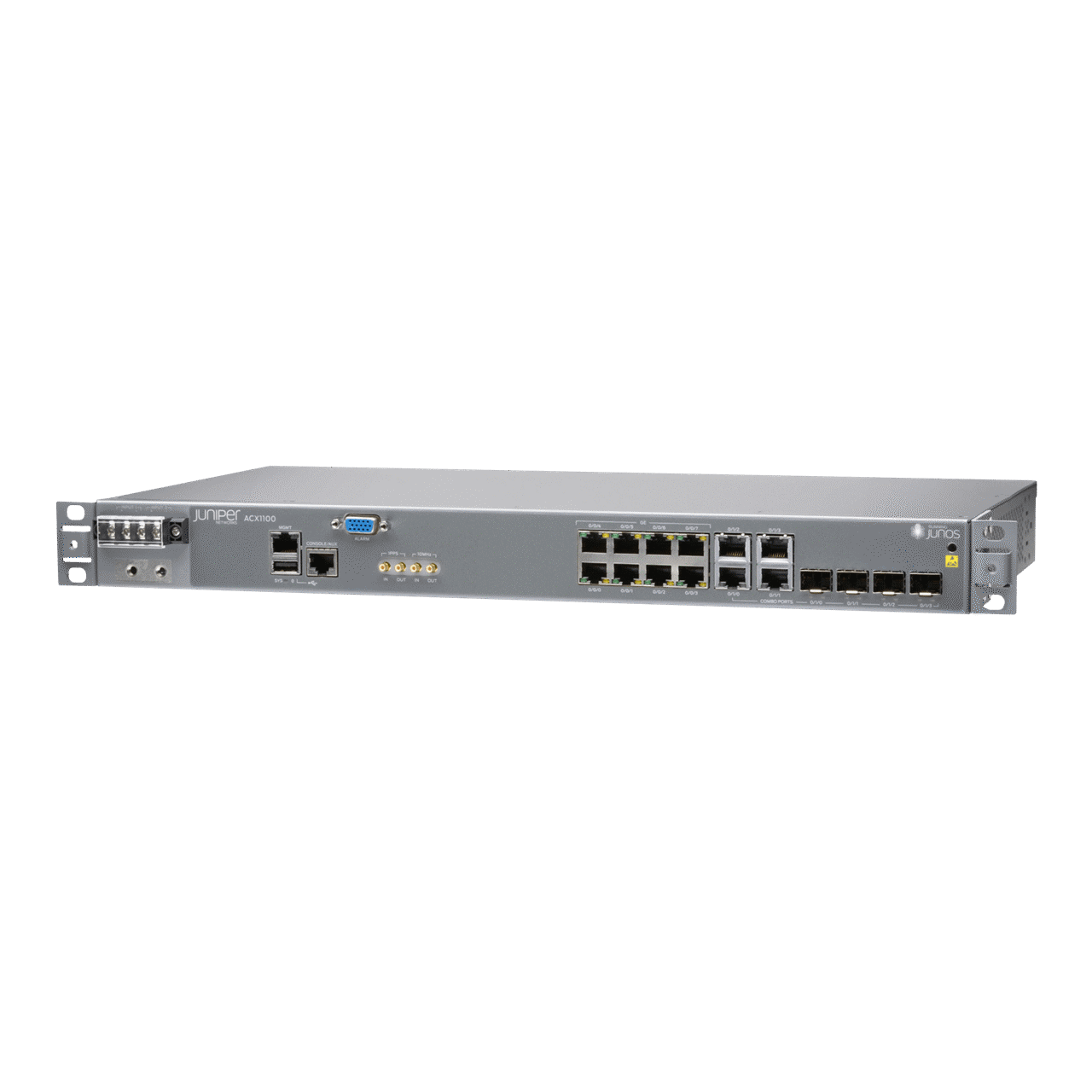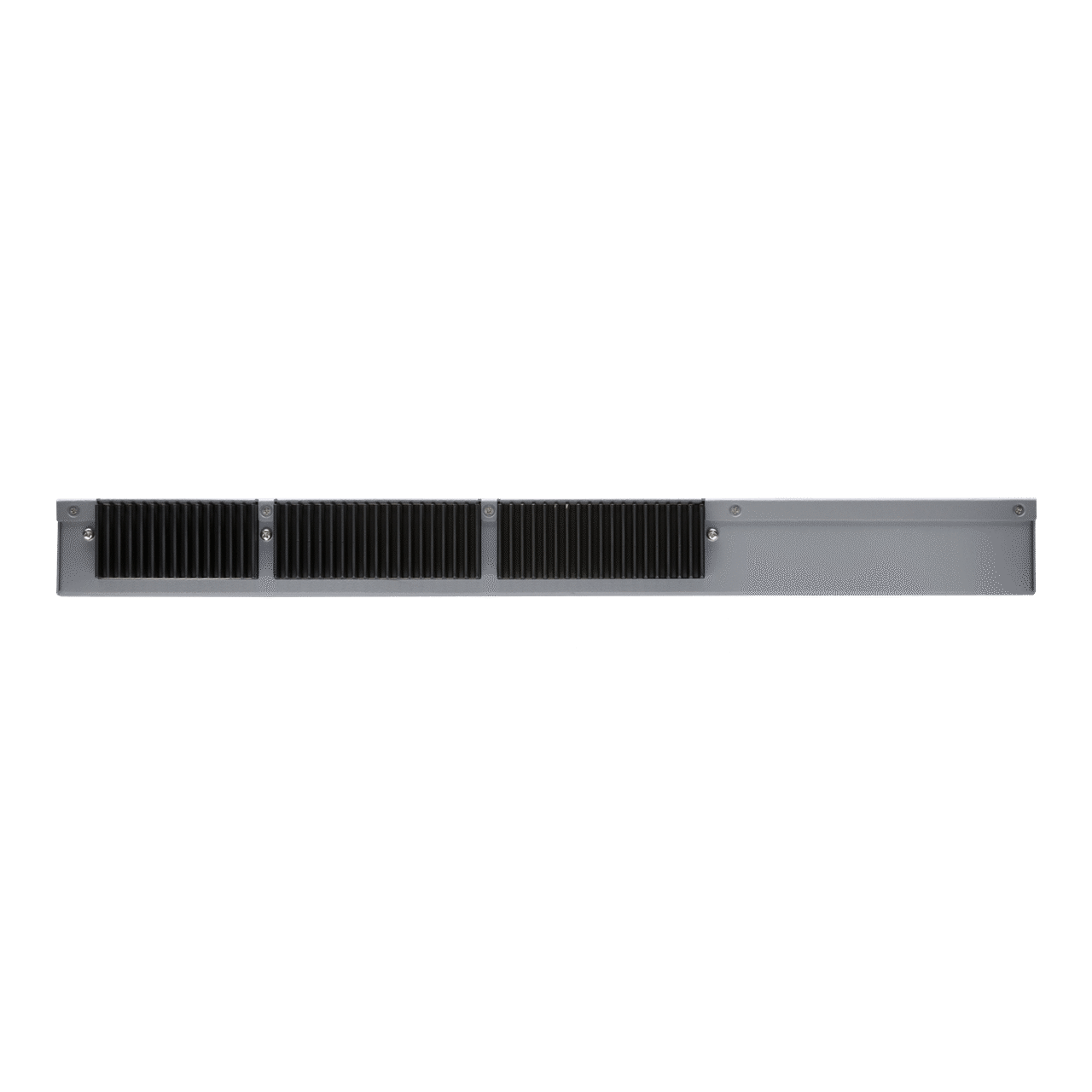 ACX1100 Universal Metro Router
The ACX1100 Universal Metro Router is a compact, 1U, environmentally hardened Ethernet-only access router. It has a fixed configuration of eight copper GbE 10/100/1000-Mbps interfaces, and four GbE copper/fiber combination ports. Its 60-Gbps performance, programmability, and fanless passive cooling system makes it ideal for external cabinet or tower installations.

ACX Universal Metro Routers enable network operators to rapidly deploy new, high-bandwidth services cost-effectively. The ACX1100's compact 17.5 x 1.75 x 9.4 in (44.5 x 4.4 x 24 cm) form factor conforms to ETSI 300 specifications and eases deployment in a service provider or enterprise cabinet where rack space and cooling are limited.
---
12 1GbE ports
SyncE
MEF CE 2.0-certified
Junos OS SDK
Features + Benefits
Support for MEF CE 2.0 standards for E-Line, E-LAN, E-Tree, and E-Access services enables you to deploy a diverse array of offerings.
Take advantage of easy management and operation with rapid, remote provisioning.
Enable the access network to grow with business needs through an adaptive service architecture with operational intelligence.
You get the flexibility to deploy a wide variety of services, such as Carrier Ethernet; Layer 2 multitenant residential and commercial metro Ethernet services; and Layer 3 services based on IP/MPLS.
Use RFC 2544-based testing to confirm whether a node is ready for service once configured with zero touch deployment (ZTD).
Timing and Synchronization
Deliver the highest quality of experience (QoE) with advanced clocking technologies including SyncE and IEEE 1588-2008.
Easily customize provisioning and integration with third-party apps and tools using the Junos OS SDK.
The router supports both outdoor and industrial applications with an environmentally reinforced design and passive cooling.
Jackson Electric Co-Op Sees 30% Work-from-Home Internet Surge
When the coronavirus crisis forced the shutdown of America, Jackson Electric Cooperative turned it up. Broadband Internet became a lifeline for the residents of Matagorda Bay, Texas, in the U.S., with miles of Gulf Coast beaches and fresh oysters, blue crab, and shrimp. Jackson Electric's smart community network, built on a foundation of Juniper routing, easily handled a 30% surge in Internet traffic and a 130% spike in subscriber connections.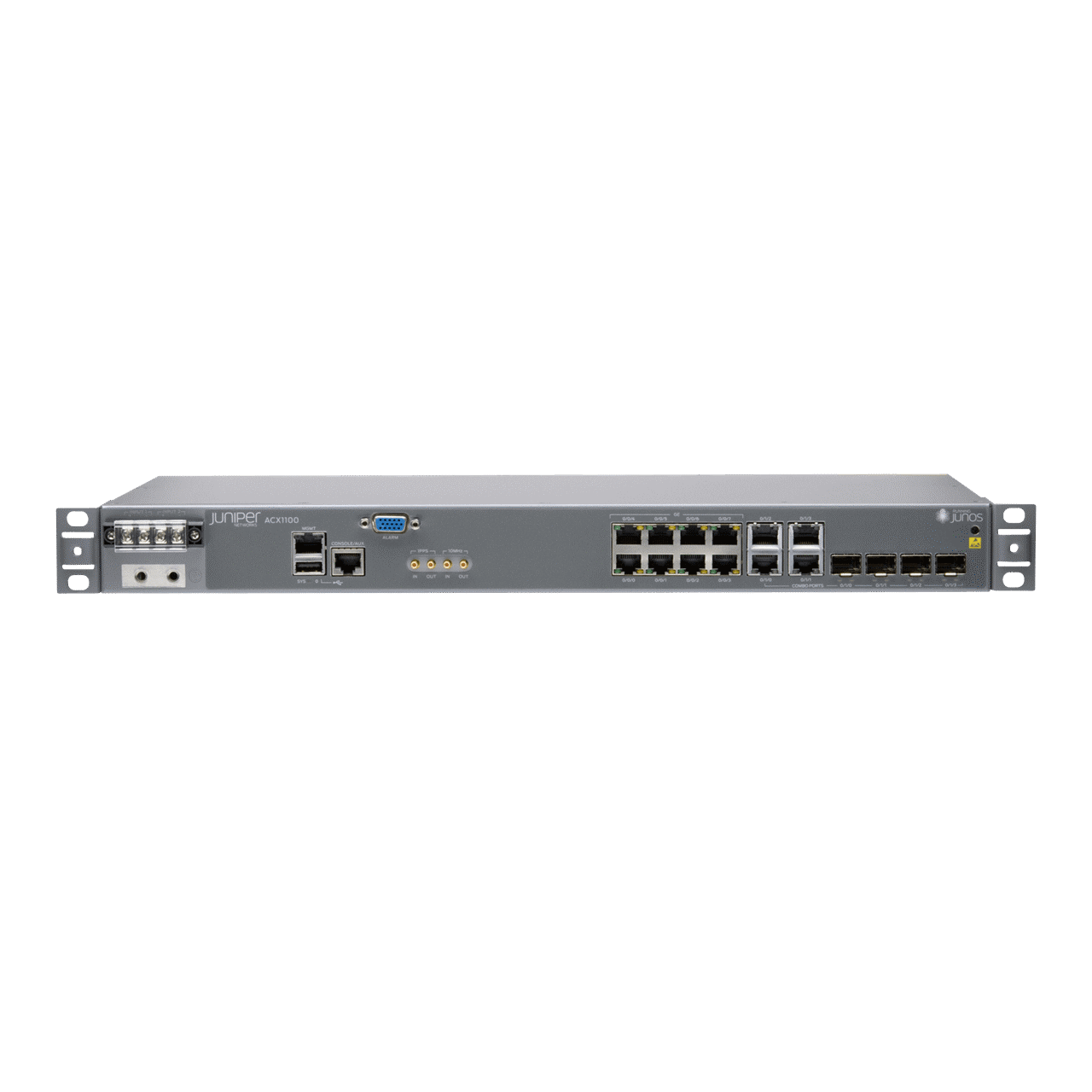 ACX1100
The ACX1100 is a 1U fanless router with eight copper GbE ports and four copper/fiber GbE ports. It is ideal for enterprise and service provider cabinet and tower deployments.
Technical Features
12 1GbE ports
SyncE
MEF CE 2.0-certified
Junos OS SDK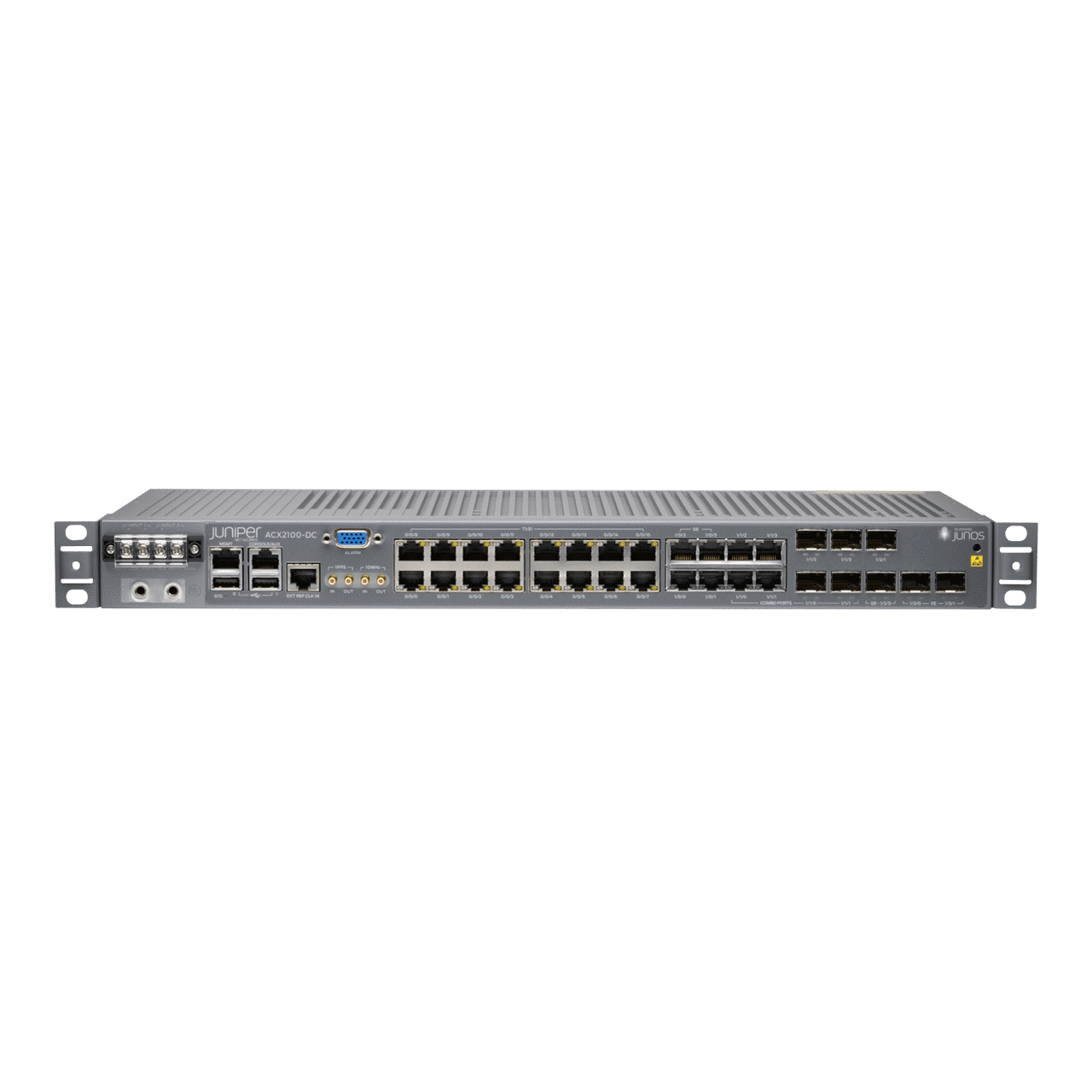 ACX2100
The ACX2100 is a hardened router with 16 T1/E1 interfaces, four copper 10/100/1000-Mbps interfaces, four combination copper/fiber GbE ports, two GbE SFP ports, and two 10GbE SFP+ ports.
Technical Features
16 TDM ports
10 1GbE ports
2 10GbE ports
MEF CE 2.0-certified
ACX2200
The ACX2200 is a 1U hardened router with four copper 10/100/1000-Mbps interfaces, four copper/fiber GbE ports, two GbE SFP ports, and two 10GbE SFP+ ports. It is ideal for IP-RAN deployments.
Technical Features
10 1GbE ports
2 10GbE ports
MEF 3.0-certified
SyncE
Introducing Cloud Metro
Juniper executives Brendan Gibbs, VP, Automated WAN Solutions, and Sally Bament, VP, Service Provider Marketing, explore the vision, attributes, and game-changing impact of Juniper's Cloud Metro solution.
PacketPushers Heavy Networking 569
New metro architectures for 5G, IoT, and low-latency services.
Find ACX1100 in these solutions
Service Provider Security
Juniper Connected Security safeguards users, data, and infrastructure by extending threat intelligence to all connection points across your network.
State and Local Government
State and local governments have elevated their digital transformation priorities due to new challenges driving current events, such as constricted budgets and an unplanned distributed workforce.
Converged Industrial Edge
A growing number of single-purpose industrial and industrial IoT (IIoT) systems are converging onto Ethernet, IP, and MPLS. Juniper helps industrial companies meet system uptime and predictability service levels in the digital era.
Utilities
Electric, gas, and water utilities rely on operational technology (OT) networks to support industrial control systems (ICS) essential to their businesses. Juniper's comprehensive portfolio of resilient hardware, pervasive security, and specific automation ensures that safety and reliability are never compromised.
Oil and Gas
Oil and gas companies, like other industrial verticals, face many challenges on the journey to digital transformation. Modernized networks must seamlessly enable new, business-impact applications from the remote, operational edge to the cloud.