Services Campus and Branch
Ease your network AIOps transition with turnkey services.
Our Juniper Mist AI™ services suite helps you transition to AI-driven, automated network operations from client to cloud. Juniper experts guide and simplify your transition to a network that delivers AI-powered, proactive insights and actions for improved operations, lower costs, and better experiences across your wired, wireless, and SD-WAN environments.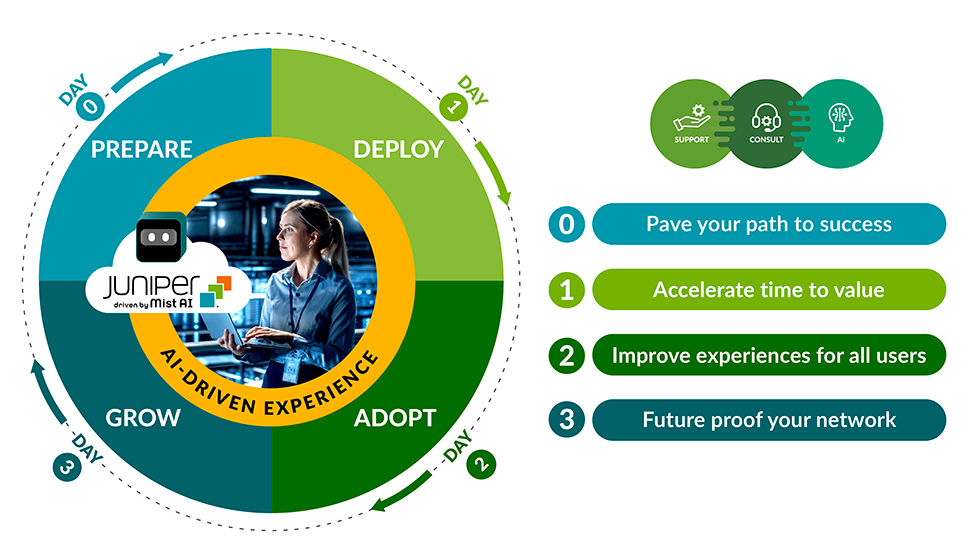 Services to help you succeed
Delivering value at every step of your Juniper Mist AI journey.
Related solutions
Wireless Access
AI-driven automation and insight, coupled with the agility and reliability of a microservices cloud, deliver optimized wireless access experiences and simplified network operations.
Wired Access
The wired portfolio, coupled with wireless, combines performance and simplicity at scale, while delivering optimized experiences to users and devices with AI-driven insights and automation.
AI-Driven SD-WAN
Enrich user experiences across the WAN with AI-driven insight, automation, action, and native security.