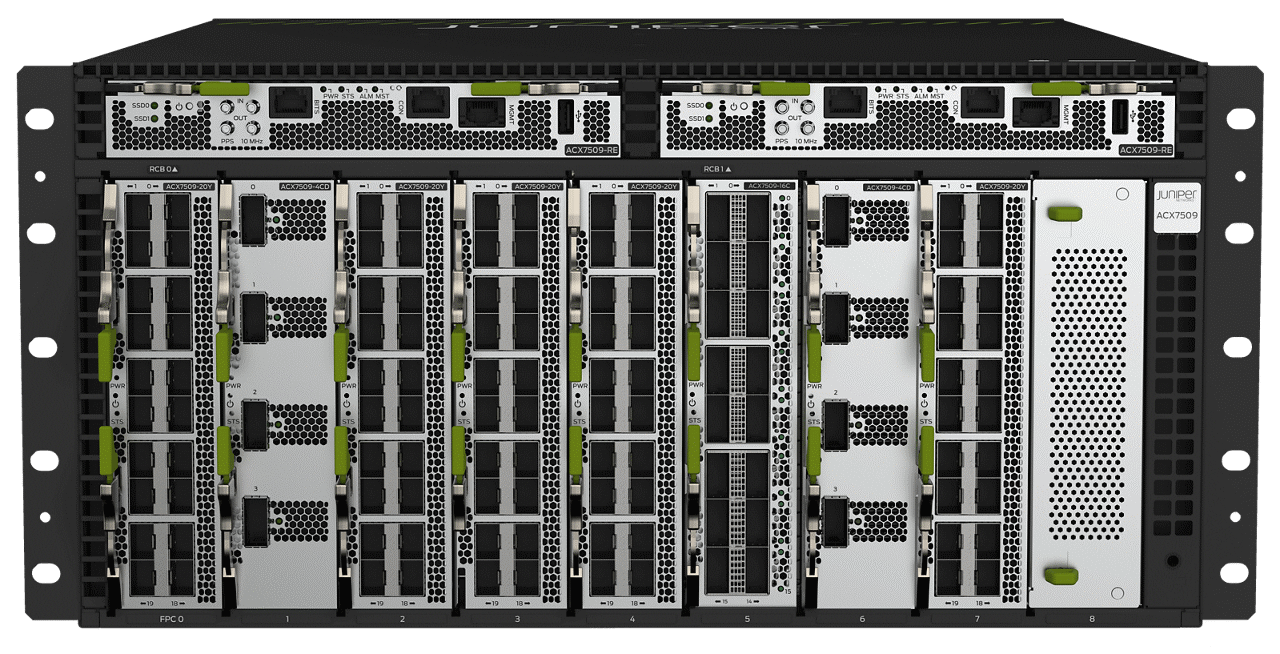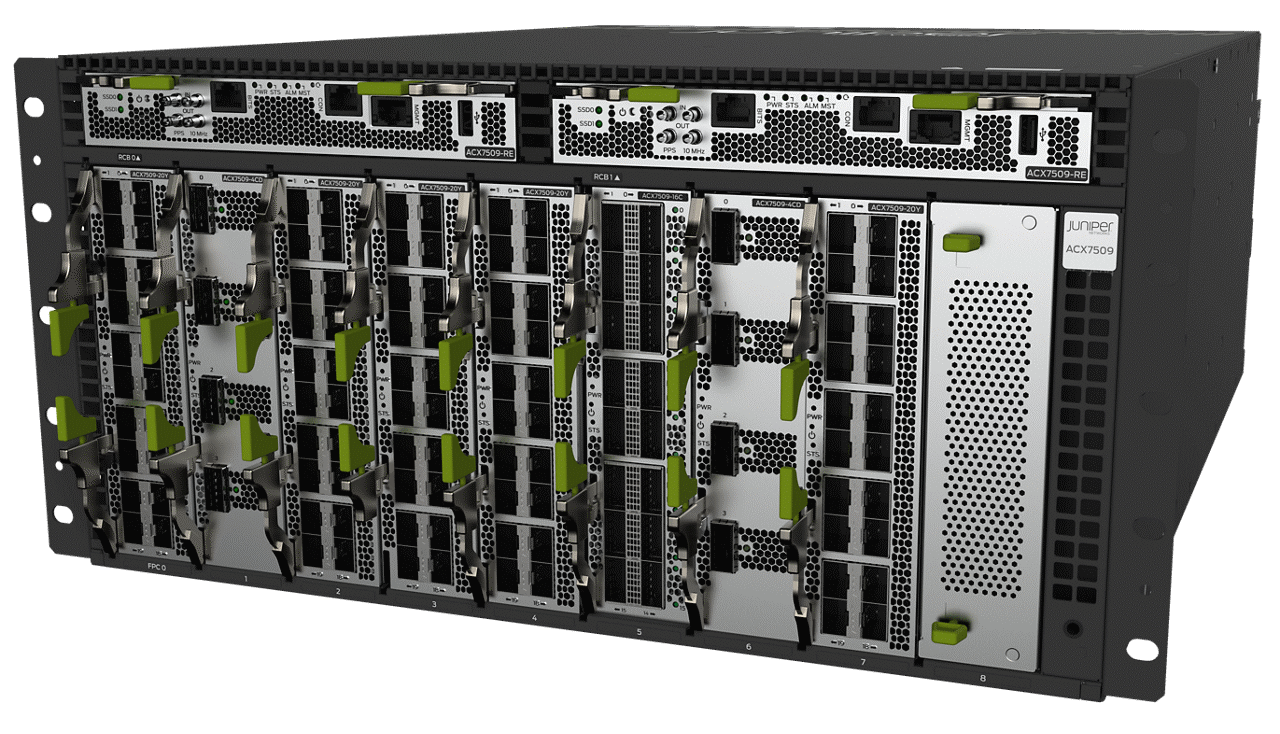 ACX7509 Cloud Metro Router
Metro operators face traffic growth and changing dynamics that impact their network architectures. The ACX7500 line from Juniper's ACX7000 Family of sustainable routers meets new requirements with high port density, scale, and efficiency.
The ACX7509, part of the ACX7500 line, provides 4.8-Tbps throughput in a modular, 5 U, high-availability platform ideal for service provider, large enterprise, and data center networks. It delivers 1GbE-to-400GbE port flexibility with unrestricted use of high-power ZR/ZR+ transceivers.   
There's ample capacity to accommodate service growth, cloud expansion, and hyperscaler applications. Powered by Junos® OS Evolved, the router supports advanced features, such as Segment Routing (SR), SRv6, MPLS, EVPN-VXLAN, advanced programmability, network slicing, and telemetry. Juniper Paragon™ Automation optimizes network operations and enables differentiated services.
---
Port density
20 x 1/10/25/50GbE
  4 x 200/400GbE
16 x 40/100GbE 
Features + Benefits
Uninterrupted Service Delivery
High-availability (HA) features and redundant components enable exceptional performance and service assurance. The HA design keeps service interruptions to zero or near-zero, increasing network durability. 
The ACX7509 is a high-capacity router with dense fan-out ports. It offers a mix of low- and high-speed ports ranging from 1GbE to 400GbE. The platform is ideal for high-end aggregation services and delivers the flexibility to manage and scale the network to sustain business growth.
Address 5G, IoT, and cloud requirements with a multiservice platform that connects your residential, enterprise, wholesale, and 4G/5G customers directly to a converged and automated Juniper Cloud Metro architecture.
Junos OS Evolved delivers the same stability, ease of operation, and advanced programmability across the entire ACX7000 family routing portfolio, accelerating deployments and simplifying operations.
Cloud Metro as Experience Sensor
With Paragon Active Assurance agents embedded into every Juniper ACX7000 platform, your Juniper Cloud Metro effectively becomes a sensor that monitors and measures customers' end-to-end service experiences.
Most Innovative Routing and Switching Solution
Juniper Networks Cloud Metro earns the "Editor's Choice" Leading Lights Awards 2022, enabling service providers to build a sustainable future.
DQE expands regional network to meet needs ranging from 5G to differentiated services delivery
Regional service providers like DQE Communications have a home-team advantage, with a nuanced understanding of local needs plus the agility to react quickly. DQE, which serves Western Pennsylvania, moved swiftly to expand its metro network services to meet the digital needs of its customers and its growing metro edge and mobile backhaul requirements.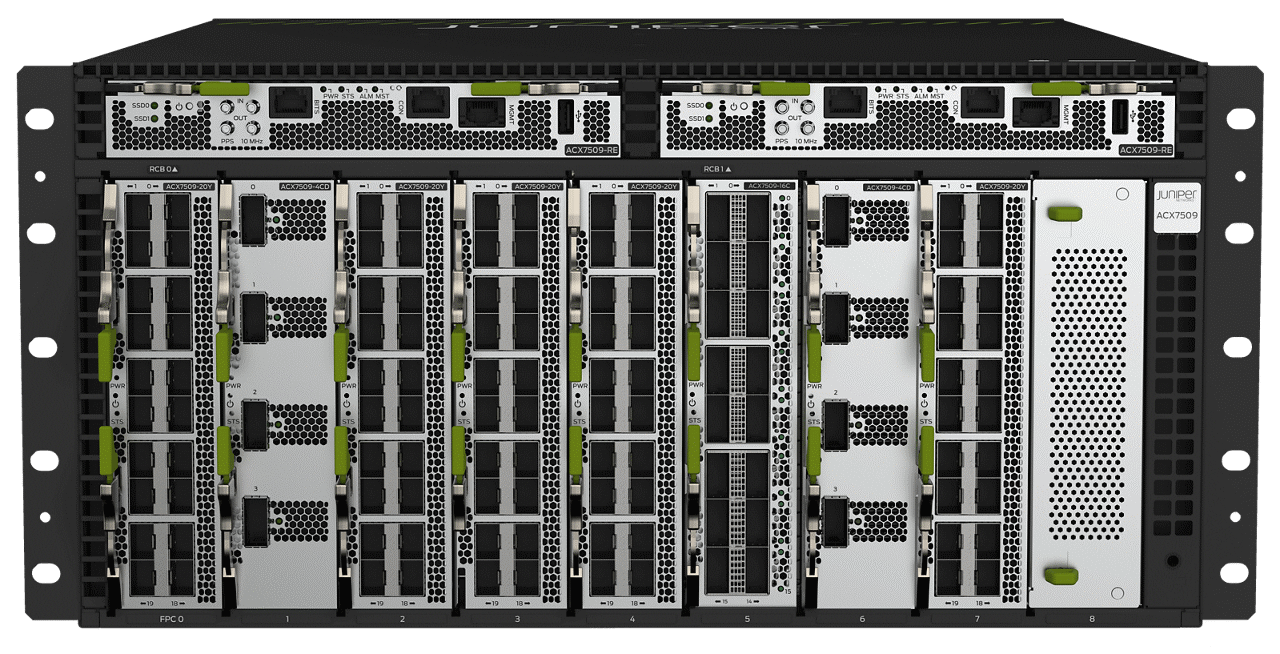 ACX7509
The ACX7509, part of the ACX7000 family, is a high-availability, power-efficient, and modular 5 U platform. Ideal for service providers, data centers, and large enterprises, it helps network operators deliver differentiated customer experiences. 
Technical Features
Form factor

5 U, with 60-cm depth

Throughput

4.8 Tbps

Port density

20 x 1/10/25/50GbE
  4 x 200/400GbE
16 x 40/100GbE 
Your Metro Reimagined
Juniper's Cloud Metro combines a scalable IP service fabric, service intelligence, and automation.
Deliver Differentiated Services with Paragon Active Assurance
Automatically validate and monitor service quality end to end.
Find ACX7509 in these solutions
Cloud Metro
Apply cloud principles to metro networks to achieve sustainable business growth with future-proof performance, adaptive power innovation, embedded active assurance, and zero trust security.
IP Transport Solution
Supporting massive capacity and on-demand scalability requires an IP transport network of virtualized routers, security appliances, and CPE; software-defined networking (SDN); virtual BNG (vBNG) routing; and high-performance infrastructure from access to core. You'll find them all in the Juniper IP Transport solution.
Paragon Automation
Paragon Automation delivers closed-loop automation to translate business intent into tangible outcomes. The solution helps ensure that your customers receive assured service experiences throughout the network lifecycle, from Day 0 to Day 2.
5G Networks
Juniper's open ecosystem approach to 5G unlocks the full power and potential of your network. We can help you reimagine your architecture, operations, and service experience to create new business value and compete in the coming decade.