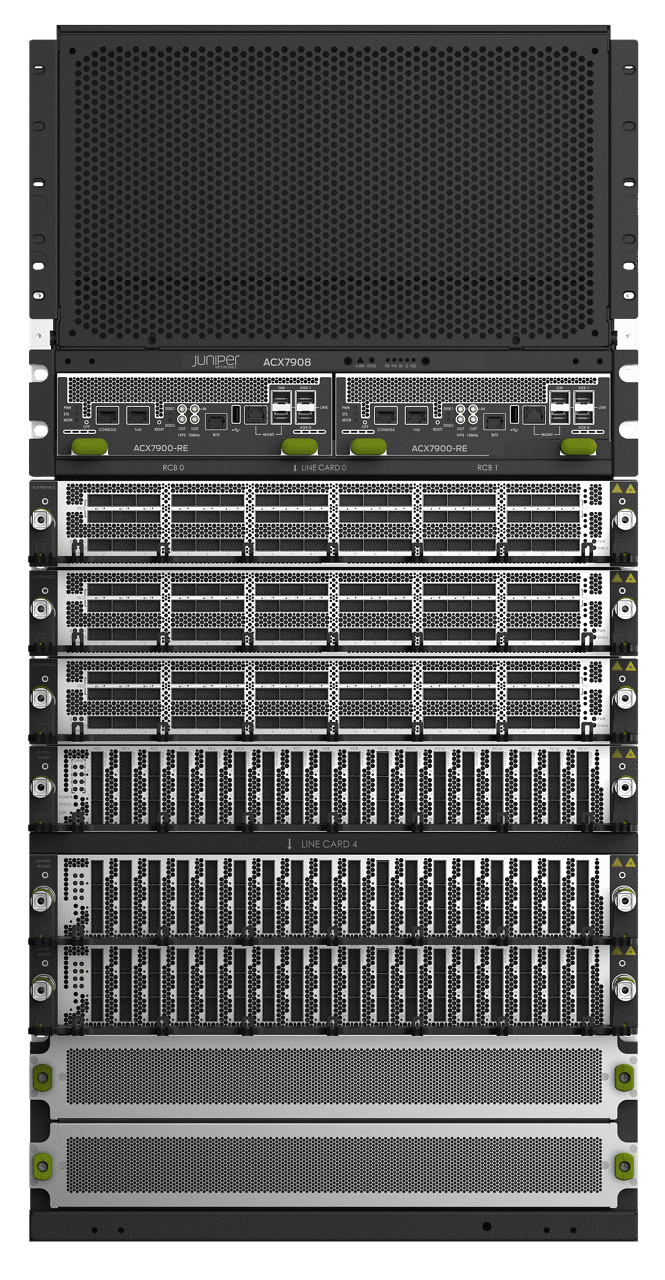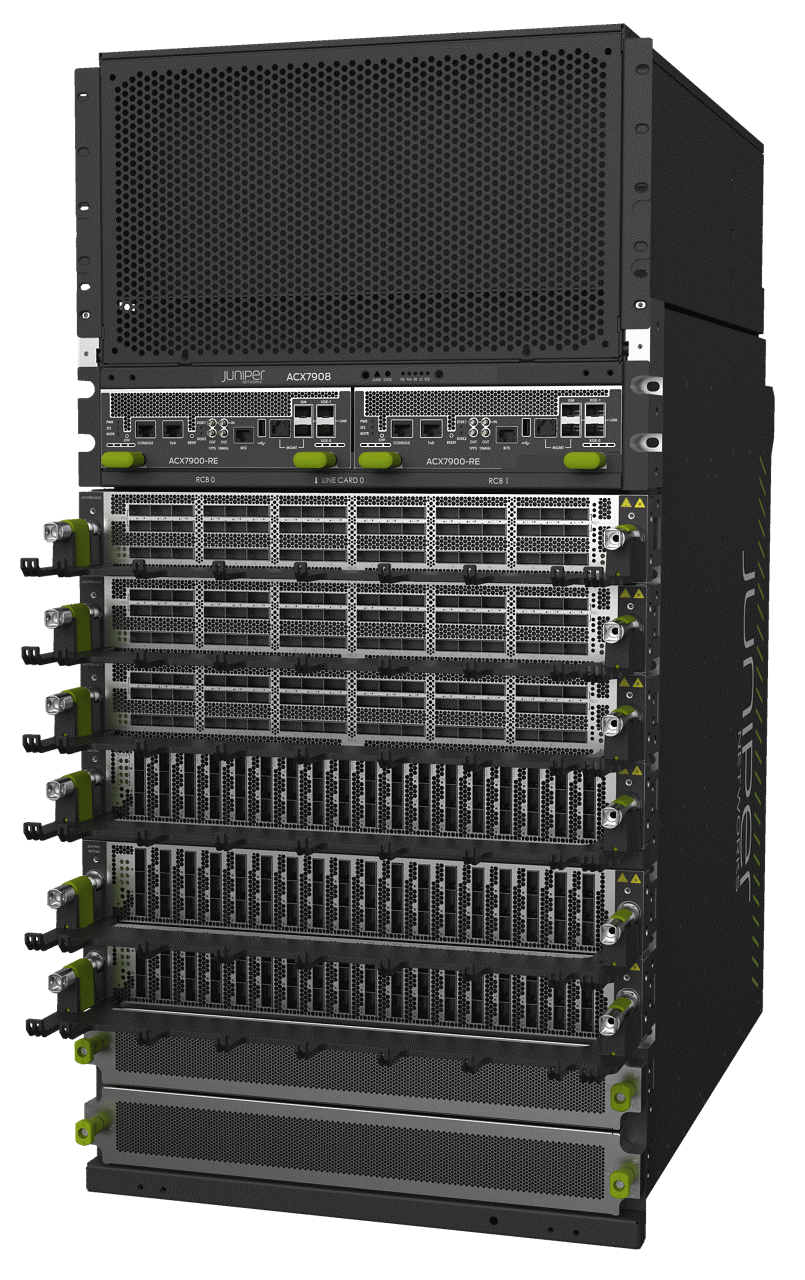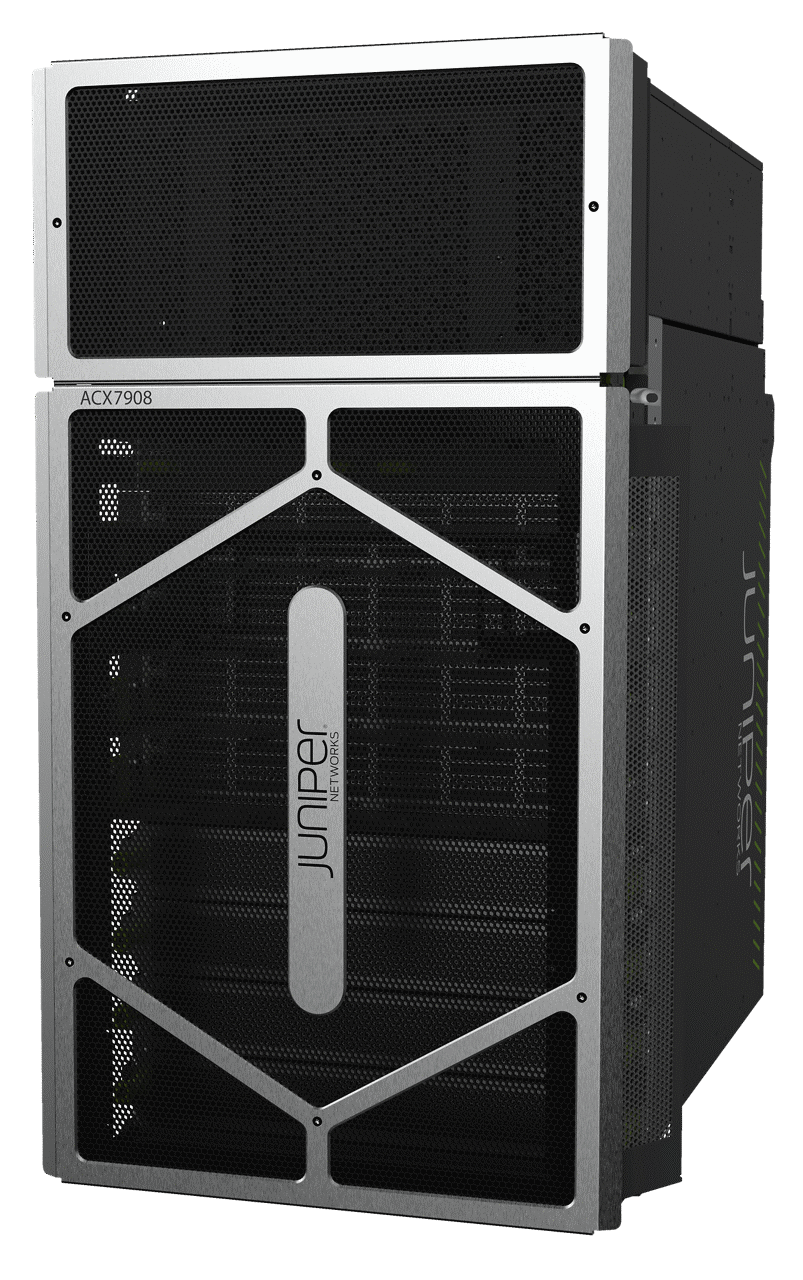 ACX7908 Cloud Metro Router
5G, IoT, and cloud are quickly increasing metro network traffic, challenging operators to deliver secure services at cloud scale. The high-performance ACX7900 line from Juniper's ACX7000 Family of sustainable routers sets new benchmarks to help them succeed.
The ACX7908, part of the ACX7900 line, balances performance, scalability, and power efficiency in an 8-slot modular router. Two dense line-card options support port speeds from 100GbE to 400GbE, allowing the router to scale to 172.8 Tbps of capacity fully loaded.
Highly efficient modular power shelves, optimized line-card airflow design, and cooling-efficient chassis enable unrestricted use of ZR/ZR+ transceivers. Powered by Junos® OS Evolved, the ACX7908 supports Segment Routing (SR), SRv6, MPLS, EVPN-VXLAN, advanced programmability, network slicing, and telemetry. Juniper Paragon™ Automation optimizes network operations and enables differentiated services.
Features + Benefits
The ACX7908 maximizes routing performance while minimizing power consumption and operational cost. The chassis-based device delivers high-density, build-as-you-grow 100/200/400GbE port flexibility and scale. An adaptive power design enables unrestricted use of dense, high-power transceivers (ZR/ZR+) across all ports.
Scale, speed, and density make the ACX7908 ideal for high-end Juniper Cloud Metro aggregation networks. The router supports all your residential, enterprise, wholesale, and 4G/5G services in a single platform.
Built on Junos OS Evolved, the ACX7908 delivers the same stability, ease of operation, and advanced programmability found across the entire ACX7000 family routing portfolio. The cloud-optimized, microservices-based OS synchronizes updates, accelerates deployments, and simplifies operations.
Cloud Metro as Experience Sensor 
Most Innovative Routing and Switching Solution
Juniper Networks Cloud Metro earns the "Editor's Choice" Leading Lights Awards 2022, enabling service providers to build a sustainable future.
DQE expands regional network to meet needs ranging from 5G to differentiated services delivery
Regional service providers like DQE Communications have a home-team advantage, with a nuanced understanding of local needs plus the agility to react quickly. DQE, which serves Western Pennsylvania, moved swiftly to expand its metro network services to meet the digital needs of its customers and its growing metro edge and mobile backhaul requirements.
Your Metro Reimagined
Juniper's Cloud Metro combines a scalable IP service fabric, service intelligence, and automation.
Deliver Differentiated Services with Paragon Active Assurance
Automatically validate and monitor service quality end to end.
Find the ACX7908 in these solutions
Cloud Metro
Apply cloud principles to metro networks to achieve sustainable business growth with future-proof performance, adaptive power innovation, embedded active assurance, and zero trust security.
Paragon Automation
Paragon Automation delivers closed-loop automation to translate business intent into tangible outcomes. The solution helps ensure that your customers receive assured service experiences throughout the network lifecycle, from Day 0 to Day 2.
Statement of Product Direction
The information on this page may contain Juniper's development and plans for future products, features, or enhancements ("SOPD Information"). SOPD Information is subject to change at any time, without notice. Juniper provides no assurances, and assumes no responsibility, that future products, features, or enhancements will be introduced. In no event should any purchase decision be based upon reliance of timeframes or specifics outlined as part of SOPD Information, because Juniper may delay or never introduce the future products, features, or enhancements.
Any SOPD Information within, or referenced or obtained from, this website by any person does not give rise to any reliance claim, or any estoppel, against Juniper in connection with, or arising out of, any representations set forth in the SOPD Information.  Juniper is not liable for any loss or damage (howsoever incurred) by any person in connection with, or arising out of, any representations set forth in the SOPD Information.