Service Overview
Network operators that provide cloud hosted content, applications, and services must deliver assured experiences to their end users. Exceptional experience is an essential requirement in today's digital world. Network automation simplifies operations for the operator while improving the customer experience, eliminating the impact of human error, and reducing the cost of customer churn. To help operators reach these objectives, Juniper offers Paragon Pathfinder and Paragon Planner—cloud-native WAN automation products that are part of the Juniper Paragon Automation portfolio. These solutions allow operators to efficiently manage their services through automated planning, proactive monitoring, and optimization.
 
Juniper Federal Services team has many years of experience working with the Federal Government. Our team has a unique understanding of the Federal Government requirements that are paramount in the design and deployment of resilient, intelligent, high-performing mission-critical networks. We have cleared consultants that have security in mind, and are experienced with implementing security standards and practices in our solutions.
Service Description
Networks are becoming increasingly complex and WAN traffic patterns are continuously evolving. Additionally, operations and engineering teams are under constant pressure to deliver results and optimize network infrastructure with minimal time. Deploying new technologies requires expertise and time that can take vital resources away from business-critical tasks. Juniper® Paragon Pathfinder and Paragon Planner Deployment Services can help operations and engineering teams overcome these challenges. These services remove the initial burden of deployment and determine deployment requirements in a production environment. 
The services minimize implementation time and costs while optimizing operational efficiency. With Juniper's deep network knowledge, advanced skillsets, and expertise in the Juniper Paragon™ Automation Portfolio software, you gain the most from your investment in infrastructure and automation. The key features of Paragon Pathfinder and Paragon Planner are:
Juniper Paragon Pathfinder: Design, provision, and optimize segment routing and MPLS path flows
Juniper Paragon Planner: Plan, model, and verify services before deploying them, and forecast the impact of network changes such as latency, traffic flows, and new traffic, as well as the impact of new services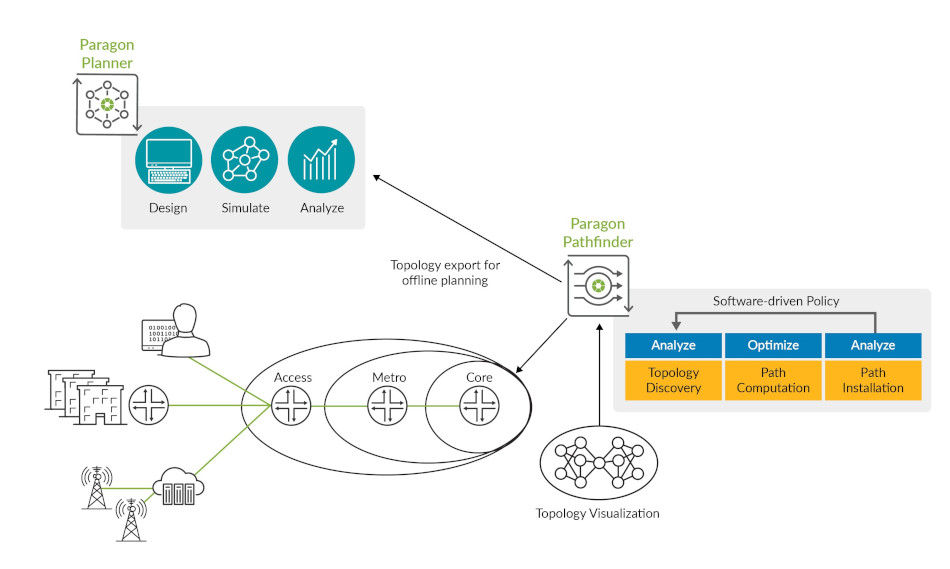 These services come with the following deliverables:
Solution design
Software installation and configuration
Acceptance testing*
Knowledge transfer
Table 1 provides details on each service component.
Table 1. Service Components
Components
Description
Features and Benefits
Solution design
Juniper conducts a requirements review workshop to interactively discuss the technical aspects of the solution and supported features. The workshop includes a high-level discussion of the architecture, implementation, and recommended deployment approach. The Juniper Professional Services team provides a detailed technical design document, comprised of solution architecture, system and connectivity requirements, installation process, and features configuration.

Speeds deployment process with a detailed analysis of the project scope and solution design
Advances deployment process with best-practice design
Provides project planning to set expectations, manage scheduling, and identify dependencies

Software installation and configuration
Juniper Professional Services team installs Paragon Planner or Paragon Pathfinder software. The team onboards Juniper devices and provides configuration templates needed for integration with the Paragon Automation Portfolio application. Implementation includes product installation and configuration as specified in the design document. The services consultant also configures the software and creates use cases based on the design document.

Applies a process-driven approach to ensure accurate installation and functioning of Paragon Automation Portfolio application

Acceptance testing
The Juniper Professional Services team prepares the testing checklist and verifies the successful installation.

Ensures that the desired capabilities are in place, after executing the acceptance test plan

Knowledge Transfer Workshop
The Juniper Professional Services team transfers detailed knowledge of Juniper products and information about how these products function in the network to your team.

Provides detailed knowledge of Paragon Pathfinder or Paragon Planner and how it operates in the network to better prepare your team to support the solution 
Accelerates employee learning curve and readiness for improved operational efficiencies
Table 2. Summary of Packages Available for Paragon Pathfinder and Paragon Planner Deployment Services
| | | | |
| --- | --- | --- | --- |
|   | Paragon Pathfinder Deployment Service | Paragon Planner Deployment Service | Custom |
| Paragon Pathfinder or Paragon Planner installation | ✔ | ✔ | ✔ |
| Devices configuration | ✔* | - | ✔ |
| Discovery of network—topology visualization | ✔ | ✔ | ✔ |
| Data collection | ✔ | ✔ | ✔ |
| Label-switched path (LSP) reporting and statistics | ✔ | - | ✔ |
| Modeling exercise | - | ✔ | ✔ |
| Real-time LSP path computation and provisioning | - | - | ✔ |
| Closed-loop automation | - | - | ✔ |
| Capacity planning | - | - | ✔ |
| Custom automation | - | - | ✔ |
Paragon Pathfinder and Paragon Planner Deployment Services: Custom Package
A custom package with a choice of deliverables is also available to serve your unique business requirements. This package can be created with a combination of deliverables that can extend design, testing, implementation, custom automation, customized training, and knowledge transfer.
The Paragon Pathfinder software allows for extending the existing use cases with closed-loop automation via integrations with other applications within the Paragon Automation Portfolio as well as third-party systems. Juniper Professional Services can provide custom development of such automation scenarios and tailor the solution to meet the requirements in your current environment.
Ordering Information
To order Paragon Pathfinder and Paragon Planner Deployment Services, or for additional information, contact your Juniper account manager.
Education Services
Network engineers working with Paragon Automation Portfolio applications can attend the four-day Juniper Paragon Automation for the WAN (JPAW) training course to further develop their skills. Engineers will learn the key features of Paragon Automation Portfolio solutions and perform hands-on lab exercises. Alternatively, the All-Access Training Pass provides access to every Juniper instructor-led or on-demand (self-paced) training course for a full year at one low price.
Exclusion
The scope of this service is for deploying Juniper Networks Paragon Planner and Paragon Pathfinder features only and does not include separately sold assessment, design, or migration services. If you require additional services from your Juniper Professional Services consultant, contact your Juniper account manager.
About Juniper Global Services
Juniper Global Services offers an evolving life-cycle suite of services that aligns AI with people, process, and technology, to accelerate time to value, and de-risk network investments. Through insights, automation, and a range of services, Juniper provides assured assistance and advantage across the entire services portfolio.
About Juniper Networks
At Juniper Networks, we are dedicated to dramatically simplifying network operations and driving superior experiences for end users. Our solutions deliver industry-leading insight, automation, security, and AI to drive real business results. We believe that powering connections will bring us closer together while empowering us all to solve the world's greatest challenges of well-being, sustainability, and equality.
1000755 - 001 - EN SEPT 2022