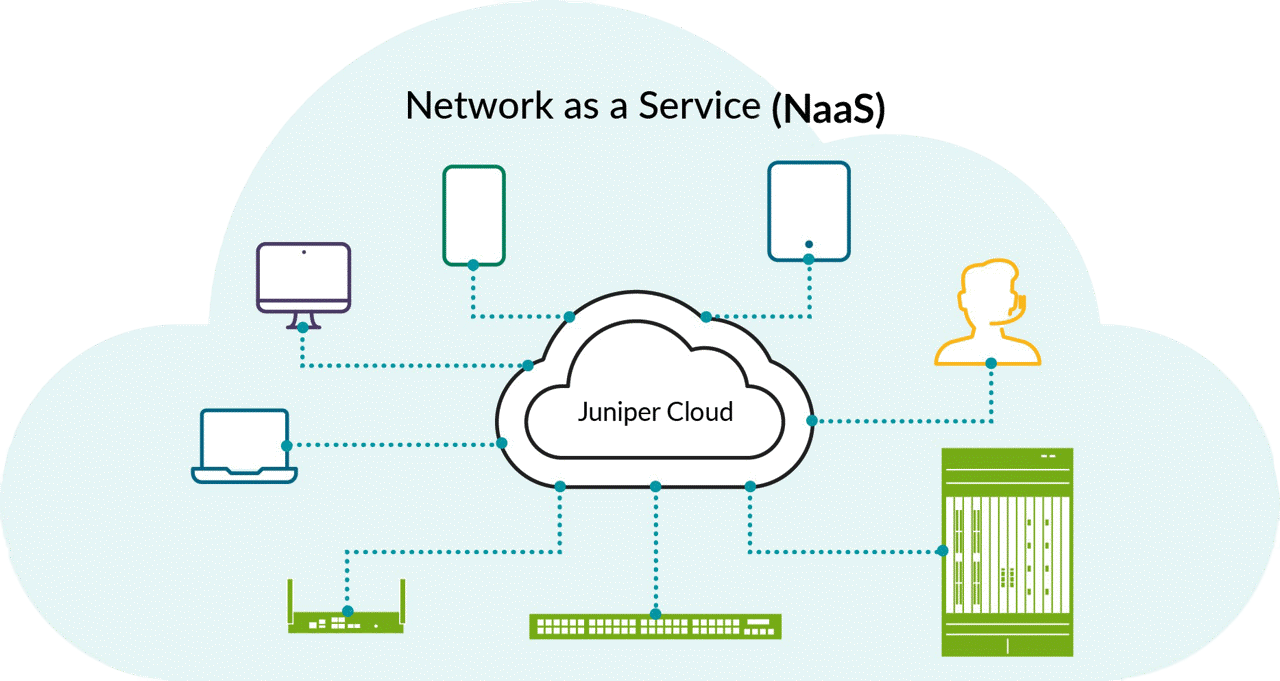 Flexibility in your hands
Juniper's Network-as-a-Service (Naas) delivers turn-key, flexible and scalable full stack of network services for industry-leading AIOps tech stack which includes wired, wireless, and secure SD-WAN.  With NaaS it is now extremely easy to access this technology and consume it as a network service. 
NaaS is subscription-based and requires zero upfront capex investment, which combines best-in-class platform capabilities, such as a microservices cloud, open APIs, and Mist AI. The new NaaS capabilities offer a one-stop-shop for an end-to-end experience. It gives the ability to easily procure cloud services, manage network usage, and assure the best user experiences across multiple locations, no matter the size of your deployment. It's as simple as a monthly mobile payment plan. 
---
Industry-leading, AI-driven technology and a single cloud-based portal for wired, wireless, and SD-WAN
Flexible purchasing and payment options
Consistent user experience
Features + Benefits
Zero Upfront Capex Investment
Requires no upfront capex investment
Eliminates budget uncertainty with fixed monthly operational costs 
Helps plan resources effectively
Ability to easily scale per your business requirements
Effective inventory management from a single platform
Monitors device and service usage with a simple view
No more challenges associated with owning, operating, and managing a network infrastructure
You can manage it through Juniper MSPs (managed service providers) or do it yourself through reseller partners
Industry-leading AI-driven technology and operations dashboard
Access to the latest technology, with a pay-as-you-grow model
Software
We're enabling our vision of networking for the cloud era with software and AI across Automated WAN Solutions, the Cloud Ready Data Center, the AI-Driven Enterprise, and Connected Security.
Services
Complement Flex with Juniper Care Services. Our technical and operational support can help you meet the demands of your network and keep it running reliably, while protecting your high-performance investment.
Network-as-a-Service (NaaS) FAQs
What is Juniper's NaaS?
Juniper's Network-as-a-Service (NaaS) facilitates deployment and supports operations and management of Juniper AIOps technology stack, which includes wired, wireless, and secure SD-WAN network services, via Juniper-managed service providers or through reseller partners.
Which Juniper products are offered under NaaS?
NaaS is available for Juniper's, wired, wireless, and SD-WAN network services.
Is NaaS consumed as an OpEx model or CapEx model?
NaaS is consumed as an OpEx model. You can procure the industry-leading technology as a subscription without significant upfront capital investments. It eliminates budget uncertainty with predictable fixed payments, which helps you to plan your budget and predict operational costs. 
What are Juniper's NaaS payment terms?
NaaS offers flexible buying options and gives the ability to procure network as a service. In terms of convenience, it's as simple as a typical monthly mobile phone payment plan. You can sign up for periodic payment plan utilizing a fixed-term subscription between 36 to 60 months. 
How does a flexible payment plan work?
In the initial offering you can buy a term-based plan and will be billed monthly. After the term expires, the subscription can be renewed for one, three, or five years at a reduced subscription payment, or month to month at the current payment, or you can return the equipment to Juniper Financial Services (JFS). Minimum terms and deal sizes may apply.
Who owns title to assets?
Juniper Financial Services (JFS) holds title to assets, for those who do not want ownership. 
What happens if I chose to upgrade and/or upscale?
Juniper's NaaS is flexible, and yes, you can upgrade and/or upscale even during the term of agreement.