Juniper Paragon Automation - Device Life-cycle Management Solution Brief
Automated, consistent, and secure device life-cycle management
Download Solution Brief
Challenge
Device life-cycle management is typically performed manually with some security and assurance checks. Until recently, the process has not been automated and the lack of automated oversight has led to costly errors and unacceptable times to market for communication service providers (CSPs).
Solution
Juniper Paragon Automation enables Device Life-cycle Management that maintains the entire device life cycle including automation of onboarding plans, guided device field installations, configuration, updates, compliance audits, as well as AI- driven monitoring and problem troubleshooting.
Benefits
- Accelerate time to revenue at scale through automation
- Ensure network trust with device integrity, compliance, and health checks
- Guarantee device performance and network quality
- Ensure consistent deployment that saves time and money
The Challenge
Device Life-cycle Management is a critical best practice that operators rely on to maintain their network equipment. The workflow for this process can include installation of device, performance testing, upgrades, configurations, and the eventual dismantling of the device at end of service. All network equipment requires these tasks from shipment arrival to End-of-Life (EOL) disposal.
A recent market guide for network automation tools from Gartner1 shows that 75% of networking activities are still manual today. Device life-cycle management is no exception. Typically, operators have taken either a tedious manual approach to device maintenance or a Do-It-Yourself (DIY) approach with homegrown tools that provide some automation. However, a recent study by Analysys Mason2 shows that 80% of DIY automation implementations fail. Clearly, there is lots of room for improving device life-cycle management with intelligent network automation solutions.
Take the critical task of onboarding, for example. A recent survey from Heavy Reading3 shows that only 16% of CSPs are able to onboard a device in less than one hour. When a typical IP service fabric could require onboarding thousands of access and aggregation devices, field technicians and network operation center engineers could face hundreds of days dedicated to device onboarding.
Not surprisingly, according to the same survey, CSP's two primary drivers for automation are to reduce the time needed to deploy services and improve productivity. Deploying new equipment is time consuming and error prone due to the required number of manual interventions and the limited ways that operators and service providers validate quality and device integrity during onboarding. Moreover, employing field technicians with the necessary networking expertise and CLI knowledge increases costs.
In the age of artificial intelligence (AI), machine learning (ML), and autonomous networks, device life-cycle management can be easier and more streamlined. Juniper® Paragon Automation allows CSPs to reimagine the process from start of life to EOL. With automation, CSPs can realize these improved processes:
The onboarding process should not stop at zero-touch configuration and provisioning. Onboarding should be planned and automated to meet the operational intent, from the moment the device is unboxed to when it is ready for service.
Field technicians should be able to deploy services with intuitive processes, without extensive CLI manuals, user documentation, or systems red tape. They should have visual guides and easy, step-by-step instructions at their fingertips. The instructions should guide them to where to insert cables and warn them if a cable is inserted in the wrong port.
Device health checks and hardware and software integrity should not be afterthoughts or forgotten. They should be embedded into the onboarding process.
End-to-end connectivity tests should be performed automatically on the data plane to ensure performance objectives are met—before a device starts forwarding customer traffic.
Operations should not waste cycles reviewing a sea of basic alarms. Monitoring and troubleshooting should be simplified to focus on the KPIs that matter most. Highlighting the critical issues that violate SLAs further speeds problem resolution.
Root cause analysis should be established automatically, as problems happen. When insight is available about necessary urgent actions, operators can resolve problems faster.
Device Life-cycle Management with Juniper Paragon Automation
Paragon Automation provides automated, consistent, and secure Device Life-cycle Management that maintains the health of the device for its entire life cycle. It automates onboarding plans, guided device field installations, configuration (including templates and backups), updates, and compliance audits. At the same time, it provides AI-driven monitoring and problem troubleshooting.
Device Life-cycle Management makes it possible for intents to be specified for the field technician procedure during Paragon Automation's secure, automated device onboarding. The intent model and orchestration design makes the device onboarding process elegantly simple and efficient. With a few steps and explicit guidance for field technicians, device onboarding becomes extremely easy.
Secure, automated device onboarding starts with the design of the intents and intent profiles for new devices. Field technicians initiate the process at the site. Using a mobile phone, the technician signs on to the Paragon Automation field technician application and scans the unique QR code on the network device, which triggers automation specifically for that device.
Juniper routers come pre-integrated with a secure Trusted Platform Module (TPM2.0) chip and unique Device identifier (DevID) that ensures the authenticity and tamper-proofness of the hardware. Once the Paragon Automation application determines authentic Juniper hardware, it provides a step-by- step visual installation guide to make sure that correct pluggables are used and the technician connects each cable correctly.
Field technicians continuously receive status updates and recommended actions when they make an error. After cabling is complete, the correct software image and device configuration are applied automatically. The automation ensures that each peering device's configuration is also updated appropriately, such as configuring BGP or simply the other link endpoint.
Various validation steps are then performed in the background to ensure the correct hardware and software are installed, the right configurations are loaded successfully, the device meets trust and compliance checks, the device is healthy, and interfaces are up. Connectivity is also performance tested to ensure they meet SLAs. Technicians can then complete the onboarding workflow. In parallel, Paragon Automation updates inventory so devices are fully ready for service in minutes.
During onboarding, the workflow supports multiple steps that simplifies the process. When these steps are automated, devices are onboarded in minutes—much more quickly than a limited, semi-automatic, zero-touch provisioning (ZTP) process that can take hours or even days.
Meanwhile at the network operation center (NOC), Paragon Automation gives engineers full oversight on every onboarding activity happening across the network. Paragon Automation keeps engineering and operation teams in sync with the network state in real time. After the field technician completes the work order, the network is AIOps ready for Day 1 and 2 operations.
Through Paragon Automation's device onboarding, operators can supervise the field technicians performing onboarding and decide which devices are ready for service. With intuitive, easy- to-use dashboard views, operators can see onboarding-related issues across the network and investigate when needed.
One key challenge in the NOC is making sense of the overwhelming number of events and amount of incoming data. Sifting through it all is tedious and time-consuming for operators. Paragon Automation, using AI and ML, aggregates events and data, focusing it on root causes and urgent actions. It filters the noise so that network operators can identify what is urgent and the actions needed to resolve the issue.
Dashboards provide a quick and simplified at-a-glance view that highlights all the key metrics to the top and identifies the most urgent issues prominently. The NOC engineer can quickly understand which issues to investigate and triage problems for troubleshooting and remediation. Once ready, the engineers can perform remote testing to validate performance objectives. Then, with the click of a button, the engineer can place the network device into service.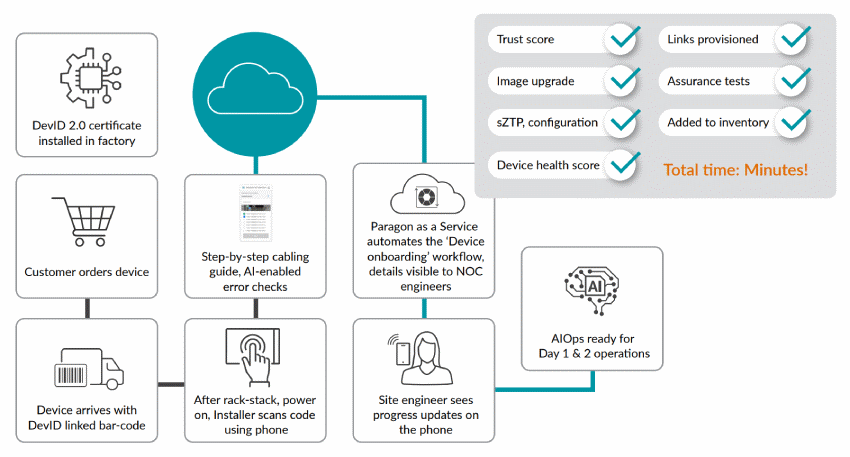 Features and Benefits
Paragon Automation makes device life-cycle management elegantly simple and efficient. It orchestrates design, helps guide installations for field technicians with workflows, and supports NOC supervision, Day-2 device life-cycle management, device management using intents, device configuration, software upgrades, inventory management and more.
| | |
| --- | --- |
| Use Cases | Description |
| Orchestrated design | Ensures that a device onboarding network implementation plan is consistent and that configurations are done right the first time and every time. Intents are specified within the design that help guide field technicians to install and configure the device correctly. |
| Field technician workflows | Supports automated steps in the workflow to onboarded devices in minutes—much more quickly than a limited, semi-automatic, zero-touch provisioning (ZTP) process that can take hours or even days. In addition to configuration and provisioning, the workflow can include secure ZTP, device trust validation, device health checks, connectivity and performance checks, and AI- enabled resolution of issues to correct errors. |
| NOC supervision | Investigate device onboarding and Day 2 operations issues from the NOC by drilling into an urgent action for troubleshooting. When issues arise, the operator can review the problem from various points of view, such as identify/location, remote management, hardware, interfaces, software, configuration, routing, and connectivity. |
| Day-2 device life-cycle management | Avoid updating monitoring systems with an intent-based device life-cycle management model that has observability built into the workflow. A separate device-centric model allows the user to manage the device and its settings directly. |
| Device management using intents | Change all devices of the same type at the same time by updating the device or interface profiles and republishing the intent plan with the new settings. Changes can relate to both configurations and observability (e.g., Active Assurance), and the intent plan can be used to manage the devices and interfaces. |
| Device configuration | Applies consistent, error-free device configurations with templates that help operators deploy devices right the first time and every time. |
| Software upgrades | Enables operators to upgrade or downgrade the device software version. |
| Inventory management | Provides a complete device inventory, including chassis components, part numbers, licensing, and enabled features. New licenses can be easily applied to devices. |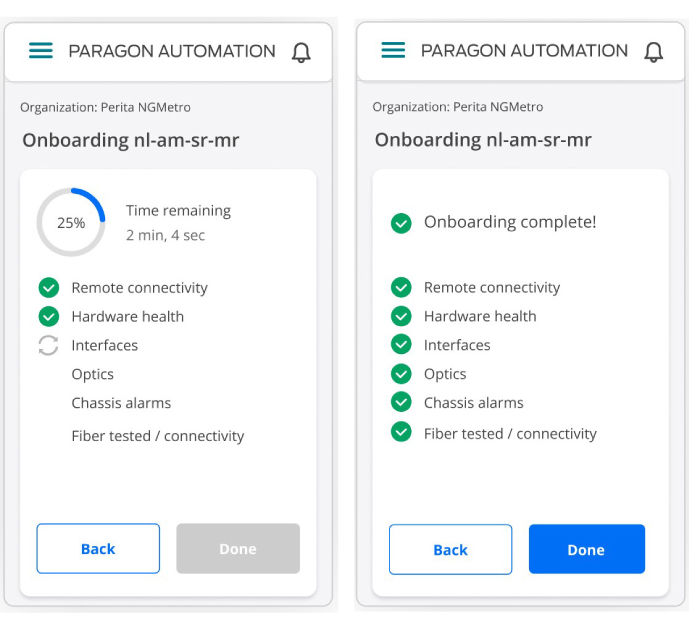 Ensuring Network Trust and Compliance During Device Onboarding
During the device onboarding process, the workflow supports automated steps that include device trust validation checks. Paragon Automation enables device life-cycle management, network observability, and network trust and compliance.
Juniper Cloud Metro routers come pre-integrated with a secure Trusted Platform Module (TPM2.0) chip and unique Device identifier (DevID) that allow Paragon Automation to ensure the authenticity and tamper-proofness of the hardware. Zero- trust security capabilities also include secure ZTP and software integrity checks. These capabilities help Paragon Automation ascertain a Network Trust Score and continuously monitor that score over time with changes to the network hardware and software. During the device onboarding process, the workflow supports automated steps that include device trust validation checks. When investigating device onboarding issues with Paragon Automation device life cycle and network observability, operators can leverage the built-in, integrated network trust and compliance.
Learn more about network trust and compliance by reading the Solution Brief on Network Trust and Compliance.
Integration into Network Observability
For device life-cycle management, NOC engineers can troubleshoot and gain visibility into issues using Paragon Automation's network observability application. They can troubleshoot problems more intelligently by drilling into urgent actions. For any issues, they can take a look at a problem from various points of view. Troubleshooting options include identify/ location, remote management, hardware, interfaces, software, configuration, routing, and connectivity. By using collapsible views for each of these with indicators for health status and actions required, Paragon Automation makes it easier for the operator to focus on what matters first.
Learn more about network observability in Paragon Automation by reading the Solution Brief on Network Observability.
Solution Components
Device Life-cycle Management is powered Paragon Automation, which provides intent-based network automation. The solution makes network automation intuitively easy while enabling organizations to evolve to AIOps and better support their network and service life cycle, from Day 0 to Day 2. With Paragon Automation, organizations can reduce time to revenue, accelerate service delivery, and significantly reduce mean time to know (MTTK) and mean time to repair (MTTR). It dramatically boosts productivity and speed, along with continually enabling amazing experiences, both for end users and the operators that run the networks.
Summary—Automated Device Life-cycle Management that Scales with Your Needs
Automation accelerates innovation, increases operational efficiency, and delivers amazing customer experiences. It saves you time, money, and resources, while allowing you to introduce new service enhancements at your own pace and protect network performance and quality. Time to automation matters. When you deploy services faster than the competition, your customers and your business realize better outcomes and experiences. With device life-cycle management through Paragon Automation, you empower your engineering and operation teams and accelerate time to revenue while guaranteeing network quality and security in large-scale networks.
Next Steps
About Juniper Networks
At Juniper Networks, we are dedicated to dramatically simplifying network operations and driving superior experiences for end users. Our solutions deliver industry-leading insight, automation, security and AI to drive real business results. We believe that powering connections will bring us closer together while empowering us all to solve the world's greatest challenges of well-being, sustainability and equality.
3510805 - 002 - EN OCTOBER 2023