Service Overview
Today's organizations are under constant pressure to meet dynamic market demands while increasing their return on investment. Juniper Advanced Care Plus provides value-based services designed for small and medium-size enterprise customers who don't have a large IT operations team, but require effective, high-touch support from Juniper. 
Service Description
Juniper Networks® Enterprise Support Services Portfolio provides the support and assistance needed for managing the complexity of technology. The rich set of services helps keep your network at optimum readiness, able to evolve smoothly and effectively in response to the demands of your business.
Juniper® Advanced Care Plus builds upon Juniper Advanced Care to offer a better customer support experience. The cost-effective service solution provides a single point of contact technical services advisor for high-touch support available five days a week, up to eight hours each day. The advisor assists in the progression of high-impact network issues, proactive technical notification, consultation and guidance, software release upgrade guidance, operational review meetings, and knowledge transfer related to Juniper products.
Additional service features include 24x7 access to an Escalation Management Desk via a dedicated phone number, expedited support through direct access to Juniper senior support engineers, faster support response times, onboarding assistance, best practice knowledge transfer, and customized reports.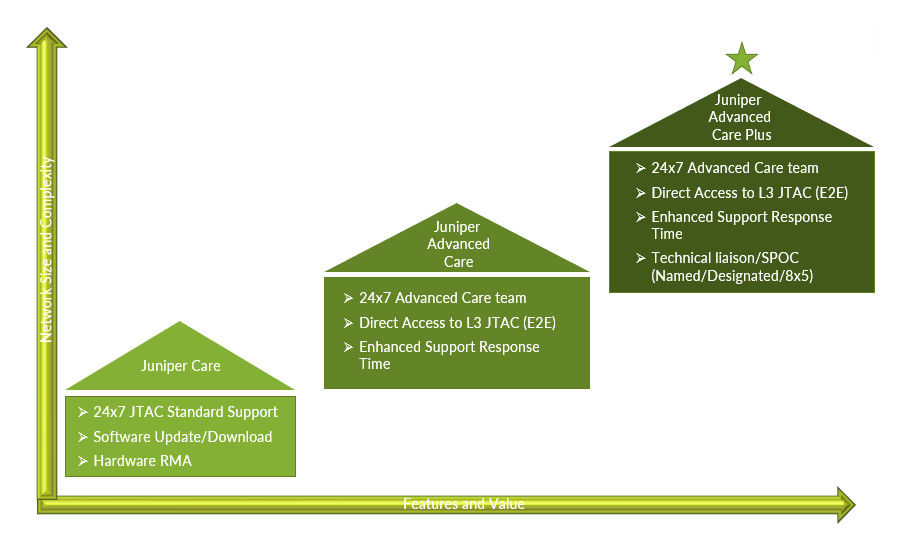 Features and Benefits
Table 1. Juniper Advanced Care Plus Features and Benefits
Feature
Feature Description
Benefit
Technical Services Advisor
(Named/Designated/8x5)
8x5 remote named Technical Services Advisor proactively manages customer experience to provide assistance on JTAC case progression, proactive technical notification, software release guidance, asset tracking, informal Q&A and technical liaison with Juniper teams.
Effectively and efficiently grow and scale the network. Customer does not have to train/hire/manage expensive network resources, saves time and preserve budget dollars.
Assistance in Progression of High-Impact Network Issues
Acting as an interface between customer and JTAC, the Technical Service Advisor provides technical inputs for faster resolution.
Valuable insights about customer's network help accelerate case closures and increase network uptime so end users can stay productive.
Proactive Technical Notification Consultation and Guidance
Specific technical updates, such as Proactive Bug Notifications (PBNs), Technical Service Bulletins (TSBs), Security Incident Response Team (SIRT), and others are discussed and explained based on existing infrastructure.
Technical discussion and consultation helps customer identify potential impacts and take proactive actions.
Software Release Upgrade Guidance
The Technical Service Advisor assists in selecting software and discusses potential problems, risks, and benefits for software release.
Ongoing guidance ensures the customer is running supported software optimized to their network and business needs.
Operational Review Meetings
As-needed meetings with customer to help guide the team through their technical issues and needs.
Conference calls with customer provides good visibility of operational issues and progress of open cases.
Knowledge Transfer Related to Juniper Products
Ongoing technical questions related to Juniper products are addressed and answered.
Juniper technical experts answer any product questions that customers may encounter.
Escalation Management Desk (24x7)
A 24x7 remote team with a dedicated phone number (833-919-1492) is available to facilitate all escalations and ensure that cases reach the next level. A follow up report and status will be provided to the customer until all escalation requests are final.
Customer issues are handled and resolved in an efficient manner to ensure their networks run smoothly.
Onboarding Assistance
Guidelines and processes are provided to customers about how to access Juniper resources.
Assistance reduces the learning curve and builds networking expertise quickly.
Customized Reports
Multiple reports, including monthly PBN Report, quarterly Customer Service Experience Report, Installed Base (IB) and Entitlement, End of Life (EOL), End of Service (EOS), Case History, and Return Material Authorization (RMA), are provided to customer.
Proactive data delivery preempts problems before they occur, enhancing customer decision making.
Best Practice Knowledge Transfer
Quarterly interactive webinars share best practices and use cases with customers.
Customers acquire new knowledge to help them maintain a highly available network.
Expert-to-Expert Access for High-Priority Cases
Priority 1 and Priority 2 cases are routed directly to senior engineers (L3 ATAC for P1/P2 cases).
Faster issues resolution for high-priority cases ensures a highly available network.
Enhanced Support Response Time
Response time for Priority 1 and Priority 2 cases is 30 mins, and response time for Priority 3 and Priority 4 cases is four hours.
Case closures are accelerated and network uptime is increased, so end users can stay productive.
Ordering Information
The Juniper Advanced Care Plus contract has a minimum annual term of twelve (12) months. 
For details, please contact your local Juniper authorized partner, Juniper Networks Account Manager, or your assigned Juniper Services Business Manager. 
As a prerequisite, customers must have Juniper Care Services, which provides the foundational base required to enable Juniper Advanced Care Plus.
About Juniper Networks
At Juniper Networks, we are dedicated to dramatically simplifying network operations and driving superior experiences for end users. Our solutions deliver industry-leading insight, automation, security, and AI to drive real business results. We believe that powering connections will bring us closer together while empowering us all to solve the world's greatest challenges of well-being, sustainability, and equality.
1000737 - 002 - EN AUG 2022