The Juniper Flex licensing program offers choice in how networking is consumed. We have made licensing easy, so you purchase only what you need and keep what you buy. Flex offers:

Simplicity
Perpetual AND subscription options
Inclusive of products across enterprise, data center, service provider, and security
Platforms, software, and SaaS products are all consistently aligned to technology use cases


Transparency
What you buy is what you keep 
No hidden fees for features
Lower entry price points for foundational use cases
Access to advanced use cases


Optionality
Physical, virtual, and cloud solutions
One, three, and five-year subscription terms
Portability of subscription software
---
Simplicity
Transparency
Optionality
Features + Benefits
Flex enables choice with an easy way to purchase Juniper solutions ranging across:
Software on high performance platforms - PTX, MX, QFX, EX, SRX, NFX, and ACX Series
Software on Juniper, virtual, and cloud platforms - vMX, vSRX, cSRX, and cRPD
Standalone software and services – Contrail, Paragon Automation, Wi-Fi/Wired/WAN Assurance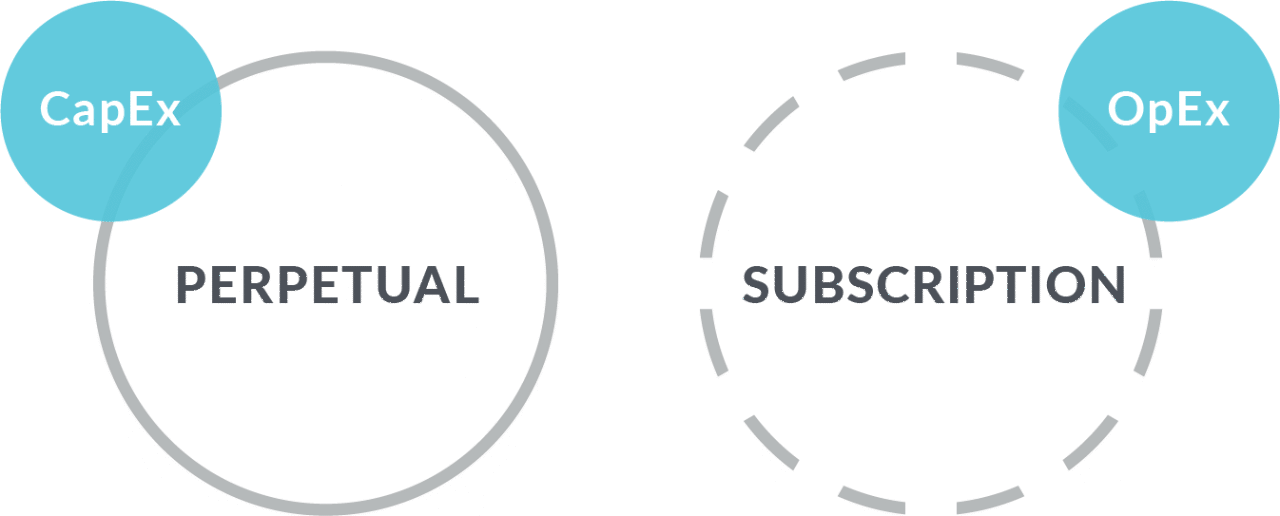 Simplified by use cases to provide more
With Juniper Flex, you can right-size your network investments according to the needs of your organization. And if things change, adding new capabilities or moving between platforms within a device class is not a problem.

And by the way, Flex enables advanced capabilities including:


Wired Assurance for cloud management and AI-Driven support and operations
EVPN-VXLAN, QinQ, and VRRP on the PTX
Fine grained QoS and additional FIB and LSP scale on the QFX migrating to PTX
Further, routing use cases are completely aligned between MX and PTX platforms as are data center use cases between QFX and PTX platforms for operational consistency and ease.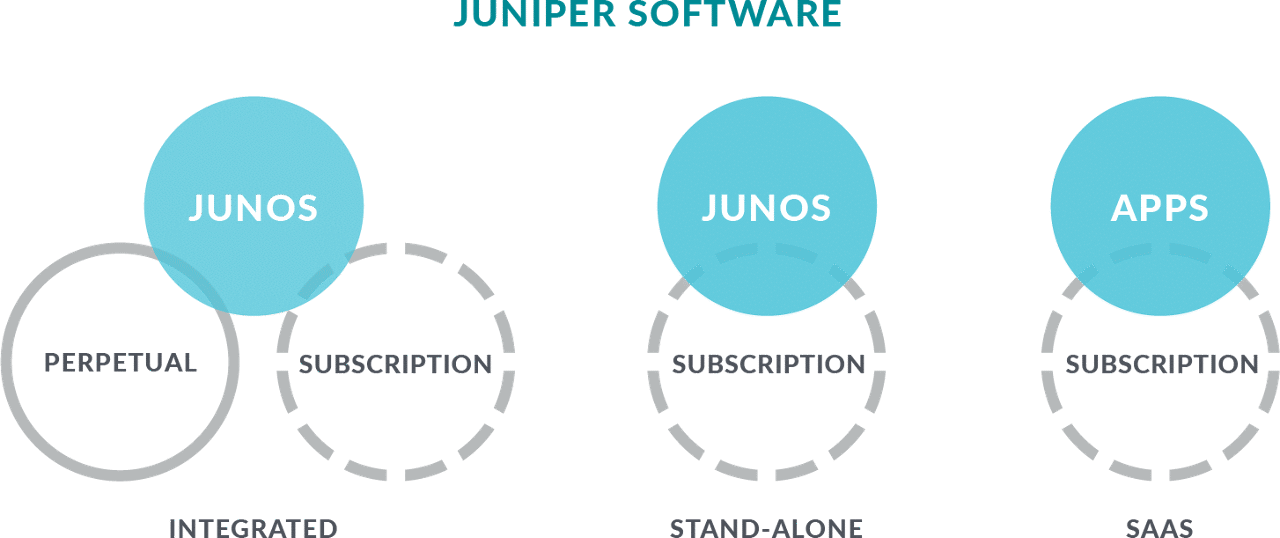 In many cases, Juniper Flex introduces a lower entry price point for foundational use cases compared to traditional licensing. Further, both perpetual and subscription licensing options within Flex can also yield additional TCO savings.
Simply consistent for all products
All these solutions and more are offered in a simple, three-tiered model for software that is integrated onto Juniper platforms; runs on either Juniper or third-party platforms including cloud; or is offered as SaaS.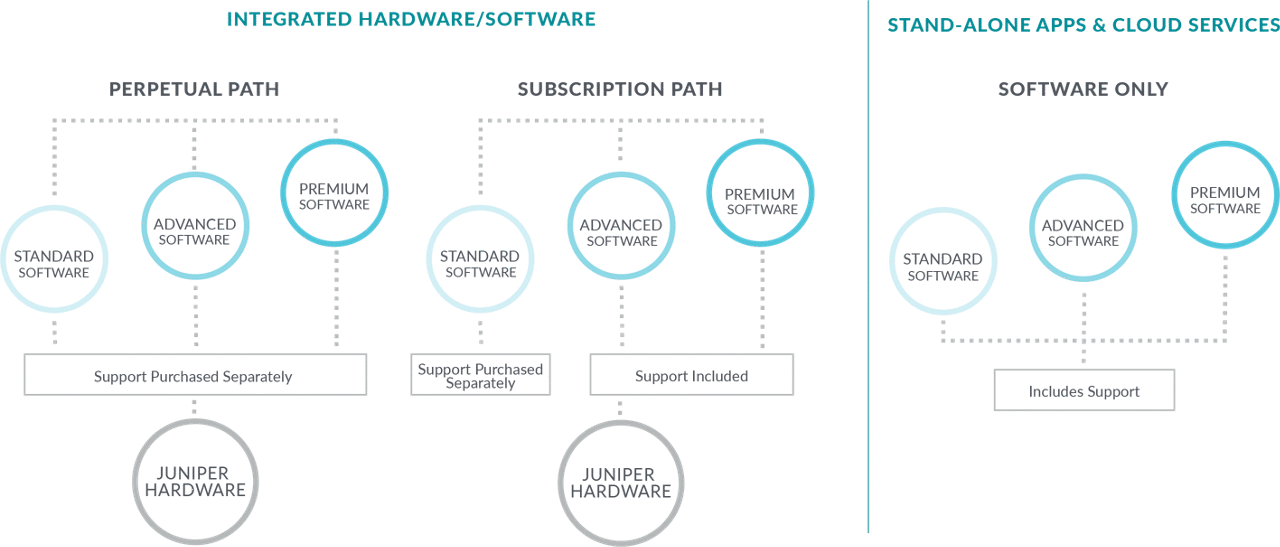 Juniper support services are integrated
Juniper Care is included with every Juniper Flex subscription software package to make it easier to keep your network running reliably using award-winning, technical, and operational support. Hardware and basic software support are available directly from Juniper or through certified technical partners.

Juniper Advanced and Premium Care packages are also available for greater levels of personalization and access. Further, Juniper's Advisory and Professional Services can help reduce implementation complexity and further accelerate your network's time to value.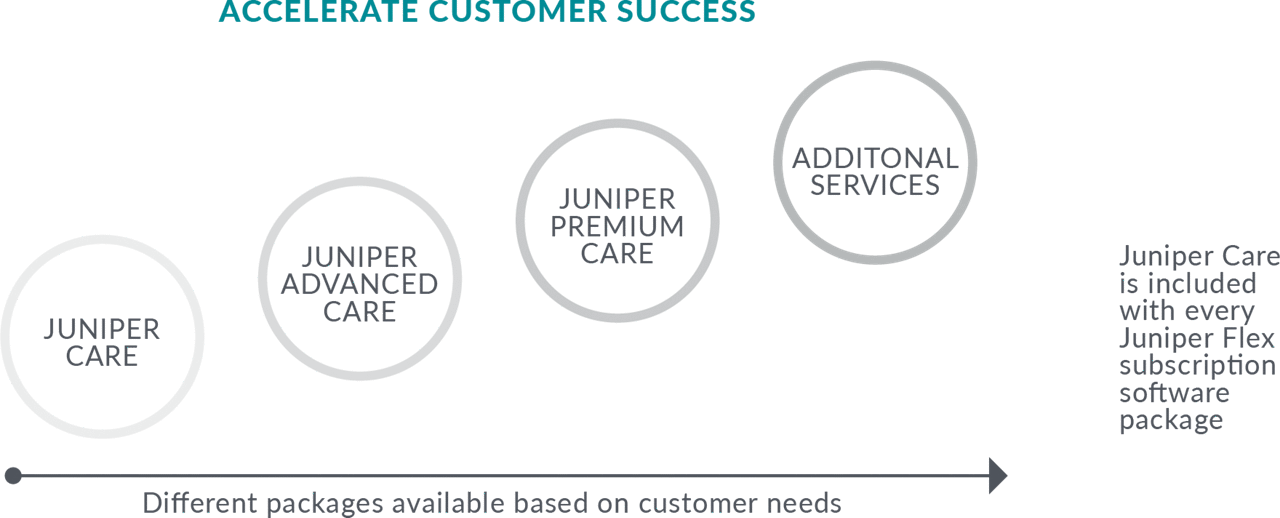 Software
We're enabling our vision of networking for the cloud era with software and AI across Automated WAN Solutions, the Cloud Ready Data Center, the AI-Driven Enterprise, and Connected Security.
Services
Complement Flex with Juniper Care Services. Our technical and operational support can help you meet the demands of your network and keep it running reliably, while protecting your high-performance investment.