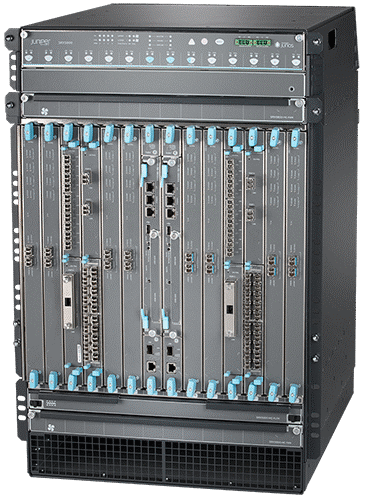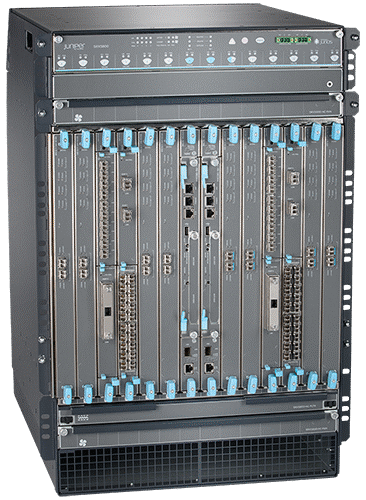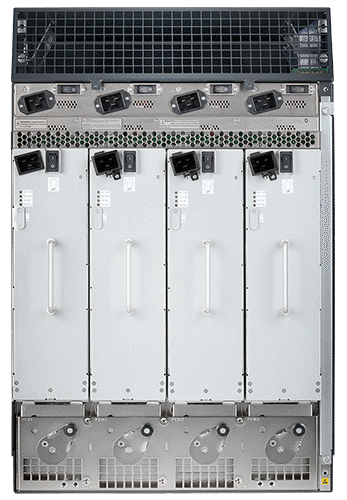 The
next-generation firewall
integrates an 860-Gbps intrusion prevention system (IPS), application visibility and control, and content security features such as anti-virus, anti-spam, and Web filtering.
Advanced Threat Prevention provides comprehensive threat defenses with dynamic malware detection, SecIntel threat feeds, Encrypted Traffic Insights, and Adaptive Threat Profiling.
---
Firewall performance (max)
Maximum concurrent sessions
Features + Benefits
Advanced Threat Prevention
Dynamic threat protection with Juniper Advanced Threat Prevention, including malware sandboxing, threat intelligence feeds, and Encrypted Traffic Insights to detect malware hidden in SSL-encrypted traffic.
Detect and mitigate threats through software-enabled next-generation firewall (NGFW) features, including intrusion prevention system (IPS), application security (AppSecure), user ID and role-based access controls, and content security (network anti-virus, anti-spam, and enhanced Web filtering).
Express Path Optimization
A mechanism on next-generation SRX line cards that improves throughput and latency by identifying and accelerating traffic flows that don't require deep packet inspection.
It prioritizes active flows to receive appropriate security treatment based on traffic type and level of inspection required.
Carrier-Class Reliability
Redundant hardware and components combine with resilient network and system processes built into Junos OS software to deliver six nines (99.9999%) system availability.
Separates data and control planes to allow deployment of consolidated routing and security.
Offers dynamic, adaptive secure SSL-VPN access to corporate and cloud resources for employees working remotely.
On/off-box capabilities enable the automatic, remote configuration of network and security policies and settings on SRX devices.
These automated features combine with centralized network security management to simplify IT operations.
The modular platform supports near-linear scalability with no performance degradation through Services Processing Cards (SPCs) and I/O cards (IOCs). There's no need for service-specific hardware.
Connectivity scales from 1GbE to 100GbE, enabled by the SRX's custom, 960-Gbps switch fabric.
99.9% Security Effectiveness
Juniper received a "AAA" Rating in CyberRatings' Enterprise Network Firewall Report, demonstrating a 99.9% exploit block rate with zero false positives.
Caribbean Resort Delivers Luxury Guest Experiences Across a Multitenant Network
Luxury travelers looking for the good life can find it all at Baha Mar, nestled on the beautiful white sands of the Bahamas. Visitors can enjoy one of the three top-tier resorts, play the slots at the largest casino in the Caribbean, swim at one of the dozen pools, or enjoy a massage at the spa.
Technical Features
Firewall performance (max)

3.36 Tbps

IPS performance

638 Gbps

VPN performance

699 Gbps

Maximum concurrent sessions

338 million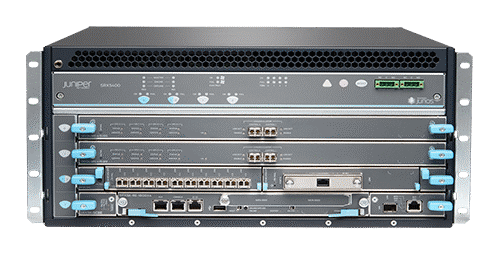 Technical Features
Firewall performance (max)

960 Gbps

IPS performance

172 Gbps

VPN performance

188 Gbps

Maximum concurrent sessions

90 million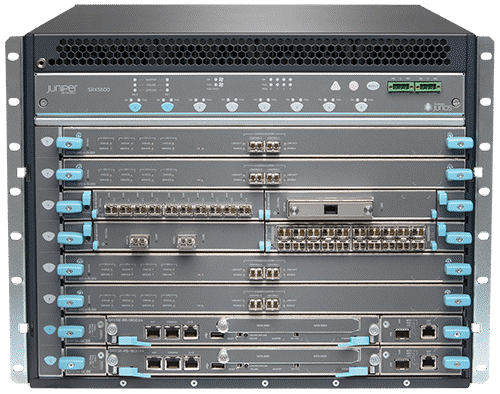 Technical Features
Firewall performance (max)

1.44 Tbps

IPS performance

245 Gbps

VPN performance

269 Gbps

Maximum concurrent sessions

182 million
Discover 283% ROI with Juniper Connected Security
Check out the recent Forrester Total Economic Impact of Juniper Connected Security Report to learn more.
Live Events and On-Demand Demos
Explore the journey to a transformed network.
Find SRX5800 in these solutions
Security
Make your network threat-aware. The Juniper Connected Security portfolio safeguards users, data, and infrastructure by extending security to every point of connection, from client to cloud, across the entire network.
Next-Generation Firewall
Juniper next-generation firewalls reduce the risk of attack and provide granular control of data, users, and devices through identity-based policies, microsegmentation, VPN connectivity, and validated threat prevention.
Service Provider Security
Juniper Connected Security safeguards users, data, and infrastructure by extending threat intelligence to all connection points across your network.
Public Cloud Security
Accelerate public cloud adoption securely with simple deployment, consistent security, and unified management at every level: within workloads, between applications and instances, and across environments.
Zero Trust Data Center Security
Connect applications while protecting data wherever it resides, with validated data center threat mitigation, reliability, and scalable solutions that support your data center architecture initiatives and business requirements.