The Juniper SRX4600 Firewall protects mission-critical data center and campus networks for enterprises, service providers, and cloud providers. The SRX4600 is an integral part of the Juniper Connected Security portfolio, which extends security to every point on the network to safeguard users, data, and infrastructure against advanced threats.
The SRX4600 next-generation firewall (NGFW) integrates networking and security into a single platform, delivering high-performance, scalable intrusion detection/prevention and dynamically protecting against malware. Centrally managed by Juniper Security Director Cloud software, the SRX4600 delivers IPsec VPN, fully automated SD-WAN, and easy policy management capabilities for reliable network security.
---
Firewall performance (max)
Maximum concurrent sessions
Features + Benefits
Advanced Threat Prevention
Dynamically protect your network against the latest threats with Juniper Advanced Threat Prevention security services. Juniper ATP integrates capabilities such as malware sandboxing, threat intelligence feeds, and Juniper Encrypted Traffic Insights, which detects malware hidden in SSL-encrypted traffic.
Detect and mitigate threats with software-enabled NGFW features, including an intrusion prevention system (IPS), application security (AppSecure), user identity services, and role-based access control (RBAC). For content security, the firewall supports integrated network antivirus, antispam, and enhanced web filtering capabilities.
Express Path Optimization
The express path optimization mechanism on SRX line cards improves throughput and lowers latency by identifying and accelerating traffic flows that don't require deep-packet inspection.
The firewall separates data and control planes so you can deploy consolidated routing and security devices.
You can tailor security and management policies for zones, VLANs, and IPsec VPNs and use virtual routers for internal, external, and DMZ subgroups.
EVPN-VXLAN (EVPN Type 5 route) configuration supported across all Juniper SRX Series Firewalls embeds security across the entire EVPN-VXLAN fabric, everywhere your workloads are.
AI-Predictive Threat Prevention
AI-Predictive Threat Prevention feature keeps known and zero-day threats off the network at line rate for the entire attack lifecycle—not just for 24 hours—helping your network stay safe from initial and subsequent attacks.
Our highly flexible SSL VPN and IPsec application provides remote employees with dynamic, adaptive, and secure VPN access to corporate and cloud resources.
99.9% Security Effectiveness
Juniper received an "AAA" rating in CyberRatings' 2023 Enterprise Network Firewall Report, demonstrating a 99.9% exploit block rate with zero false positives.
Resource Center
Datasheets and Specifications
Syntrio delivers fast, secure digital services with Texas friendliness
Santa Rosa Communications first brought phone service to Texas farmers and ranchers in the 1950s. With two acquisitions of wireless companies, Pinnacle Network Solutions, and managed service provider, PCnet, the company exemplifies innovation. Still locally owned and operated, but now called Syntrio, the company serves the digital needs of homes and businesses across North Texas and Southern Oklahoma.
The area, known as Texoma, is attracting residents from the Dallas-Fort Worth area and new businesses. Syntrio, which relies on Juniper Networks® from customer premises to core, is primed for growth.

SRX4600
SRX4600 is a next-generation firewall that protects mission-critical data 
center and campus networks for enterprises, service providers, and cloud providers.
Technical Features
Firewall performance (max)

400 Gbps

IPS performance

38 Gbps

VPN performance

75.26 Gbps

Maximum concurrent sessions

60 million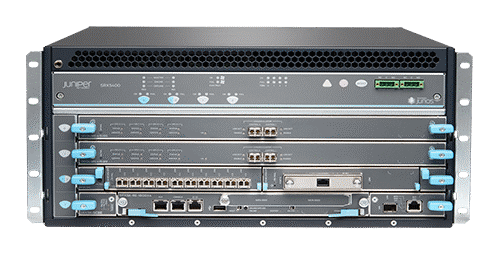 Technical Features
Firewall performance (max)

960 Gbps

IPS performance

172 Gbps

VPN performance

188 Gbps

Maximum concurrent sessions

91 million
Discover 283% ROI with Juniper Connected Security
Check out the recent Forrester Total Economic Impact™ of Juniper Connected Security report to learn more.
Live Events and On-Demand Demos
Explore the journey to a transformed network.
Find SRX4600 in these solutions
Security
Make your network threat aware. The Juniper Connected Security portfolio safeguards users, data, and infrastructure by extending security to every point of connection, from client to cloud, across the entire network.
Next-Generation Firewall
Juniper next-generation firewalls reduce the risk of attack and provide granular control of data, users, and devices through identity-based policies, microsegmentation, VPN connectivity, and validated threat prevention.
Service Provider Security
Juniper Connected Security safeguards users, data, and infrastructure by extending threat intelligence to all connection points across your network.
Public Cloud Security
Accelerate public cloud adoption securely with simple deployment, consistent security, and unified management experience at every level: within workloads, between applications and instances, and across environments.
Zero Trust Data Center Security
Juniper Zero Trust Data Center Security protects hybrid data centers by operationalizing security and extending zero trust across networks to prevent threats with proven efficacy. With unified management, context-driven network-wide visibility, and a single policy framework, Juniper safeguards users, data, and infrastructure across hybrid environments.