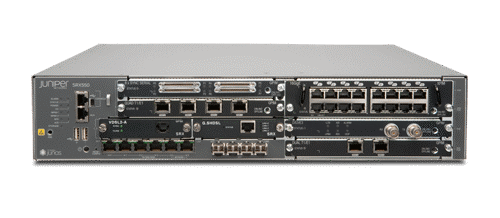 The SRX550 Firewall is an all-in-one solution that consolidates security, routing, switching, and WAN connectivity into a 2 U footprint. The highly flexible device delivers next-generation security, SD-WAN support, and enterprise-class networking to midsized and large branch locations.
The SRX550 supports next-generation firewall capabilities such as intrusion prevention, application visibility and control, and content security features that include anti-virus, anti-spam, and enhanced Web filtering.
The SRX550 provides a secure branch solution with Advanced Threat Prevention. This will include comprehensive threat defense with dynamic malware detection, SecIntel threat feeds, Encrypted Traffic Insights, and Adaptive Threat Profiling.
---
Firewall performance (max)
Maximum concurrent sessions
Features + Benefits
Advanced Threat Prevention
Protect your network against the latest threats with Juniper Advanced Threat Prevention. Our rich suite of security capabilities adjust dynamically to network conditions. Provides malware sandboxing, threat intelligence feeds, and Encrypted Traffic Insights, a feature that detects malware hidden in SSL-encrypted traffic.
Detect and mitigate threats through software-enabled next-generation firewall (NGFW) features, including intrusion prevention system (IPS), application security (AppSecure), user ID and role-based access controls, and content security (network anti-virus, anti-spam, and enhanced Web filtering).
Unifies control of WAN connections across multiple types of network interfaces while managing and securing MPLS, broadband, and 4G LTE wireless links across supported legacy interfaces.
Juniper Mist WAN Assurance
Enables simpler operations, network visibility, better end-user and application experiences, and shorter mean time to repair for the WAN. 
Flexible and redundant WAN modules include T1/E1, ADSL2/2+, VDSL2, and 3G/4G LTE options; Wi-Fi module offers 802.11ac Wave 2 wireless access for business users, guests, and IoT devices.
Offers dynamic, adaptive secure SSL-VPN access to corporate and cloud resources for employees working remotely.
On/off-box capabilities enable the automatic, remote configuration of network and security policies and settings on SRX devices.
These automated features combine with centralized network security management and maintenance to simplify IT operations across geographically dispersed locations.
Zero-Touch Provisioning (ZTP) simplifies initial deployments in branches where IT resources may be limited or unavailable.
Juniper's simple and seamless management experience across any environment—on-premises, cloud-based, cloud-delivered, and hybrid. Delivered in a single UI with unbroken visibility, policy configuration, administration, and collective threat intelligence all in one place.
99.9% Security Effectiveness
Juniper received an "AAA" rating in CyberRatings' 2023 Enterprise Network Firewall Report, demonstrating a 99.9% exploit block rate with zero false positives.
Resource Center
Datasheets and Specifications
Affordable Home Furnishings Within Reach With Automation
Badcock is known for stylish home furniture, accessible credit, and friendly service. One of the largest privately owned retailers in the U.S., Badcock relies on Juniper to make sure that all 378 stores have ultra-reliable, secure connectivity.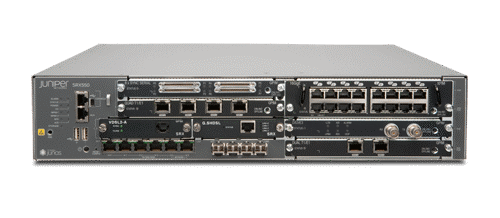 SRX550
The SRX550 next-generation firewall is ideal for securing midsized and large branch locations.
Technical Features
Firewall performance (max)

7 Gbps

IPS performance

800 Mbps

VPN performance

1 Gbps

Maximum concurrent sessions

375,000

SRX1500
The SRX1500 is a high-performance, low-latency, next-generation firewall and security services gateway that protects mission-critical networks at enterprise campuses, regional headquarters, and large branch offices.
Technical Features
Firewall performance (max)

9.2 Gbps

IPS performance

3.3 Gbps

VPN performance

4.5 Gbps

Maximum concurrent sessions

2 million
SRX380
The SRX380 next-generation firewall is a high-performance, secure SD-WAN gateway with superior and reliable WAN connectivity. It integrates security, routing, and switching for distributed enterprise offices in a single device.
Technical Features
Firewall performance (max)

20 Gbps

IPS performance

2 Gbps

VPN performance

4.4 Gbps

Maximum concurrent sessions

380,000
Discover 283% ROI with Juniper Connected Security
Check out the recent Forrester Total Economic Impact™ of Juniper Connected Security report to learn more.
Live Events and On-Demand Demos
Explore the journey to a transformed network.
Find SRX550 in these solutions
Security
Make your network threat aware. The Juniper Connected Security portfolio safeguards users, data, and infrastructure by extending security to every point of connection, from client to cloud, across the entire network.
AI-Driven SD-WAN
Enrich user experiences across the WAN with AI-driven insight, automation, action, and native security.
Next-Generation Firewall
Juniper next-generation firewalls reduce the risk of attack and provide granular control of data, users, and devices through identity-based policies, microsegmentation, VPN connectivity, and validated threat prevention.
Public Cloud Security
Accelerate public cloud adoption securely with simple deployment, consistent security, and unified management experience at every level: within workloads, between applications and instances, and across environments.
Zero Trust Data Center Security
Juniper Zero Trust Data Center Security protects hybrid data centers by operationalizing security and extending zero trust across networks to prevent threats with proven efficacy. With unified management, context-driven network-wide visibility, and a single policy framework, Juniper safeguards users, data, and infrastructure across hybrid environments.