Marvis Virtual Network Assistant
The Marvis Virtual Network Assistant uses Mist AI™ to transform how IT teams interact with enterprise networks. With natural language processing (NLP), a Conversational Assistant, prescriptive actions, Self-Driving Network™ operations, and integrated help desk functions, Marvis streamlines operations and optimizes experiences from client to cloud across wireless access, wired access, and SD-WAN domains.
Central to Juniper's unique AI-driven support model, Marvis is an essential virtual member of your IT team that provides unsurpassed insight and automation. The tool constantly learns as it ingests more data, using its growing knowledge base to proactively correct issues in real time, reduce your number of trouble tickets, and accelerate issue resolution.
---
Up to 90% fewer trouble tickets
Natural language interface 
Client-level network view
Proactive network fixes
Actionable recommendations
Features + Benefits
This feature uses Mist AI to identify the root cause of network issues across WLAN, LAN, WAN, and security domains. Use Marvis Actions to manage firmware upgrades, add missing VLANs, identify bad cables, find negotiation mismatches, ID congested WAN circuits, and get effective recommendations for resolving issues with third-party connected systems.
Marvis uses advanced NLP to understand user intent and goals. Its Conversational Assistant contextualizes your natural language inquiries to provide specific answers, whether you're troubleshooting or searching for devices or documentation. Ask Marvis any question without having to remember specific dashboards or CLI commands. 
With MQL, you can follow a structured format for asking Marvis a question to get raw or tabular data to monitor or troubleshoot your users' experiences and gauge the overall health of your network.
ID Scope with Correlated Data
Marvis correlates information across a large knowledge base, including WLAN, LAN, WAN, and security domains, to determine the scope and magnitude of a problem. This correlation helps you prioritize issues, allocate resources efficiently, and reduce pressure on support teams.
Android and Windows Clients
Currently available for Android and Windows devices, Marvis client software delivers rich network visibility into Wi-Fi experiences from the user device's perspective. You can understand how any connected device sees the Wi-Fi environment and view its properties, such as device type, OS, radio hardware, and radio firmware versions.
Juniper has expanded Marvis' conversational interface with ChatGPT to deliver more human-like conversational capabilities, particularly regarding documentation and support issues. Together, Marvis and ChatGPT provide concise, detailed responses to questions about technical documentation and other publicly available, historical knowledge base information. 
Marvis ingests data about user experiences with the Zoom conferencing application and correlates it with wired, wireless, and WAN performance data using advanced AI and machine learning techniques. Marvis' integration with Zoom allows you to quickly identify and remediate the root cause of videoconferencing problems.
Juniper and Zebra Technologies have teamed up to bring the first conversational interface to Zebra's mobile device management tools for enterprise networks. With Marvis-Zebra integration, you gain enhanced telemetry and visibility into the Zebra client experience.
A Magic Quadrant Leader
Gartner names Juniper furthest in Vision and Highest in Execution in the 2022 Gartner® Magic Quadrant™ for Enterprise Wired & Wireless LAN Infrastructure.
Gap Inc. Transforms In-Store Wi-Fi Experience with AI-Driven Networking
Technology has transformed retail, changing how shoppers interact with their favorite brands. To give customers and retail associates the best experience with in-store Wi-Fi, Gap Inc. found AI-driven networking to be a perfect fit. 
Marvis VNA
Meet Marvis, the first virtual network assistant (VNA) purpose-built with Mist AI for enterprise WLANs, LANs, and WANs. It fundamentally transforms network operations from reactive troubleshooting to proactive remediation through self-driving actions.

Technical Features
Up to 90% fewer trouble tickets
Natural language interface 
Client-level network view
Proactive network fixes
Actionable recommendations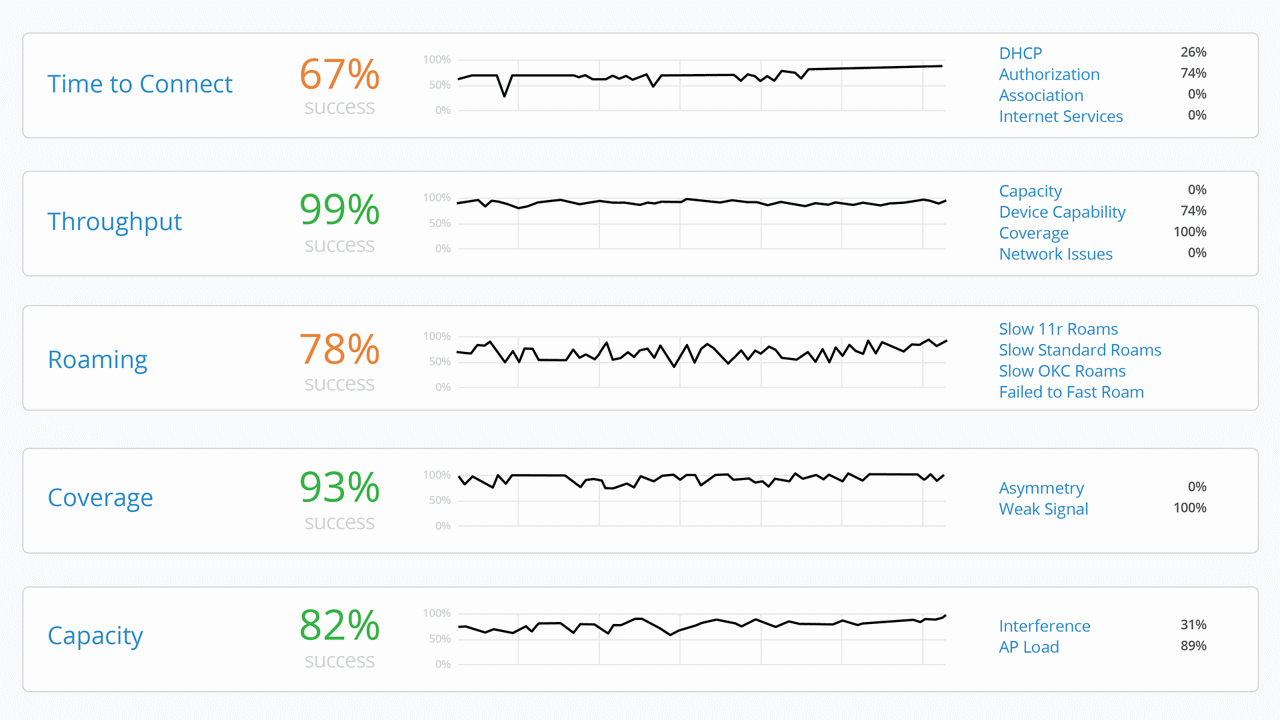 Wi-Fi Assurance
Driven by Mist AI and machine learning, the Wi-Fi Assurance cloud service automates troubleshooting and operations, making wireless networks predictable, reliable, and measurable while providing near-real-time visibility into user service levels.
Technical Features
Proactive optimization of wireless performance
Simple and secure access to resources
Dynamic packet capture for troubleshooting
Proactive root-cause identification
Network automation with APIs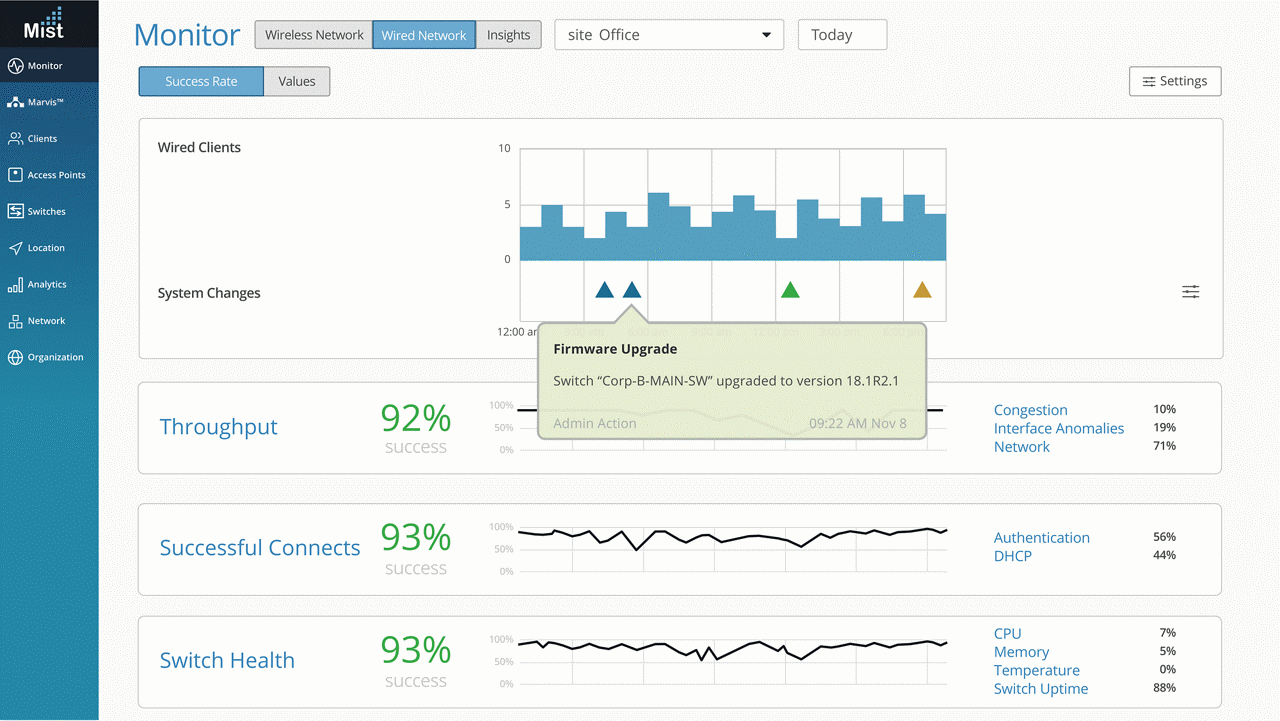 Wired Assurance
The Juniper Mist Wired Assurance service brings Mist AI to access-layer switching. It sets a new network management standard with AI-driven operations and automation, improving the experiences of devices connected to resources through Juniper EX Series Switches.
Technical Features
Onboard, configure, and manage Juniper EX Series Switches from the Juniper Mist cloud
Build and deploy campus fabric architectures in minutes based on intent
Leverage open APIs for third-party integration and automation across multivendor environments
Use AI-driven insights to learn exactly how switches are performing
Configure sites and switches using templates and port profiles 
Get proactive root-cause identification and enable self-driving actions
Why Juniper is outpacing the competition
As you build out your network, check out this wired and wireless LAN comparison guide. See how Juniper, driven by Mist AI, stacks up against Cisco, Cisco Meraki, and Aruba/Hewlett Packard Enterprise.
See Mist AI in action
Join our weekly demo to see how we deliver the industry's best access-layer experience for wired and wireless networks.
Find the Marvis VNA in these solutions
AIOps Driven by Mist AI
Juniper transforms IT operations with Mist AI and a virtual network assistant for self-driving capabilities and AI-driven support. Mist AI optimizes user experiences from client to cloud and simplifies IT operations across the WLAN, LAN, and WAN. 
Wireless Access
AI-driven automation and insight, coupled with the agility and reliability of a microservices cloud, deliver optimized wireless access experiences and simplified network operations.
Wired Access
The wired portfolio, coupled with wireless, combines performance and simplicity at scale, while delivering optimized experiences to users and devices with AI-driven insights and automation.
Gartner Magic Quadrant for Enterprise Wired and Wireless LAN Infrastructure, Mike Toussaint, Christian Canales, Tim Zimmerman, December 21, 2022.
Gartner does not endorse any vendor, product or service depicted in its research publications, and does not advise technology users to select only those vendors with the highest ratings or other designation. Gartner research publications consist of the opinions of Gartner's research organization and should not be construed as statements of fact. Gartner disclaims all warranties, expressed or implied, with respect to this research, including any warranties of merchantability or fitness for a particular purpose.
Gartner® and Magic Quadrant are registered trademarks and service mark of Gartner, Inc. and/or its affiliates in the U.S. and internationally and are used herein with permission. All rights reserved.