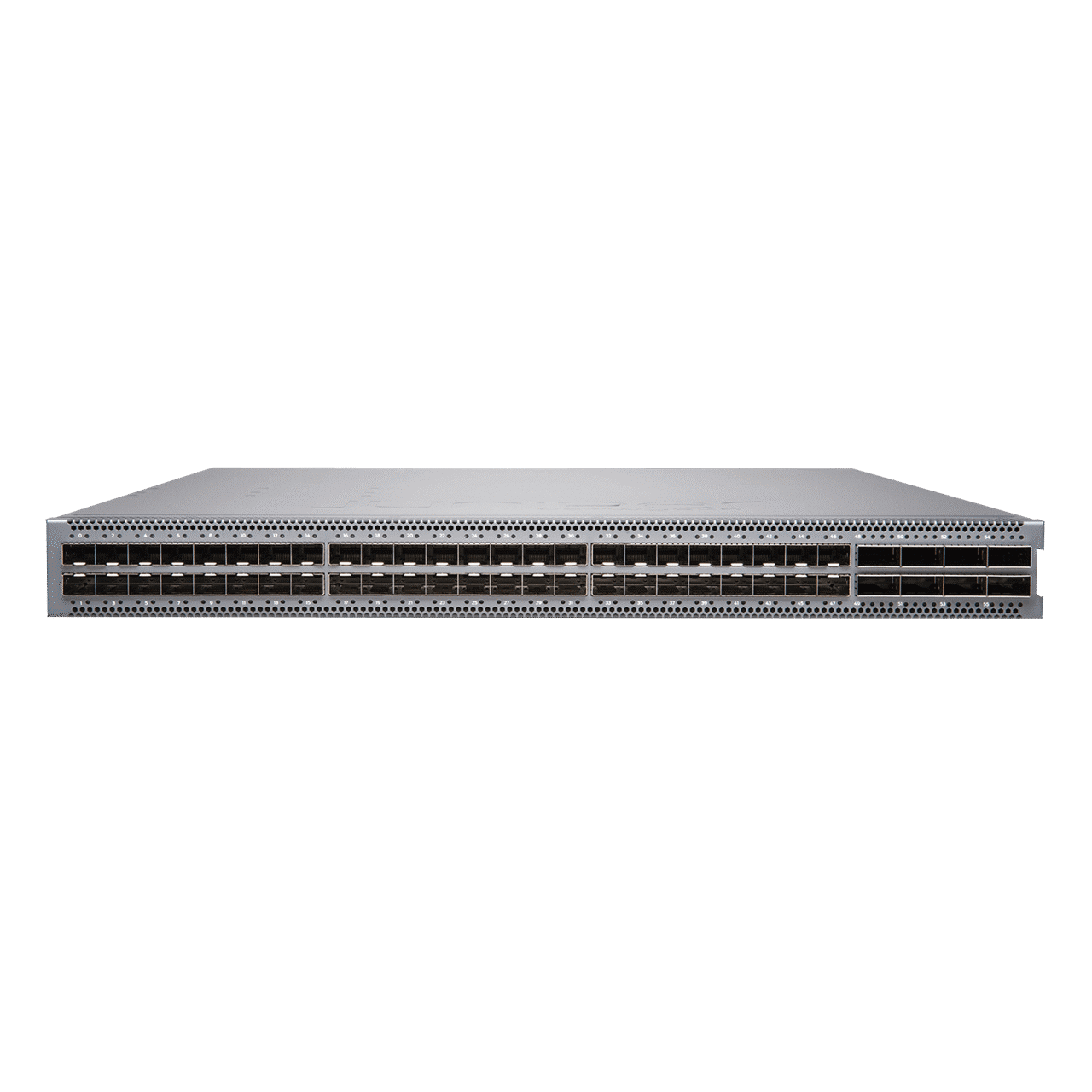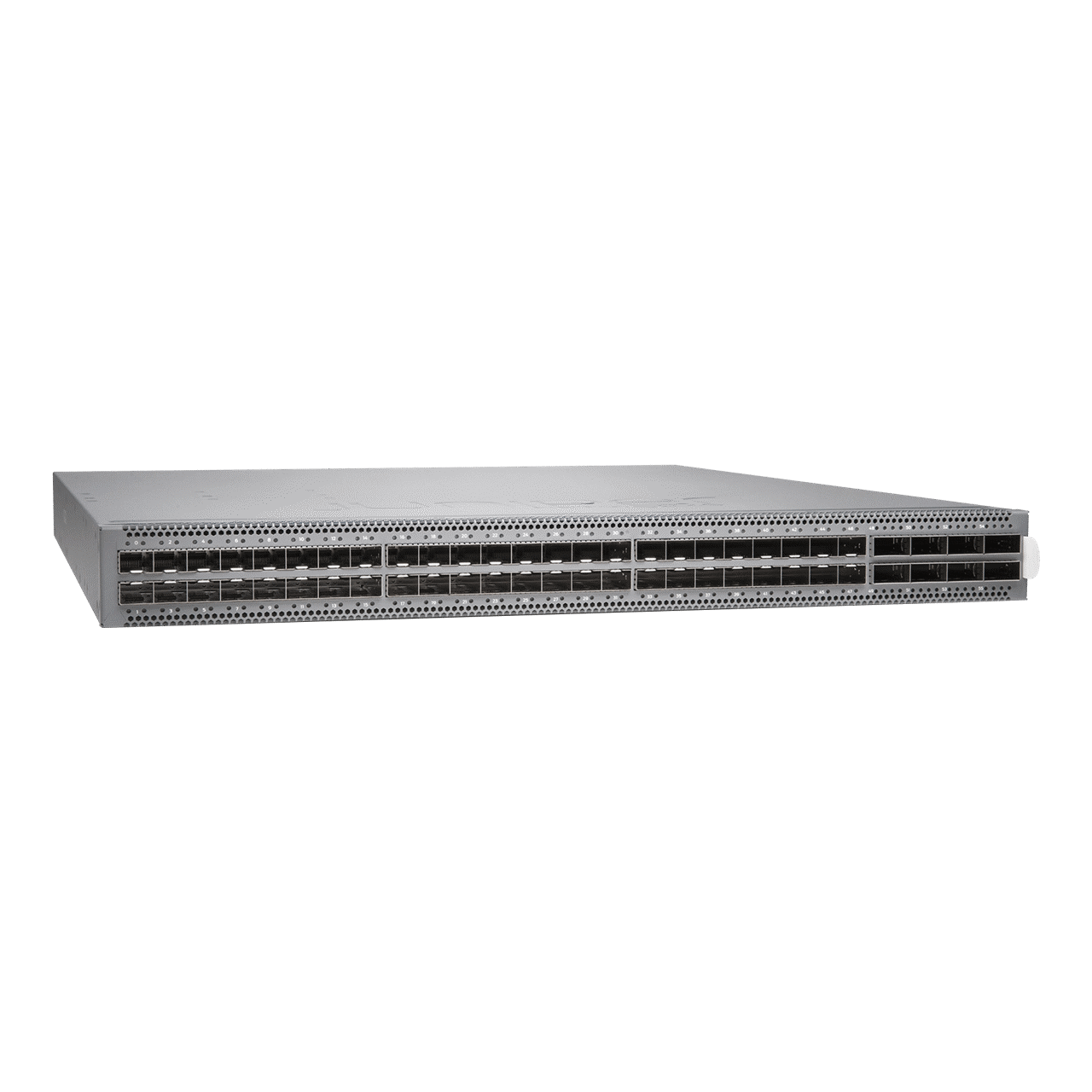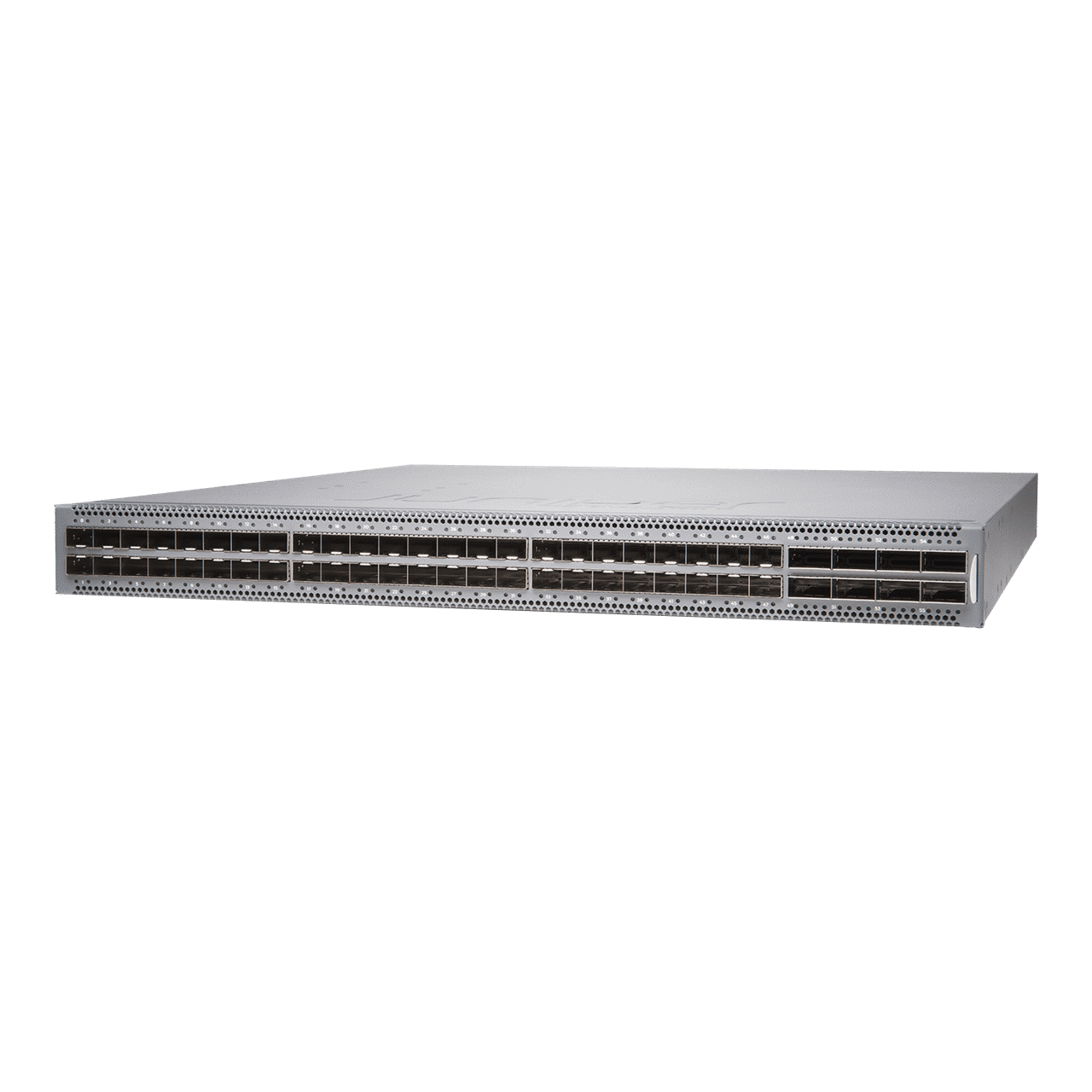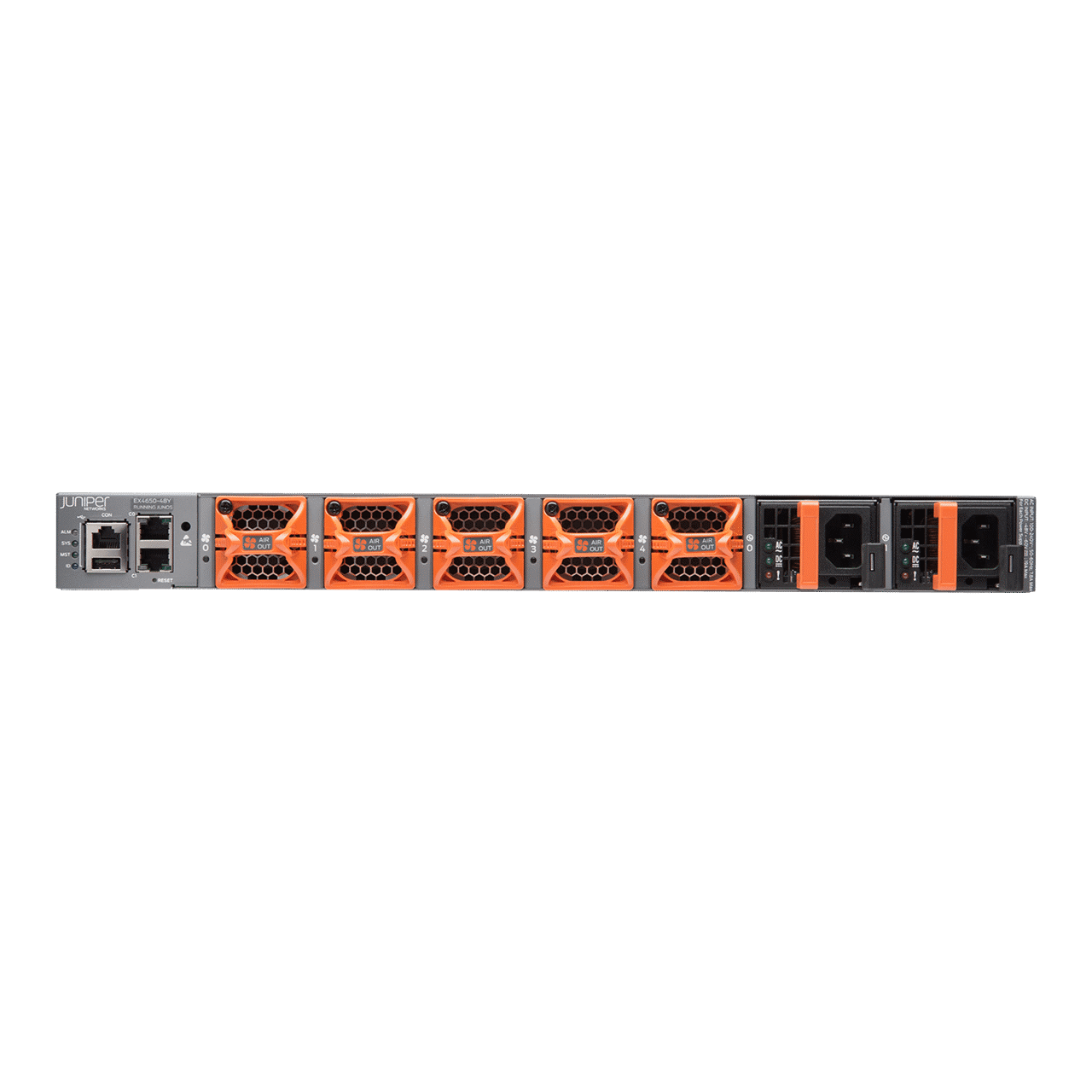 The EX4650 Ethernet Switch is a compact, scalable, high-performance 10GbE/25GbE/100GbE solution for midsized to large enterprise campus distribution deployments. It delivers rich telemetry data to Juniper Mist™ Wired Assurance, bringing AI-powered automation and service levels to access switching.
The EX4650 is cloud-ready and ZTP-enabled, so you can use Wired Assurance to onboard, provision, and manage it for improved connected-device experiences. In addition, the Juniper Mist Cloud streamlines deploying and managing your campus fabric, while Mist AI simplifies operations and improves visibility into the performance of connected devices.
---
Port density
48 x 10/25GbE and 8 x 40/100GbE 
Fabric
Virtual Chassis, MC-LAG, ESI-LAG, EVPN-VXLAN
Features + Benefits
Juniper Mist Wired Assurance
Claim, configure, and troubleshoot switches with a few clicks. Wired Assurance delivers better experiences for connected devices through AI-powered automation and service-level expectations (SLEs) with Mist's AI engine and microservices cloud.
The EX Switches provide rich streaming telemetry data to enable the insights for switch health metrics and anomaly detection. Streamline IT operations, reduce mean time to repair, and deliver optimized experiences across wired and wireless.
The EX4650 supports powerful EVPN-VXLAN capabilities to simplify deployments and operations by providing a common technology across campus and data centers.
EVPN-VXLAN offers a scalable way to build and interconnect multiple campuses, data centers, and public clouds, delivering a variety of benefits.

With Virtual Chassis technology, up to four interconnected EX4650 switches operate as a single logical device, reducing operational expenses and simplifying management.
Wire-speed performance with native 10GbE, 25GbE, and 100GbE port densities dramatically simplifies network topologies and operations.
Enterprises are demanding more high-speed, low-latency, storage- and I/O-converged networking solutions to maximize the performance of their physical servers, virtual servers, and storage. The EX4650 addresses these needs with low-latency, lossless, high-density 10GbE and 25GbE interfaces, as well as 100GbE uplinks to the core network.

Get a Free Juniper Access Point
Digital Consulting Firm Synechron Plans to Double Revenue in 3 Years
The opportunity to work on blockchain, artificial intelligence, and other cutting-edge fintech attracts top talent to Synechron. State-of-the-art workspaces and delivery centers, powered by Juniper switching, have increased workforce productivity as consultants and developers help clients accelerate digital transformation.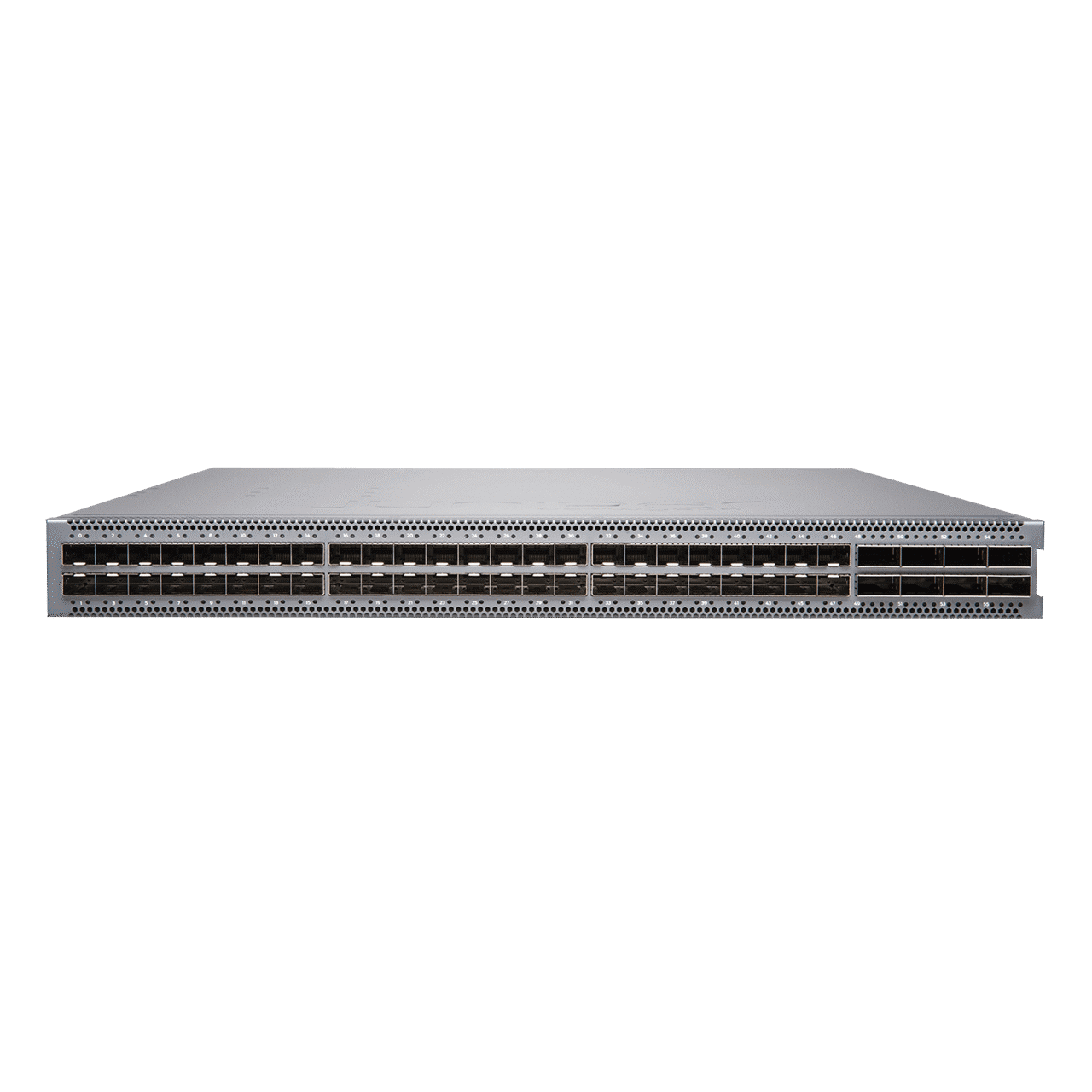 EX4650
The EX4650 Ethernet Switch offers a compact, highly scalable, high-performance 10/25/100GbE solution for midsized to large enterprise campus distribution deployments.
Technical Features
Port density

48 x 10/25GbE and 8 x 40/100GbE 

Form factor

1 RU

Switching capacity

2 Tbps

Latency

As low as 550ns

Fabric

Virtual Chassis, MC-LAG, ESI-LAG, EVPN-VXLAN
EX9200
The EX9200 line of Ethernet switches provides a programmable, flexible, and scalable foundation for delivering mission-critical applications.
Technical Features
Port density

40 x 100GbE, 480 x 10GbE, 440 x 1GbE

Form factor

5, 8, or 16 RU

Switching capacity

13.2 Tbps

MAC addresses

1 million

Fabric

EVPN-VXLAN, MC-LAG, ESI-LAG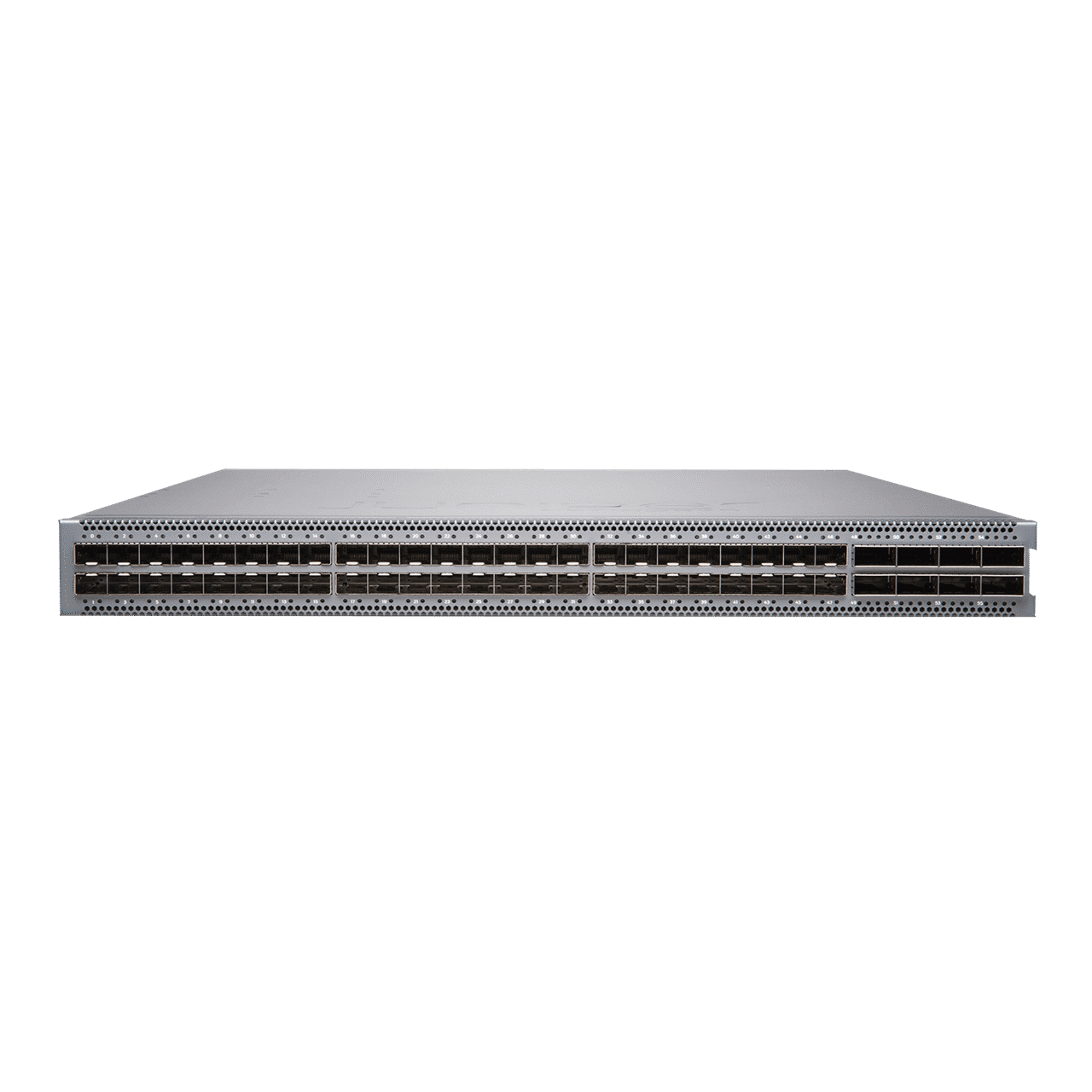 QFX5120
The QFX5120 line offers 1/10/25/40/100GbE switches designed for data center, data center edge, data center interconnect and campus deployments with requirements for low-latency Layer 2/Layer 3 features and advanced EVPN-VXLAN capabilities.
Technical Features
Use Case: Data Center Fabric Leaf/Spine, Campus Distribution/Core,  applications requiring MACsec
Port Density:
QFX5120-48T: 48 x 1/10GbE RJ-45 and 6 x 40/100GbE QSFP+/QSFP28
QFX5120-48Y: 48 x 1/10/25GbE SFP/SFP+ and 8 x 40/100GbE QSFP+/QSFP28
QFX5120-48YM: 48 x 1/10/25GbE SFP/SFP+ and 8 x 40/100GbE QSFP+/QSFP28
QFX5120-32C: 32 x 40/100GbE QSFP+/QSFP28 and 2 x 10GbE SFP+
Throughput: Up to 2.16/4/6.4 Tbps (bidirectional)
MACsec: AES-256 encryption on all ports (QFX5120-48YM)
Why Juniper is outpacing the competition
As you build out your network, check out this wired and wireless LAN comparison guide. See how Juniper, driven by Mist AI, stacks up against Cisco, Cisco Meraki, and Aruba/Hewlett Packard Enterprise.
See Mist AI in action
Join our weekly demo to see how we deliver the industry's best access-layer experience for wired and wireless networks.
Find EX4650 in these solutions
Data Center Networks
Simplify operations and assure reliability with the modern, automated data center. Juniper helps you automate and continuously validate the entire network lifecycle to ease design, deployment, and operations.
Wired Access
The wired portfolio, coupled with wireless, combines performance and simplicity at scale, while delivering optimized experiences to users and devices with AI-driven insights and automation.
Gartner Magic Quadrant for Enterprise Wired and Wireless LAN Infrastructure, Mike Toussaint, Christian Canales, Tim Zimmerman, December 21, 2022.
Gartner does not endorse any vendor, product or service depicted in its research publications, and does not advise technology users to select only those vendors with the highest ratings or other designation. Gartner research publications consist of the opinions of Gartner's research organization and should not be construed as statements of fact. Gartner disclaims all warranties, expressed or implied, with respect to this research, including any warranties of merchantability or fitness for a particular purpose.
Gartner® and Magic Quadrant are registered trademarks and service mark of Gartner, Inc. and/or its affiliates in the U.S. and internationally and are used herein with permission. All rights reserved.