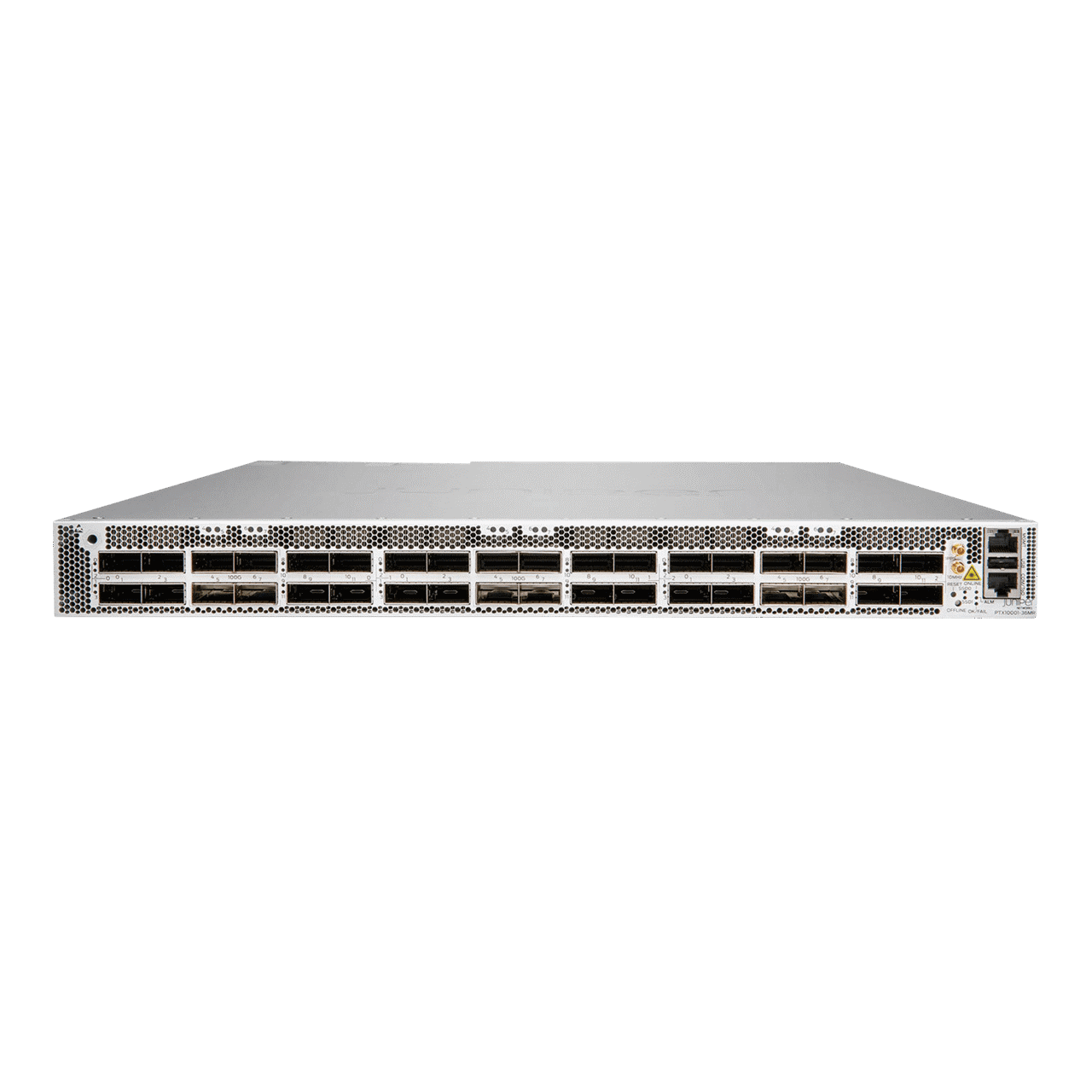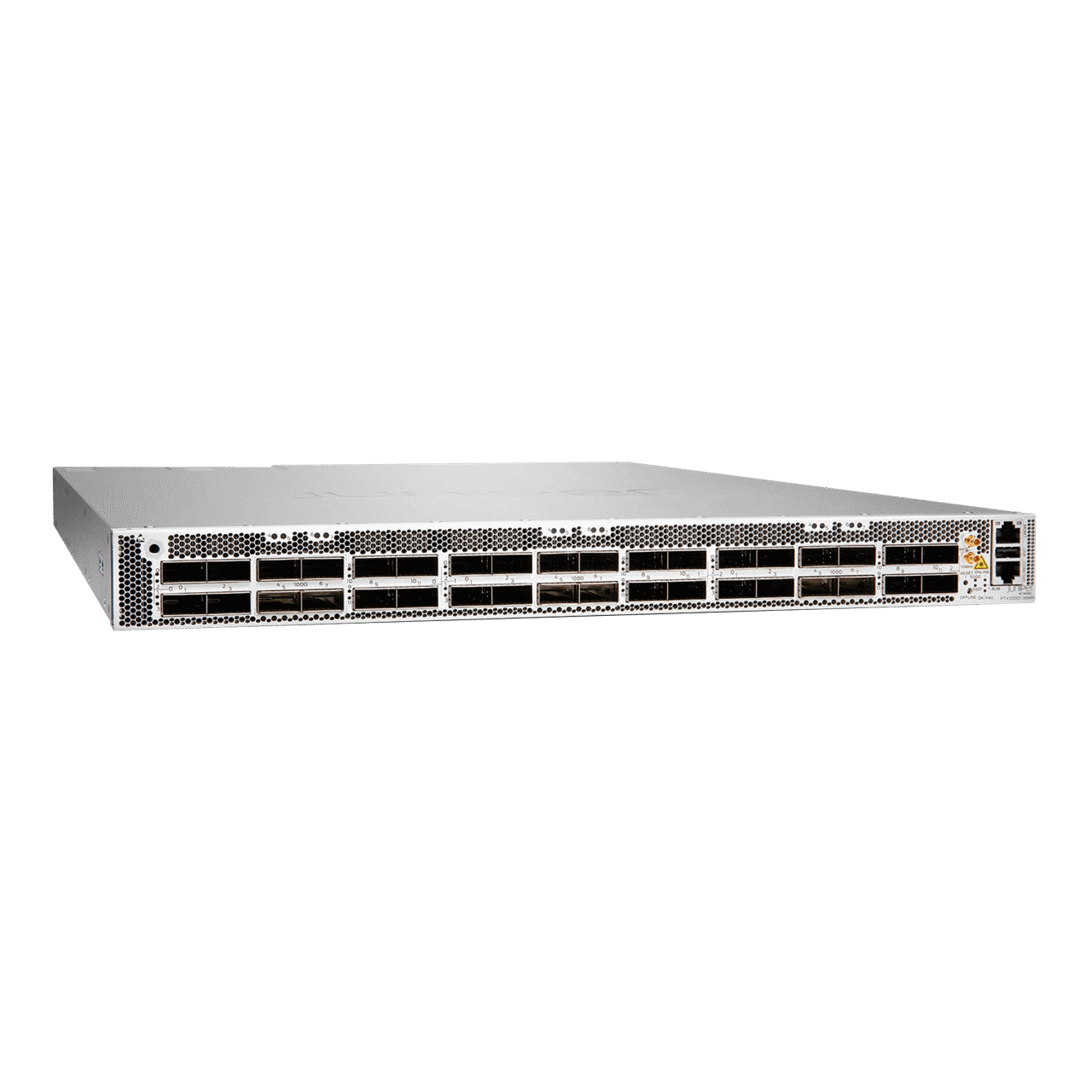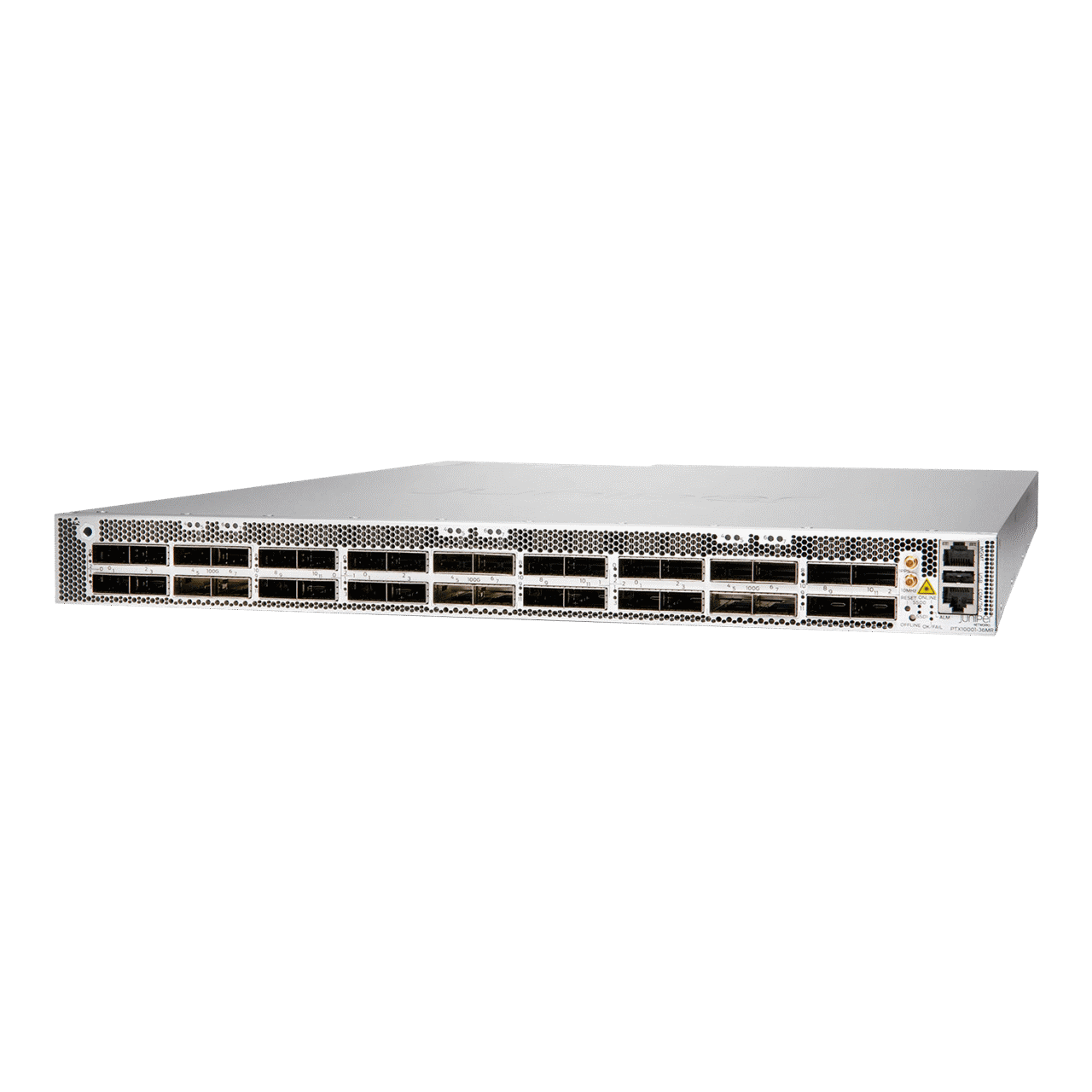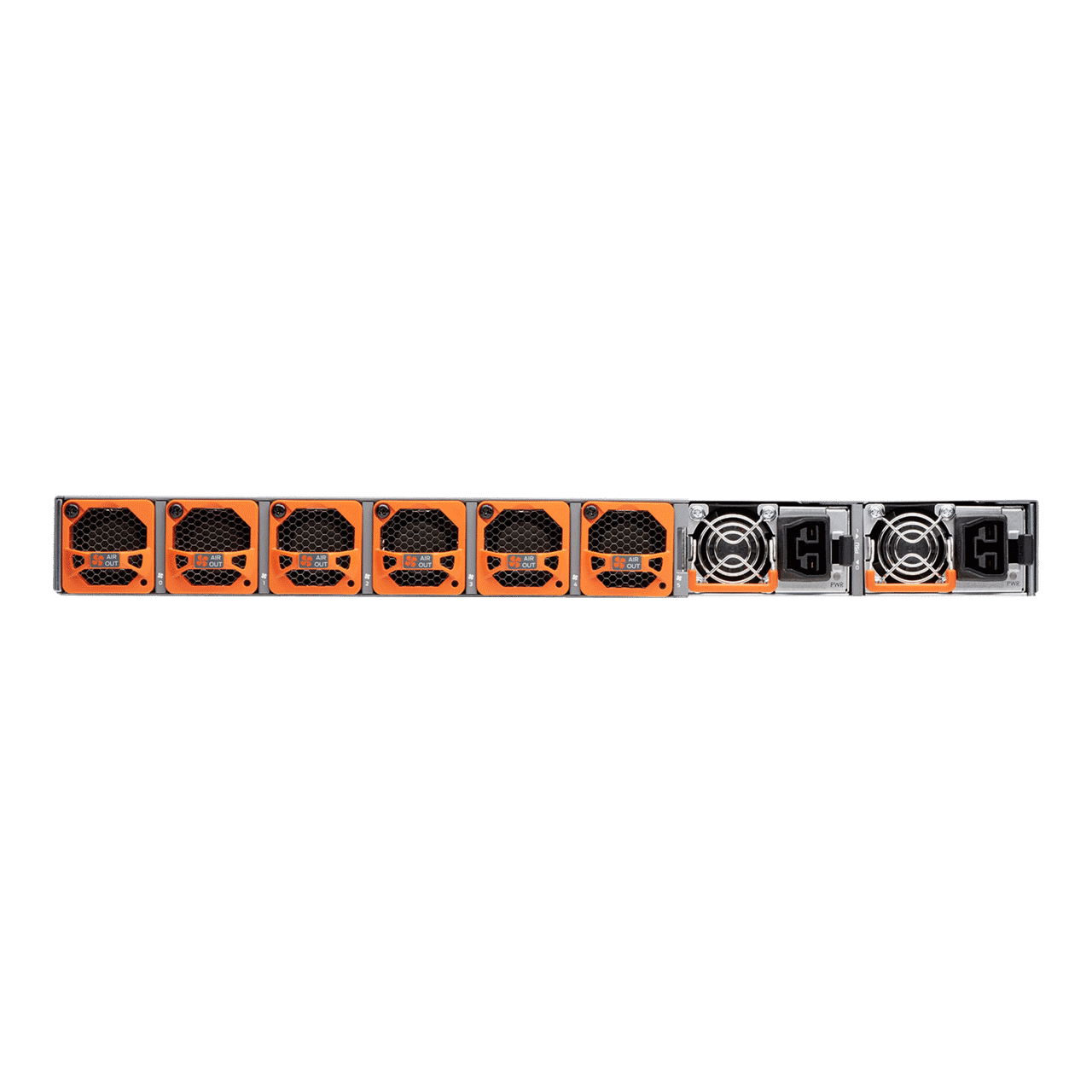 PTX10001-36MR Packet Transport Router
The PTX10001-36MR is a cloud-optimized 1 U fixed form-factor based on Juniper Express4 ASIC, delivering high-density 100GbE and 400GbE high-performance scale to core and peering networks. Bringing 9.6 Tbps capacity to space- and power-constrained environments, the PTX10001-36MR delivers 400G inline MACsec, high FIB, deep buffer, and flexible filtering so you can scale higher, converge faster, and lower your cost per bit.
PTX10001-36MR offers flexible licensing options so you can pay as your network grows, and provides a smooth migration path from 100GE to 400GE without requiring any hardware or software updates. It supports critical use cases such as peering, label-switching router (LSR) core, content delivery network (CDN) gateway, data center edge, aggregation, and metro deployments.
 
---
400GbE inline MACsec
4th generation silicon
Scale up and scale out
9.6-Tbps forwarding capacity
Features + Benefits
Get 9.6-Tbps forwarding capacity in a compact, 1 U platform optimized for secure, scale-out architectures. At the same time, the platform delivers exceptional 0.14 Watts per gigabit power efficiency.
Support multiple high-performance use cases, such as peering, LSR core, CDN gateway, data center edge, aggregation, Data Center Interconnect (DCI), and others.
Use the industry's most modern network operating system to support cloud networking use cases and 400G architectures. The solution combines one Junos experience, reliability, resiliency, openness, and easy integration.

Use flexible 400GbE pricing to pay for only the bandwidth and features needed.
Verizon quadruples capacity in network core with Juniper 400G
Verizon is supercharging its core network to meet customers' heightened digital requirements and demand for its 5G Ultra Wideband service. Moving to Juniper 400G routing will enable Verizon to manage 115 terabits per second of data at any given moment.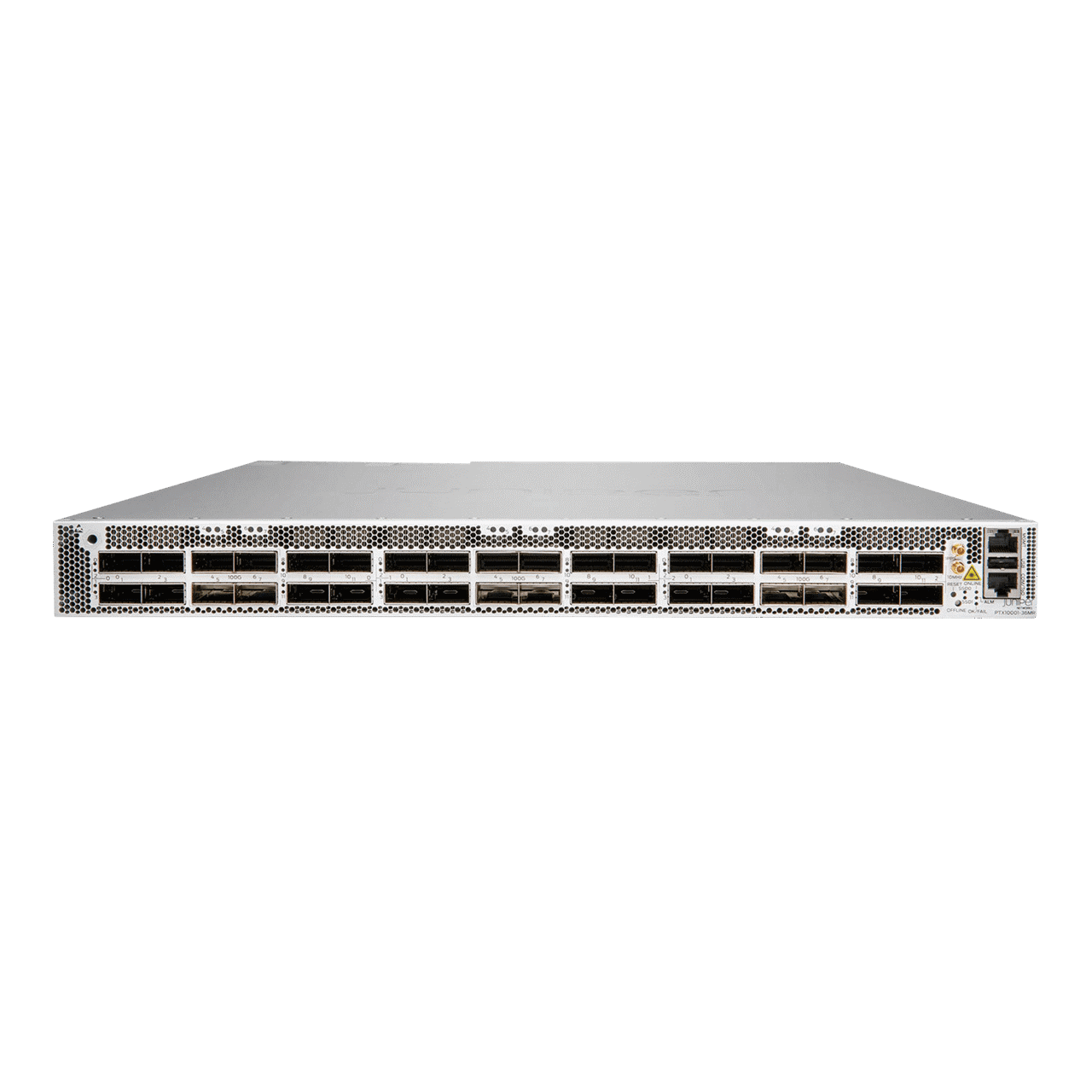 PTX10001-36MR
The PTX10001-36MR is a high-capacity, space- and power-optimized routing and switching platform. It delivers 9.6 Tbps of throughput and 10.8 Tbps of I/O capacity in a 1 U, fixed form factor. Based on the Juniper Express 4 ASIC, the platform provides dense 100GbE and 400GbE connectivity for highly scalable routing and switching in cloud, service provider, and enterprise networks and data centers.
Technical Features
400GbE inline MACsec
4th generation silicon
Scale up and scale out
9.6-Tbps forwarding capacity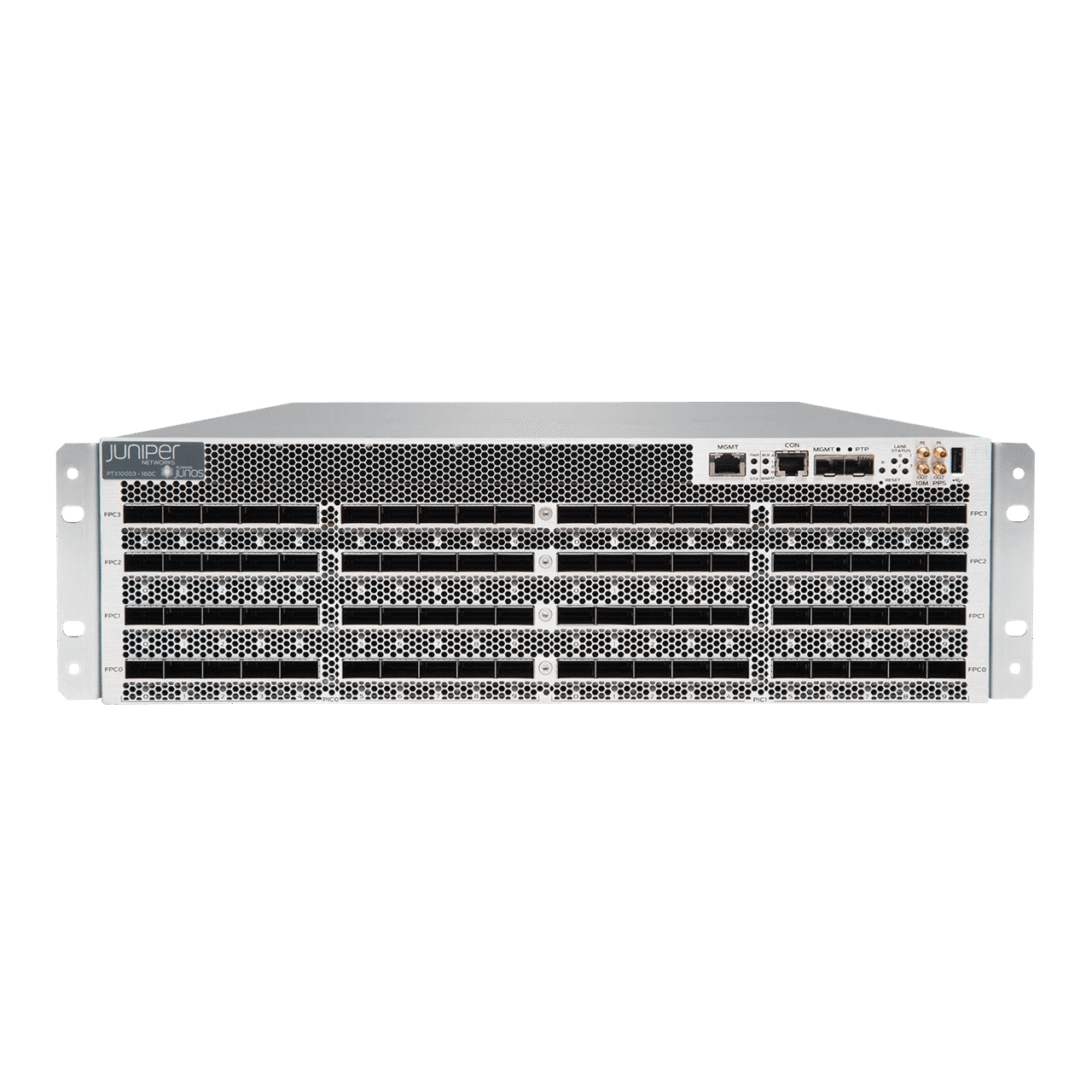 PTX10003
The PTX10003 Packet Transport Router offers on-demand scalability for critical core and peering functions. With high-density 100GbE, 200GbE, and 400GbE ports, operators can meet high-volume demands with efficiency, programmability, and performance at scale.
Technical Features
High-density platform
100GbE and 400GbE interfaces
Compact 3 U form factor
100GbE inline MACsec on all ports
Explore 400G
Interested in greater scale? Check out Juniper's 400G solution to learn more.
What Is 400G?
Find out what 400G is all about.
Related Solutions
Cloud Routing
At the heart of cloud networking lies cloud routing, a key building block for reliable, secure, and scalable cloud-era infrastructure buildouts.
Data Center Networks
Simplify operations and assure reliability with the modern, automated data center. Juniper helps you automate and continuously validate the entire network lifecycle to ease design, deployment, and operations.