Overview
When deploying Juniper and Mist AI you want to select the software and services that are best suited for your organization's network. You'll also want ongoing maintenance and support for your Juniper Mist products to future proof your network. Juniper® Support Services for the Juniper Mist portfolio helps you support current network needs and prepare for the future by offering three levels of support–Base, Advanced, and Premium. These services provide simplified, ongoing support or maintenance for your Juniper Mist networking requirements to keep you operating efficiently and maximize your investment.
Service Description
Today's network operators, CIOs, and IT staff face constant pressure to deliver superior experiences with limited resources. The network infrastructure must be maintained constantly to ensure that it's running smoothly and efficiently. Ongoing support is necessary throughout the technology stack, from client-to-cloud to ensure visibility and insights; faster response; and effective resolutions. Only then can you achieve full value of the Juniper Mist portfolio.
Juniper Support Services for Mist AI is a comprehensive support experience, assuring step-by-step support for Juniper Mist wired and wireless solutions. The service provides faster response times and issue resolution, expertise in Mist AI and Marvis™ Virtual Network Assistant, as well as a single point-of-contact for continuous maintenance of your network. Services are aligned to match the demands of your business. Our diverse services offerings deliver a consistent support experience across all Juniper technologies and solutions. Whether you are deploying Wi-Fi, location services, or IoT, you can improve your experience by taking advantage of the latest Juniper Support Services for Mist AI. These unique services simplify operations for increased productivity and maximize your Juniper investment.
Base Support: If you have in-house resources to manage the network, this level of support is ideal. It combines a Juniper Mist SaaS subscription with standard support, providing around-the-clock technical troubleshooting from our 24x7 Juniper Technical Assistance Center (JTAC). You will have access to proactive insights through Juniper Support Insights (JSI), Marvis Virtual Network Assistant, and Juniper Mist Premium Analytics that can assist you with informed decision making.
Advanced Support: For limited in-house staff or expertise, Advanced Support features a Technical Services Advisor (TSA) who assists in the progression of high-impact network issues and onboarding to Juniper Mist solutions and technologies. The TSA provides technical consultation to help you realize the full potential of the Juniper Mist portfolio. This level comes with a Juniper Mist SaaS subscription and services, including onboarding, access to senior engineers for high priority cases, and knowledge transfer.
Premium Support: This highest level of support is suited for organizations that have multiple Juniper technologies or solutions in the network with a plan to add Juniper Mist for increased ROI. It includes a Juniper Mist SaaS subscription and enhanced response time. For personalized, proactive service management, Premium Support offers a Service Manager to address all issues or entitlements and to serve as a single point-of-contact. The Service Manager proactively manages the customer experience by delivering escalation management, account management, and business review meetings.
You can choose from three tiers of Juniper Mist Support packages.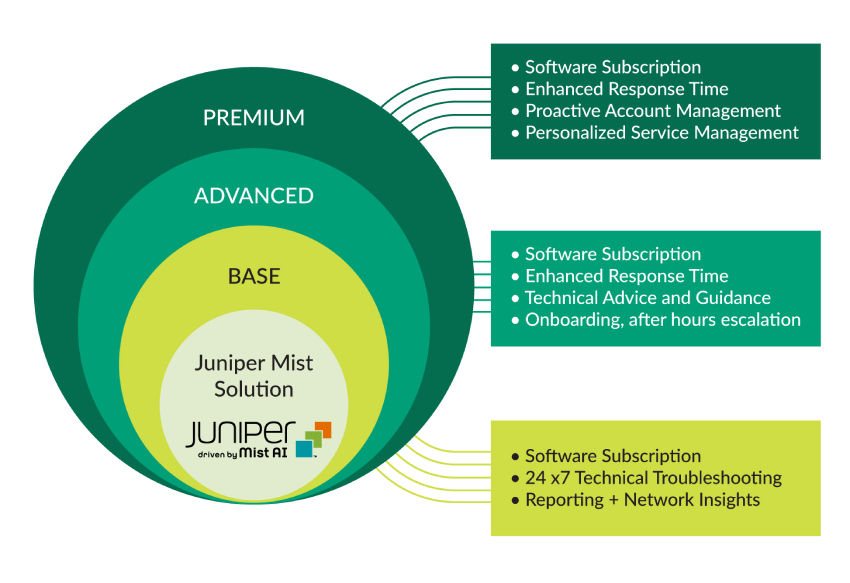 Features
Package Type
Description
Benefits
24x7 Technical Support
Base
Access to 24x7 Technical Assistance Center
Diagnoses system problems, configures, troubleshoots, and provides work-around solutions quickly and efficiently
Software updates and upgrades

Protects Juniper Mist wired and wireless investment
Provides around-the-clock technical troubleshooting

Juniper Support Insights (JSI)
Base
Reports/dashboard (Install Base, contract, license, Proactive Bug Notifications (PBN))
Provides actionable operational health insights to improve network performance and uptime
Escalation Management Desk (24x7)
Advanced and Premium
24x7 remote team access with dedicated phone number to facilitate all cases escalations and regular updates.
Handles Juniper Mist escalations efficiently to keep the network running smoothly
Onboarding Assistance
Advanced and Premium

Provide information about the service deliverables
Shares contact details wherever applicable
Offers session covering:

Premium Analytics, Juniper Mist cloud, Marvis
Device provisioning, Juniper Mist specific technical documentations, and webinar links
Escalation process, Return Materials Authorization process

Reduces Juniper Mist learning curve and develops networking expertise quickly
Customized Reports
Advanced and Premium

Premium Analytics reports: network utilization reports, device health, service level experience (SLE) reports*
Install base and entitlement reports
Product EOL information
Case history volume trends
Return Materials Authorization report showing trends by status and case volumes

Enables faster, more accurate decision making for your Juniper Mist solution
Best Practice Knowledge Transfer
Advanced and Premium
Quarterly interactive webinar to share best practices and use cases with customers
Ensures new knowledge acquisition to help maintain a highly available network
Priority Access to Senior Engineers
Advanced and Premium
Priority access to senior support engineers for P1 and P2 cases
Saves time and minimizes administrative cycles
Enhanced Support Response Time
Advanced and Premium
P1/P2: 30 mins, P3: 4 hours, P4: 4 hours (Advanced)
P1: 15 mins, P2: 30 mins, P3: 2 hours, P4: 4 hours (Premium)
Resolves high-priority cases faster for better customer productivity
Technical Service Advisor
Advanced
A named Technical Service Advisor provides 8x5, remote support and proactively manages customer experience by helping with case progression; offering proactive technical notification, software release guidance, asset tracking, informal Q&As; and acting as technical liaison with Juniper teams
Helps you realize the full potential of your Juniper Mist solution with proactive, AI-driven insights
Assists you in keeping your Juniper Mist solution running efficiently and effectively
Addresses and resolves issues before they negatively impact your Juniper Mist solution
Service Manager
Premium
An assigned service manager provides 8x5 support and proactively manages the customer experience by delivering escalation management and account management; acts as single point-of-contact for all issues and entitlements; and leads business review meetings
Accelerates and maximizes your investment in Juniper Mist wired and wireless solutions.
Ordering Information
Support Services for Mist AI terms are available for twelve (12) months, thirty-six (36) months, and sixty (60) months.
Support services can be ordered as bundled SKUs on the Juniper Price List.
For details, please contact your local Juniper authorized partner, Juniper Account Manager, or your assigned Juniper Services Business Manager.
1000781 - 001 - EN JULY 2023