What is metro ethernet?
Metro Ethernet is an Ethernet transport network (shown in Figure 1) that provides point-to-point or multipoint connectivity services over a metropolitan area network (MAN). Ethernet originated as a LAN technology, and became a replacement for low-speed WAN technologies.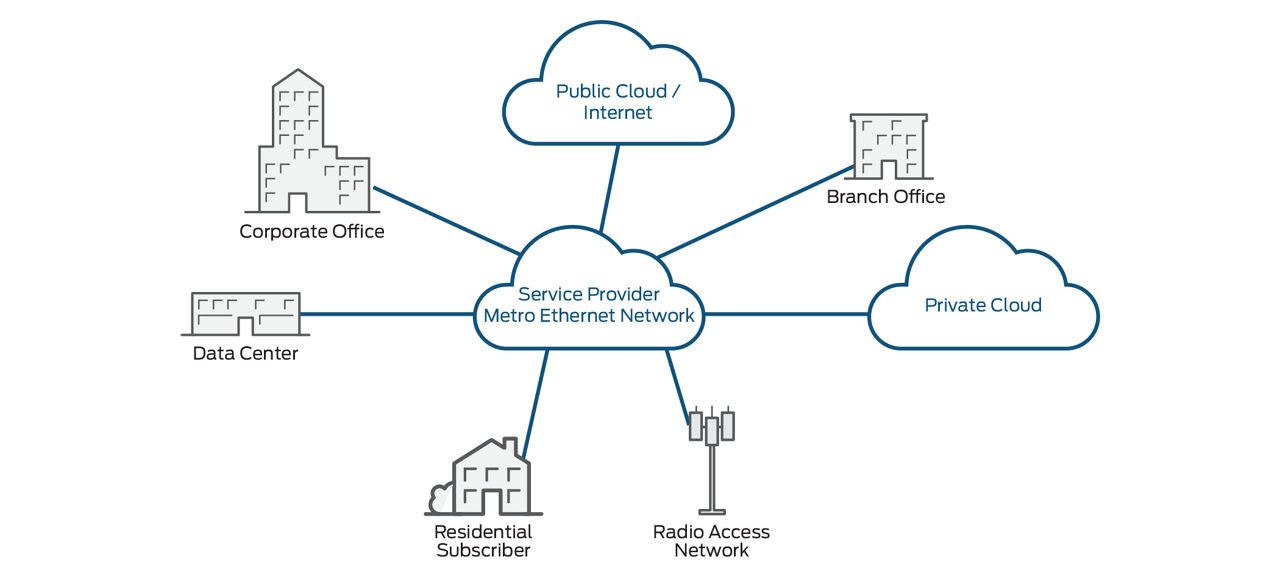 Business, residential, and mobile subscribers select Ethernet services from service providers because of its cost effectiveness, flexibility, and simplicity. Service providers use Metro Ethernet to:
Interconnect business offices or data centers. Metro Ethernet can connect two sites or hundreds of sites.
Connect residential subscribers or businesses to the Internet.
Provide connectivity to public or private cloud data centers.
Provide wholesale mobile backhaul services.
Provide multicast delivery used by business customers for video conferencing, and used by residential subscribers for IPTV and video applications.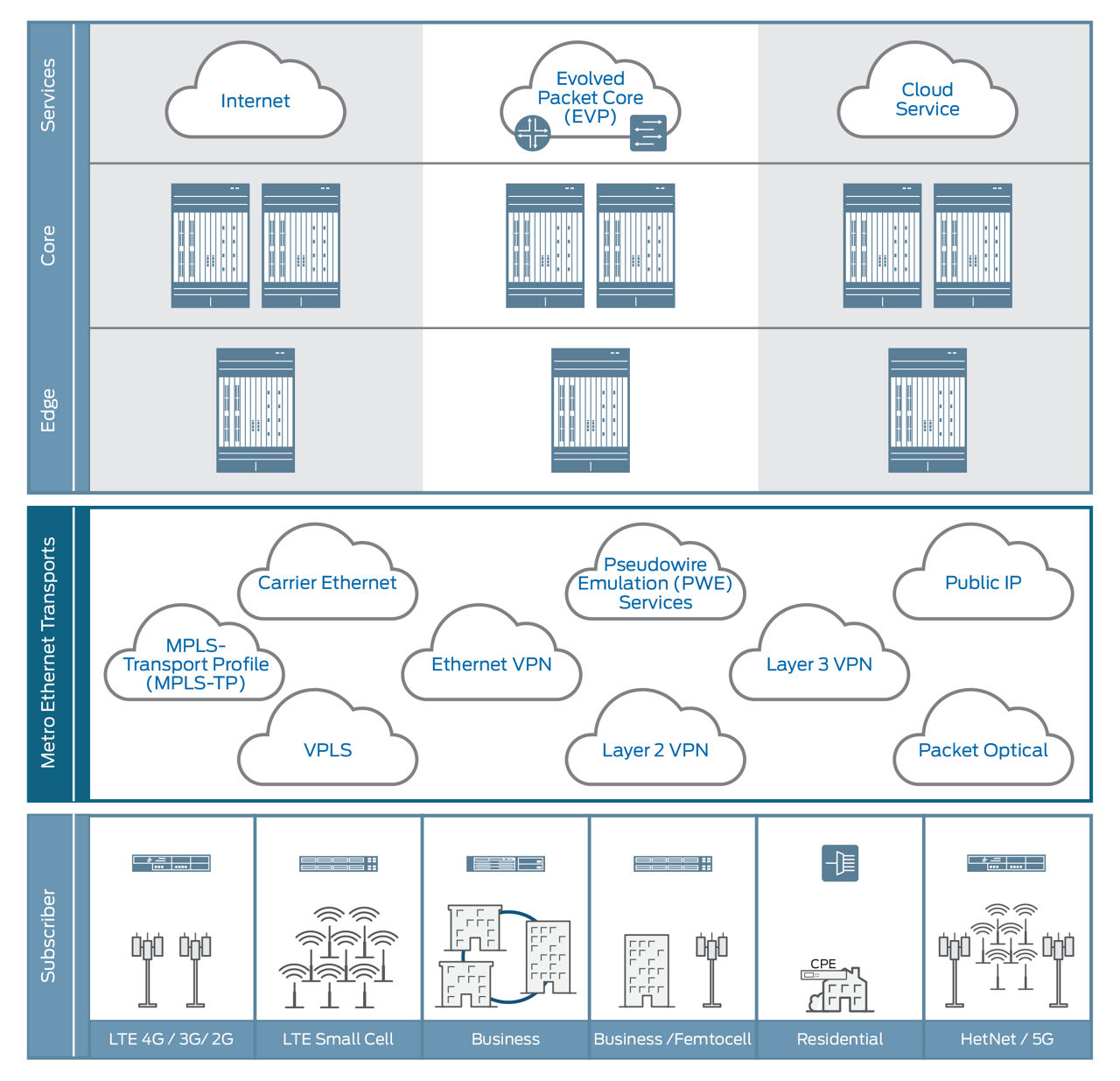 Benefits of Metro Ethernet
Metro Ethernet provides the following benefits: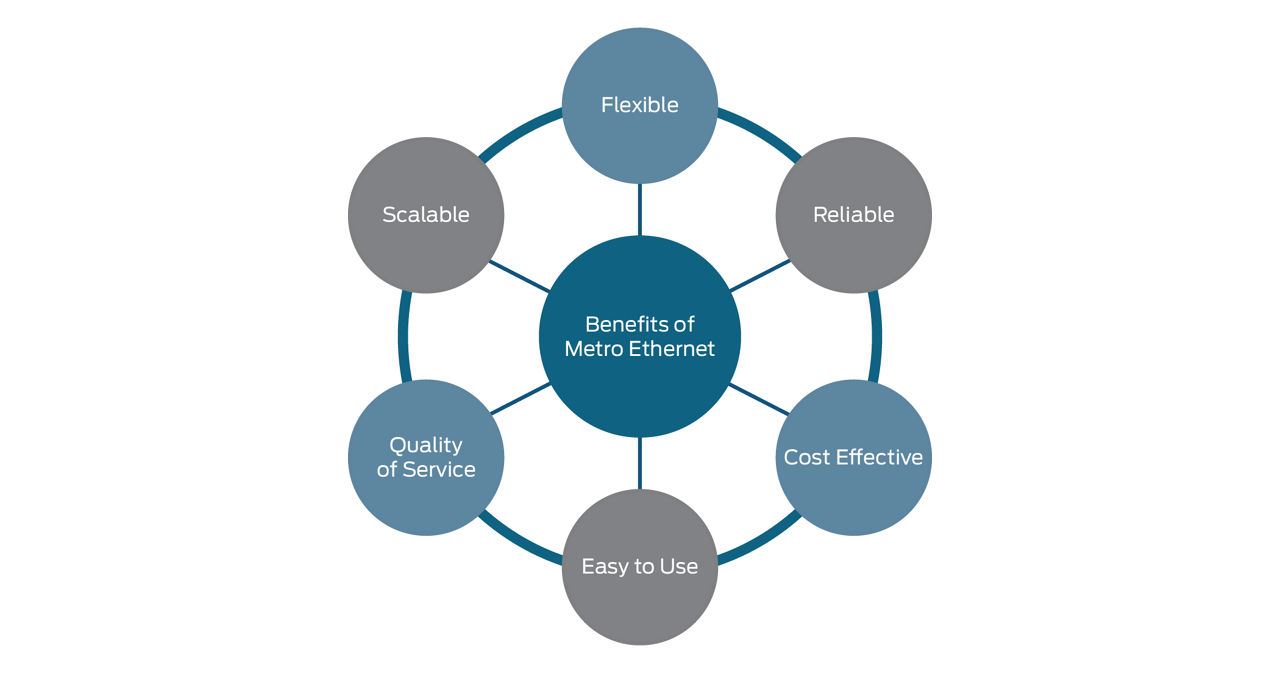 Manage Risk Smartly
Though multiple network functions converge on a single chassis, all the functions run independently, benefiting from operational, functional, and administrative separation. Partitioning a physical system, such as Broadband Network Gateway (BNG), into multiple independent logical instances ensures that failures are isolated. The partitions do not share the control plane or the forwarding plane, but only share the same chassis, space, and power. This means failure in one partition does not cause any widespread service outage.
Flexibility—Supports a wide variety of services and transports.
Reliability—Ethernet operations, administration, and maintenance (OAM) performs path discovery, detects and reports connection failures, and measures performance.
Cost Effectiveness/Ease of Use—Networks are less complicated and easier to maintain than WAN networks, which lowers equipment and ownership costs.
Quality of Service (QoS)—Supports QoS features, such as: classification, marking, policing, queuing, and scheduling.
Scalability—Supports speeds from one Mbps to 10 Gbps. Customers can increase bandwidth dynamically, and often without the need to purchase or install new equipment.
Juniper Networks Metro Ethernet Solutions
Juniper Networks Metro Ethernet solutions support zero touch deployment and are MEF CE2.0 certified. This certification:
Saves time and reduces testing costs
Provides faster rollout of services
Facilitates inter-carrier connectivity
Table 1 lists the features and benefits of Juniper Networks Metro Ethernet solutions.
| | |
| --- | --- |
| | |
| Metro Ethernet over Seamless MPLS | You can run Ethernet services over your MPLS network from the core to the access segment. It provides service flexibility and scaling of the MAN where you can terminate Metro Ethernet services at any point in the network. |
| Metro Ethernet over Optical Transport Networks | Juniper Networks offers many single-platform, packet-based solutions that include either fixed (built-in)  or modular (line card) options to deploy optical (DWDM) services from the same platform. This enables longer reach transport between network elements, or traffic hand-off to an optical network (e.g., reconfigurable optical add/drop multiplexer (ROADM)). |
| ACX Series Universal Access Routers | These compact, power-efficient, and MEF CE 2.0–certified Carrier Ethernet access and aggregation routers offer rich Layer 2, Layer 3, and MPLS features, programmability, and Ethernet OAM support. |
| MX Series Universal 3D Routers | These routers offer high performance for converged residential, mobile, and Metro Ethernet services on a single platform. |
Cloud Exchange Networks
With cloud exchange networks (shown in Figure 3), you can augment Ethernet resources by sharing them with multiple customers. Instead of committing bandwidth to each customer, you can dynamically allocate bandwidth as needed enabling you to maximize network utilization and reduce infrastructure costs.

Additionally, you can create Internet Exchange (IX) points that allow direct peering between users and services to improve the customer experience.