Juniper Support Insights
AI-driven, cloud-enabled support for your entire Juniper environment.
Overview
Juniper Support Insights (JSI) enables AI-driven support across the entire Juniper portfolio, giving IT and network operations teams holistic visibility into the operational health of the all their Junos OS devices. Included with Juniper Care, the service easily and securely connects Juniper devices to the cloud and provides actionable intelligence that helps improve network performance and uptime.
How Juniper can help
JSI is designed to support service providers and enterprises. It helps reduce network mean time to recovery, enhances productivity, and improves network performance.
Realize 10 to 20 percent time savings on data collection.
Save an average of eight to 16 hours on reviews, improving asset inventory and configuration management.
Save an average of eight hours per review to dramatically improve end-of-life (EOL) and end-of-service (EOS) lifecycle management.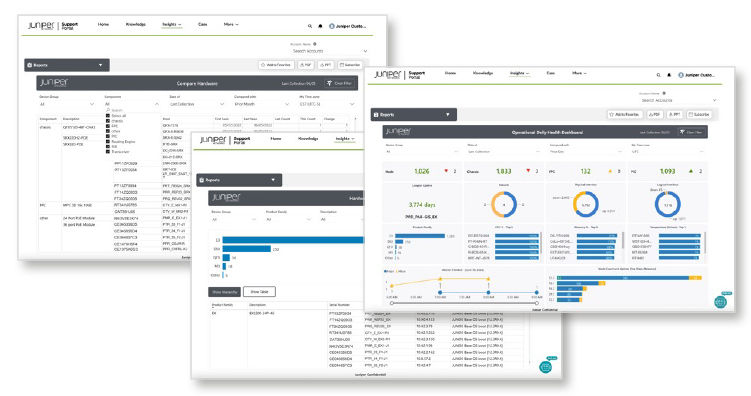 Operational health and inventory
Simple, accurate, and easy-to-consume dashboards provide crucial operational insights. 
Software and Hardware System Inventory: Improves software lifecycle management and increases contract management efficiency, reducing delays due to lack of visibility.
Physical and Logical Interface Inventory: Improves network capacity-planning efficiency. 
Configuration Change: A holistic view helps avoid human error and simplifies access to configuration data.
Alarm and Routing Engine (RE) Health: Provides an aggregated view of issues without diving into the individual devices.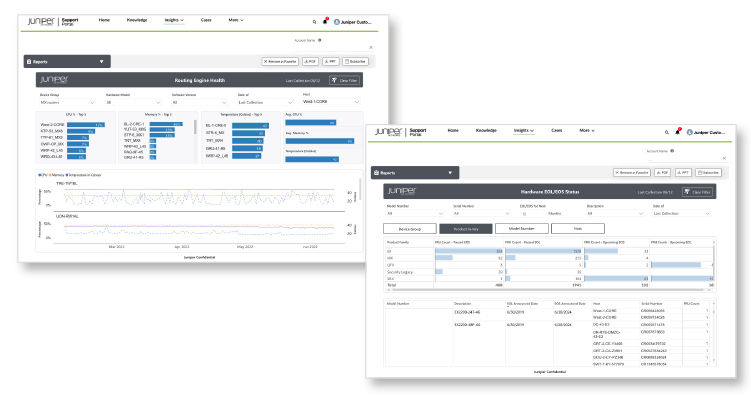 Lifecycle management
Provides NetOps teams with actionable insights that help increase network performance and reduce network downtime.
End-of-Life and End-of-Service Information: On-demand, accurate EOL/EOS data mitigates network disruptions.
Security Vulnerabilities: An accurate view of vulnerability exposure helps you improve your security posture.
Bugs Data: An accurate view of bug exposure mitigates network disruptions.
Automated Log File Collection: Automated log file collection improves efficiency compared to manual data collection.
Ad Hoc Support Collection: Safe, secure, and automated data collection is available on a request basis.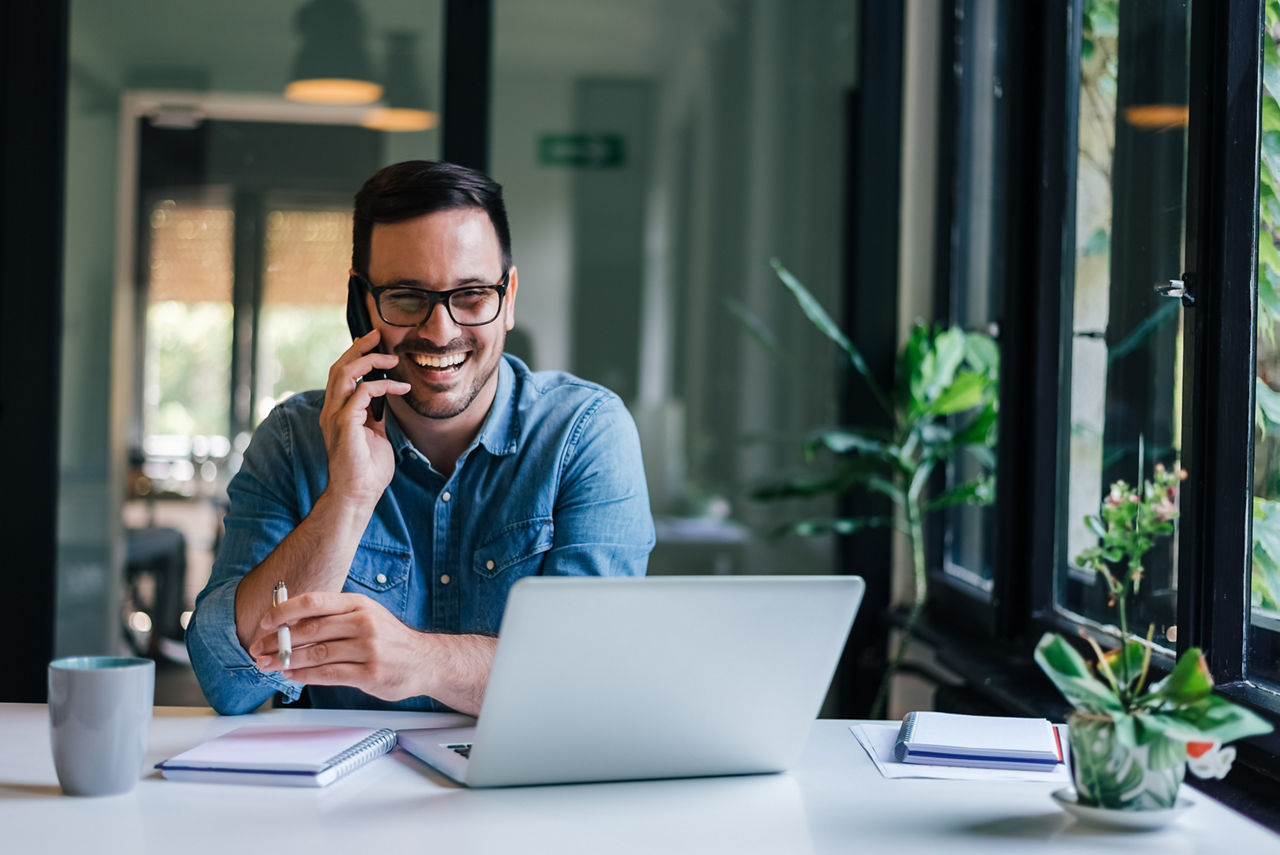 Easy to use
Cloud-based portal, dashboards, and analytics
Lightweight collector features streamline provisioning
No need to upgrade or install any software
Security and privacy
Nonintrusive and auditable data collection
Zero residual footprint prevents data leakage
Encrypted Transport Layer Security (TLS) flows
Dynamic scalability
Just-in-time cloud architecture
Support for up to 20,000 network devices per collector
Contact us
Please share your contact information and a Juniper expert will contact you soon. We look forward to communicating with you.