What is digital transformation?
What is digital transformation?
The Digital Transformation process optimizes the value of organizational data by creating contextual intelligence from it to drive business value. Data is at the heart of digital transformation. Data must be:
Easily, quickly, and reliably accessible
Increasingly automated in collection, delivery, and execution
Secure!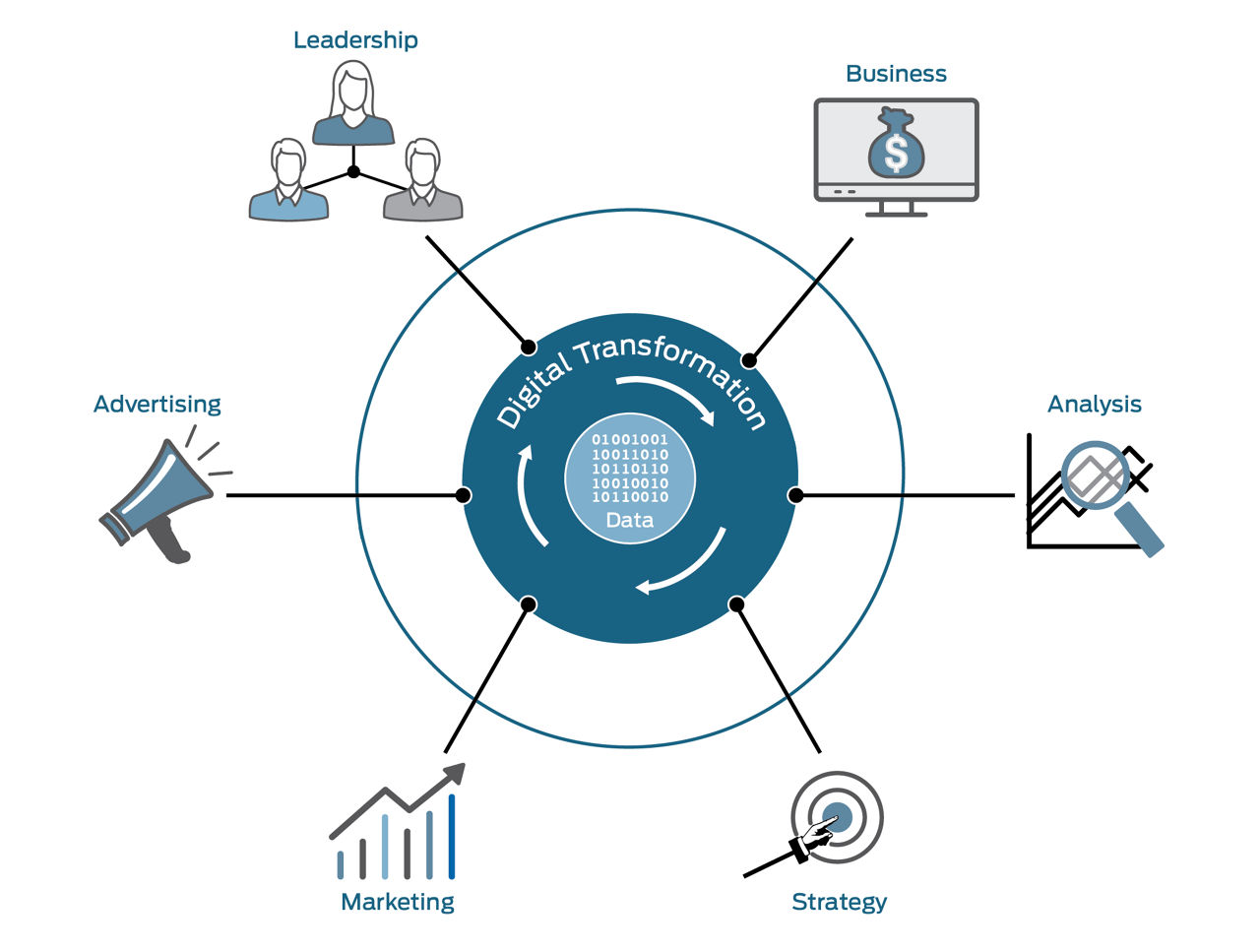 The goal of digital transformation is to increase the speed of applications and services deployment, simplify and enhance the customer experience, and provide access to more information more quickly.
A strong digital platform is the most fundamental technology foundation. Organizations need to standardize platforms with consistent design and architecture, securely and within budget. It's a complex challenge to modernize data centers with near end-of-life infrastructures and large proprietary legacy hardware devices.
To tackle digital transformation, an organization must combine strong leadership with digital activity. Thinking differently is a crucial piece of digital transformation; leaders must have the willingness to change, and a vision of how to transform their company to grow and thrive in a digital world.
Key Areas for Digital Transformation
Customer Experience: (most visible aspect of digital transformation) Use of digital media and social media, and building analytics capabilities to understand details of what makes customers happy to drive customer behavior towards purchase or use of services. Digital transformation can enhance customer service as well as the sales experience.
Operations: Automation is essential when moving towards digital transformation for a company's operations and processes, and cost reductions. Combined together, network automation, open architectures, telemetry, machine learning, and programming with declarative intent, create an autonomous network that is predictive and adaptive to its environment, called the Self-Driving Network™.
Business Models:

Service Providers: Want to diversify revenue coming from monthly broadband subscription (network access, bandwidth, and content) models to becoming enablers of digital transformation by leveraging the cloud in every aspect of the network. To be effective in the market, they need to achieve digital transformation before they can provide and monetize digital service offerings to their customers.
Enterprises: Are transitioning to hybrid IT, resulting in distributed applications, workloads, and increasing use of containers. Digital transformation is enabled by public clouds providing network, bandwidth, and connectivity capabilities that inter-connect data centers within the cloud. As enterprise workloads are distributed across on-premise, and public and private clouds become more agile, enterprises need smart solutions with built-in security intelligence that can self-heal, be proactive, and correlate events.
There is a standard approach to digital transformation. There are constraints in terms of adoption, but having the willingness and mindset to change, together with the underlying infrastructure (of both people and networks) is key to making this happen.
Digital Transformation FAQs
What is the first step in the digital transformation journey?
As demonstrated by Deutsche Telekom, transformation starts with a well-defined vision and strategy with quantifiable metrics and milestones to measure project success. Once defined, a critical yet often overlooked step is communicating that vision with all internal and external stakeholders, securing commitment from all parties (e.g., budget, people, time). 
Does digital transformation involve moving workloads to the public cloud?
Digital transformation is the adoption of cloud technologies, automation, and supporting expertise to digitize business processes and develop content and services faster. Using cloud-native technologies common to the public cloud allows enterprises and service providers to use public cloud and private clouds interchangeably to optimize cost and performance. Public clouds may be part of the growth strategy, but if done correctly, digital transformation may upset current SaaS models as it becomes easier for companies to develop their own software.   
What's the primary goal of digital transformation?
Speed. Digitization streamlines the process to incubate, trial, and deploy services quickly. It increases competitiveness while delivering innovation to improve the customer experience, developing long-term relationships and annuity revenues. 
What digital transformation solutions does Juniper offer?
Built upon cloud-native technologies, Juniper's Automated Data Center integrates Juniper Apstra® for multivendor IP fabric underlay networking, Juniper Cloud-Native Contrail Networking (CN2) for scalable Kubernetes-native overlay networking, and Paragon Active Assurance for service assurance. Together, these solutions deliver multilayered automation to simplify the deployment and life-cycle management of secure, multivendor telco, edge, and data center clouds.