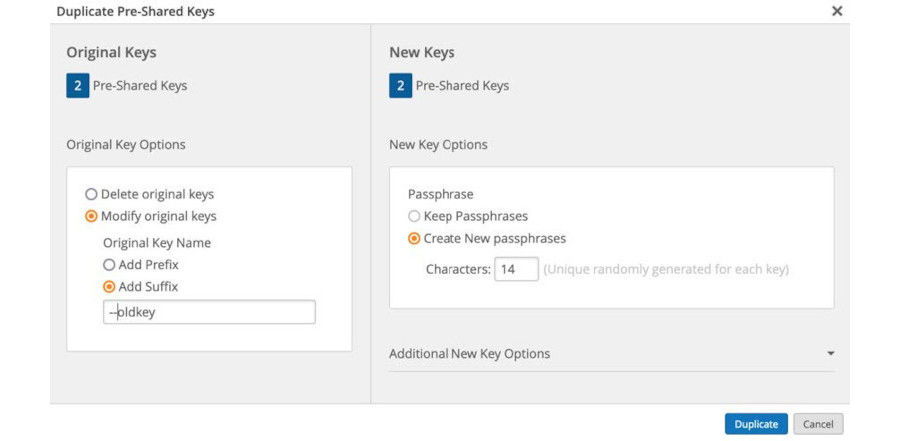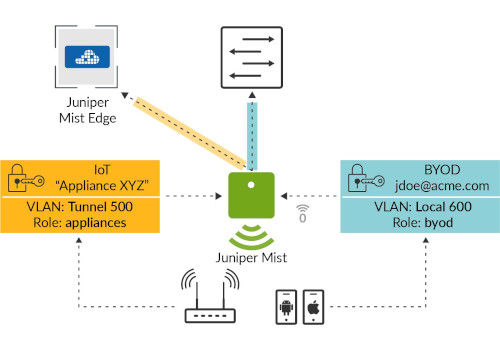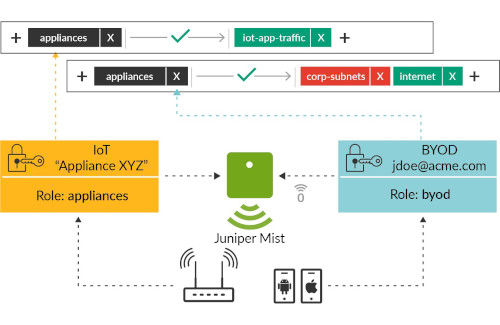 Juniper Mist IoT Assurance
The Juniper Mist IoT Assurance cloud service streamlines IT operations while securing network connections for headless IoT and BYOD devices. It uses Multi Pre-Shared Key (MPSK) or Private Pre-Shared Key (PPSK) as new types of identity and policy vectors to provide a simple yet comprehensive way to onboard client devices without relying on client MAC addresses. 
---
MAC-less client device onboarding
Ability to create, rotate, and auto-expire PSKs at cloud scale
Dynamic traffic engineering
Key-based WxLAN policy
Personal WLAN
Active device usage tracking per PSK
Automated key provisioning and rotation
Features + Benefits
Onboard client devices without relying on MAC addresses for seamless experiences and the same secure segmentation and policy control you get with traditional 802.1X authentication.
Dynamic traffic engineering
Based on MPSK identity, IoT traffic can be forwarded locally to an upstream access switch with a specified VLAN tag or tunneled to a Juniper Mist Edge in the data center for secure transport to the application server. In both scenarios, traffic remains isolated from the rest of the network.
PSK role-based WxLAN policy
Assign network policy restrictions to client devices based on PSK role using the Juniper Mist cloud-based WxLAN policy framework. IT admins can easily allow IoT devices to access only required resources and block access to everything else.
Simplify Day 2 operations at scale with automatic PSK expiration.  A simple, effective key migration technique allows IT to keep PSKs regularly rotated while onsite personnel avoid any disruption in service.
End-to-end PSK usage visibility
IoT Assurance provides full visibility into active devices for each PSK at the organization level. IT admins can easily track which client devices are currently active on a given PSK and display top PSKs by current active client count.
Easily integrate IoT Assurance into any mobile device management solution to streamline IoT device provisioning or into any user self-provisioning portal.
Automated User-Based PSK Generation
Create self-provisioning PSK portals with Juniper Mist to automate PSK generation based on user identity. This supports BYOD workflows leveraging native SAML connectors for SSO (single sign-on) experiences. Enables seamless client device onboarding via mobile QR code or entering a personalized passphrase without installing any client software.
Find Juniper Mist IoT Assurance in these solutions
IoT
With the right solutions, IoT unlocks efficiencies to provide a positive customer experience, which drives stickiness into brand and product loyalty, ultimately resulting in increased revenue.
Juniper Networks can unlock the full potential of your network, and managing IoT at any scale with seamless connectivity and security that work across any network, any cloud and anywhere.
Wireless Access
AI-driven automation and insight, coupled with the agility and reliability of a microservices cloud, deliver optimized wireless access experiences and simplified network operations.
Wired Access
The wired portfolio, coupled with wireless, combines performance and simplicity at scale, while delivering optimized experiences to users and devices with AI-driven insights and automation.
AIOps Driven by Mist AI
Juniper transforms IT operations with Mist AI and a virtual network assistant for self-driving capabilities and AI-driven support. Mist AI optimizes user experiences from client to cloud and simplifies IT operations across the WLAN, LAN, and WAN.